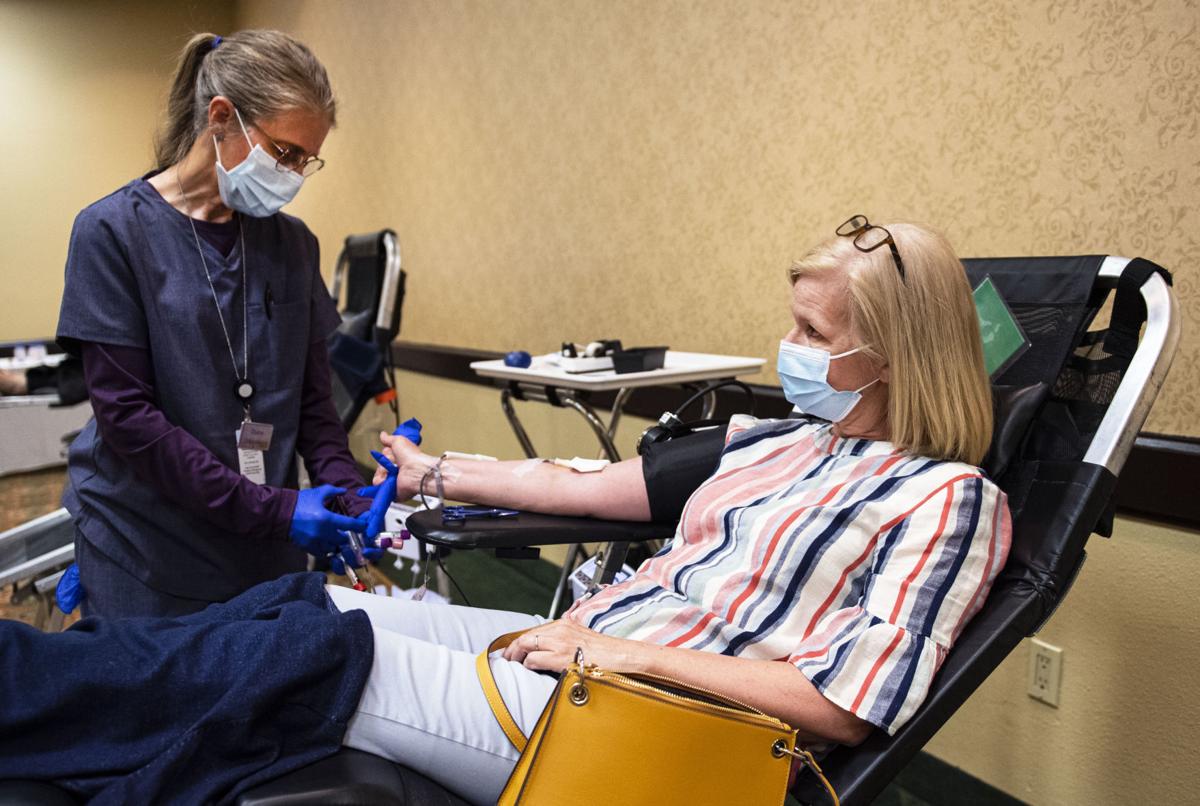 After driving to Vancouver to give blood for about a year, Castle Rock resident Donna Wirkkala donated closer to home Monday at a pop-up clinic in Kelso.
"I feel like it's a good thing and I'm able to help other people out," she said. "It's easy for me to donate. I like to help others when I can."
The pop-up clinic at the Red Lion Hotel was Bloodworks Northwest's second in Kelso/Longview since March 2020. The organization is asking people to sign up to give blood to help address the "summer blood shortage."
Bloodworks' Type O supply has decreased 50% because of low donor turnout and high patient need, said spokesperson Karen Kirby. The organization has its lowest Type O inventory since the pandemic began. Type O blood is coveted because it is the most compatible blood type for recipients.
Donations from Bloodworks provide 95% of the blood supplied to Pacific Northwest hospitals and is the sole source for PeaceHealth St. John Medical Center, according to the organizations.
Appointments at the Red Lion were fully-booked Monday, but those interested in donating can sign up for a slot Tuesday through Thursday at schedule.bloodworksnw.org or by calling 1-800-398-7888. Donations are by appointment only. Bloodworks will hold another pop-up clinic Aug. 6 and 7 at the Moose Lodge in Longview.
All donors are required to wear face masks during appointments and follow social distancing guidelines. There is no waiting period to donate after receiving the COVID-19 vaccine.
Longview resident Jessie Lasko said she's been donating blood for about 40 years but Monday was her first time in a couple years.
"I feel like it's something I can do for other people, so I just do it," she said.
Along with its permanent donation centers, the organization holds pop-up clinics throughout the region. Bloodworks comes to Longview/Kelso area every eight weeks because that is how often someone is eligible to donate blood, said Bloodworks representative Lauren Reagan.
Bloodworks Northwest is holding a pop-up blood drive Monday through Thursday at the Kelso Red Lion, 510 S. Kelso Drive.
The organization began holding pop-up donation clinics in March after pausing mobile operations in March 2020. Reagan said Bloodworks began working with hotels and other venues with large spaces emptied because of the pandemic to use for donor centers.
During the pandemic, Bloodworks saw a lot of first-time donors, as other activities were suspended, Reagan said. No matter what level of pandemic-related restrictions are in place, giving blood is always "an essential activity," she said.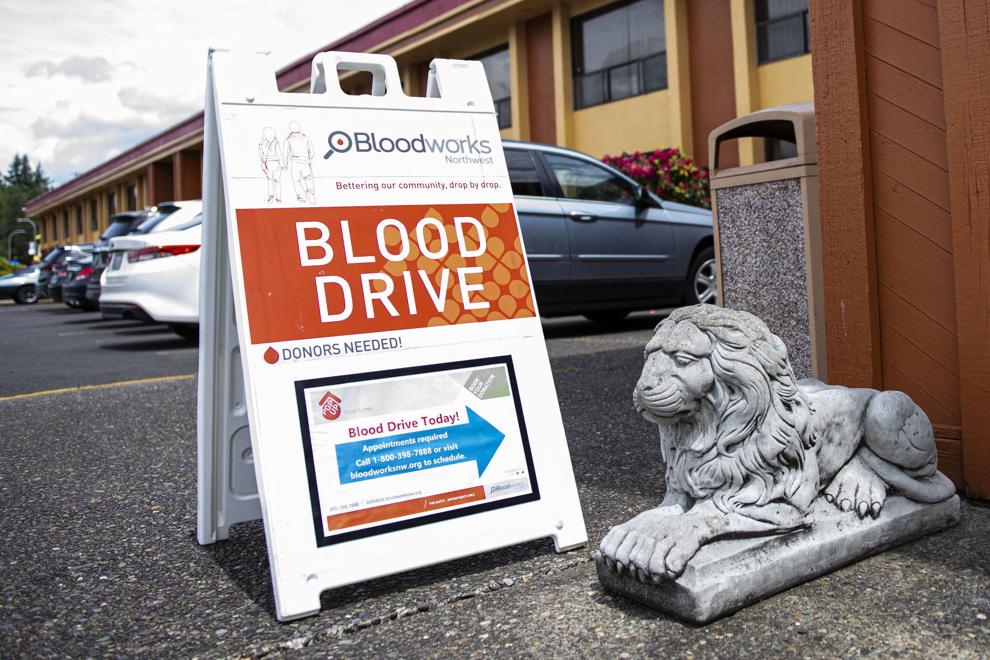 Bloodworks issued a "code red" call for donors in April when it had less than a 24-hour supply of blood on its shelves. Confusion about donating after getting the COVID-19 vaccine and warm weather led to an increase in cancelations and no shows, according to the organization.
After the alert, the organization had an influx of donors but it needs more people to give blood regularly, Reagan said.
With less than a 24-hour supply of blood on its shelves, Bloodworks Northwest put out an urgent call for donors.
"We see people answer the call when there's an emergency but we need to keep the blood supply stable," she said.
Donated blood is ready to use 72 hours after it's given, so donations in response to something like a mass-casualty incident won't be ready immediately, Reagan said. Many people, including cancer patients, need regular transfusions.
Only 10% of people eligible to donate blood do so, and some people have misconceptions about giving blood or wrongly think they are ineligible, Reagan said.
Most people in good health, who are 18 years old and older and weigh at least 110 pounds can donate blood, according to Bloodworks. Teens 16 and 17 years old can donate in Washington with a signed permission form. In Oregon, anyone 16 years old and older can donate.