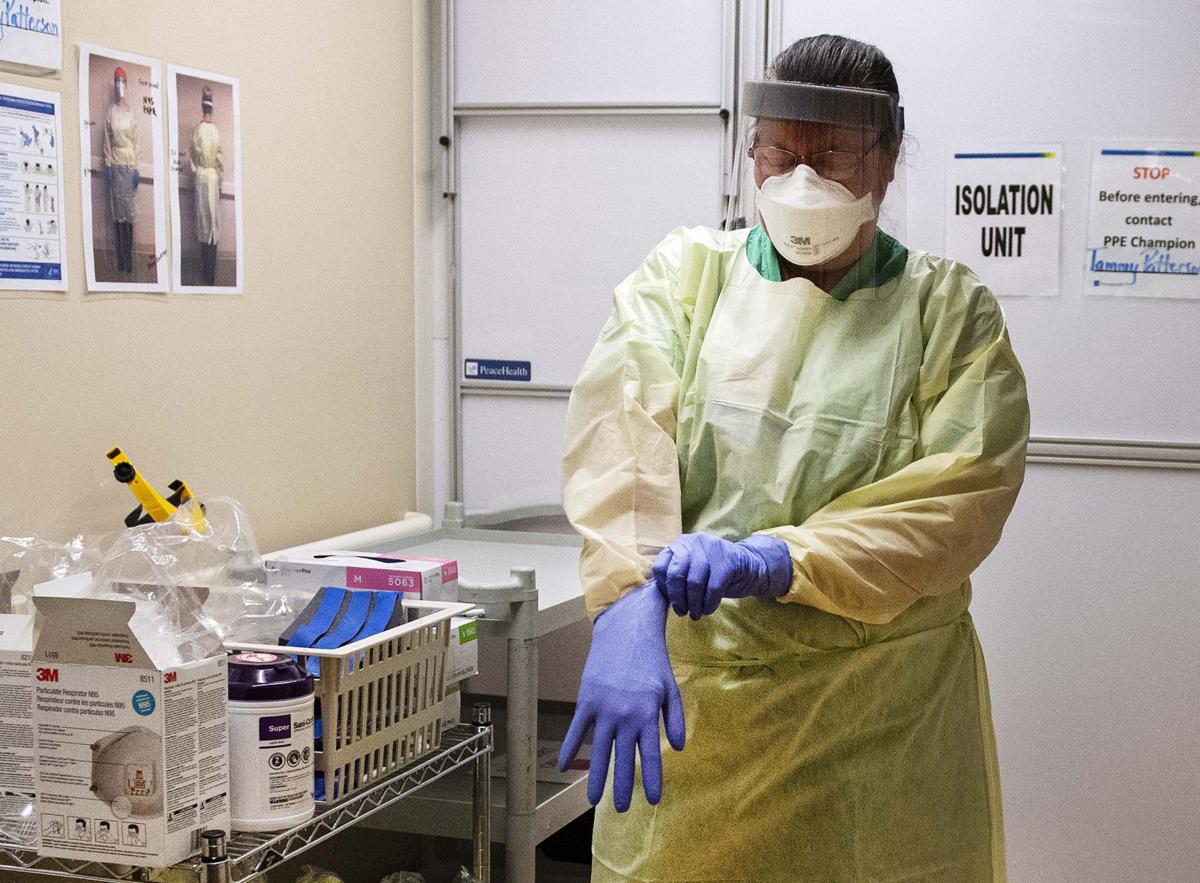 The number of COVID-19 patients at PeaceHealth St. John Medical Center doubled overnight last week, as Cowlitz County's virus cases continue to increase, according to the hospital.
St. John reported 19 COVID-19 inpatients Wednesday, nearing the highest level since the pandemic began, said Randy Querin, PeaceHealth spokesman.
The hospital has a high number of overall patients, including "unprecedented" volumes in the emergency department, as well as a significant increase in COVID-19 inpatients, Querin said in an email.
"Unfortunately, we are greatly concerned that the situation will not be easing soon," said Dr. Jenny Aponte, PeaceHealth St. John Chief medical officer. "According to the most recent forecast projections, the current surge in COVID-19 cases is anticipated to be the most dangerous yet, surpassing cases and hospitalizations."
Cowlitz County's cases and hospitalizations have jumped over the past month. The county's cases increased by 123 Tuesday, bringing the total to 7,906 confirmed and probable cases.
The county's two-week case rate was the fourth highest in the state at about 659 per 100,000 people as of Tuesday. Franklin County had the highest two-week rate, followed by Benton and Columbia counties.
The delta variant is fueling the surge in the county and statewide, according to health officials. The more transmissible variant makes up 89.4% of Washington's sequenced COVID-19 cases from July 11 to July 24, according to the Department of Health's most recent variant report. Three cases of the delta variant have been identified in Cowlitz County.
PeaceHealth St. John's COVID-19 hospitalizations jumped from 10 on Thursday to 19 on Friday, according to the hospital.
"We started climbing in late July and were really hit last week when the number nearly doubled overnight and has held steady since," Querin said. "We have actually exceeded 20 at times this week depending on the timing of arrivals and discharges."
After first opening its COVID-19 unit in March 2020, the hospital sent patients to PeaceHealth Southwest Medical Center in Vancouver from June through December. St. John reopened the unit in December and it can care for up to 20 patients at a time, Querin said. The hospital has a plan to expand if needed, he said.
"Everybody is doing all they can to expand bed availability," Querin said.
All hospitals in the region are strained with COVID-19 and non-virus patients. The number of adult acute care beds occupied by COVID-19 patients in Southwest Washington increased from 43 on July 26 to 88 as of Monday.
Hospitals in other parts of the country are suspending non-urgent procedures to open up more beds for COVID-19 patients, Querin said. St. John is not at that point, but it may become necessary, he said.
PeaceHealth asks that people with mild illness who want a COVID-19 test not to go to the hospital because of limited capacity. COVID-19 tests are available at Walgreens, Rite Aid, Pacific Urgent Care and other healthcare clinics in Cowlitz County, according to the health department.
As of Monday, 48.9% of Cowlitz County residents had initiated vaccination, and 44.6% were fully vaccinated, according to the Department of Health. Vaccination has dropped off since mid-May and has remained flat through July.
PeaceHealth strongly encourages everyone medically eligible to the get the vaccine, Querin said.
Most people can get the COVID-19 vaccine, according to the Centers for Disease Control and Prevention. People who have had a severe or immediate allergic reaction to any ingredient in the Pfizer or Moderna mRNA vaccines should not get them, according to the CDC. People allergic to the ingredients in the Johnson & Johnson vaccine should not get it. The CDC lists vaccine ingredients at https://bit.ly/3fTGtiu.
People unable to get one kind of vaccine because of an allergy to an ingredient should ask their doctors about getting another type of vaccine, the CDC states. The agency recommends people with other allergies unrelated to the vaccines or injectable medications to get the COVID-19 vaccine.