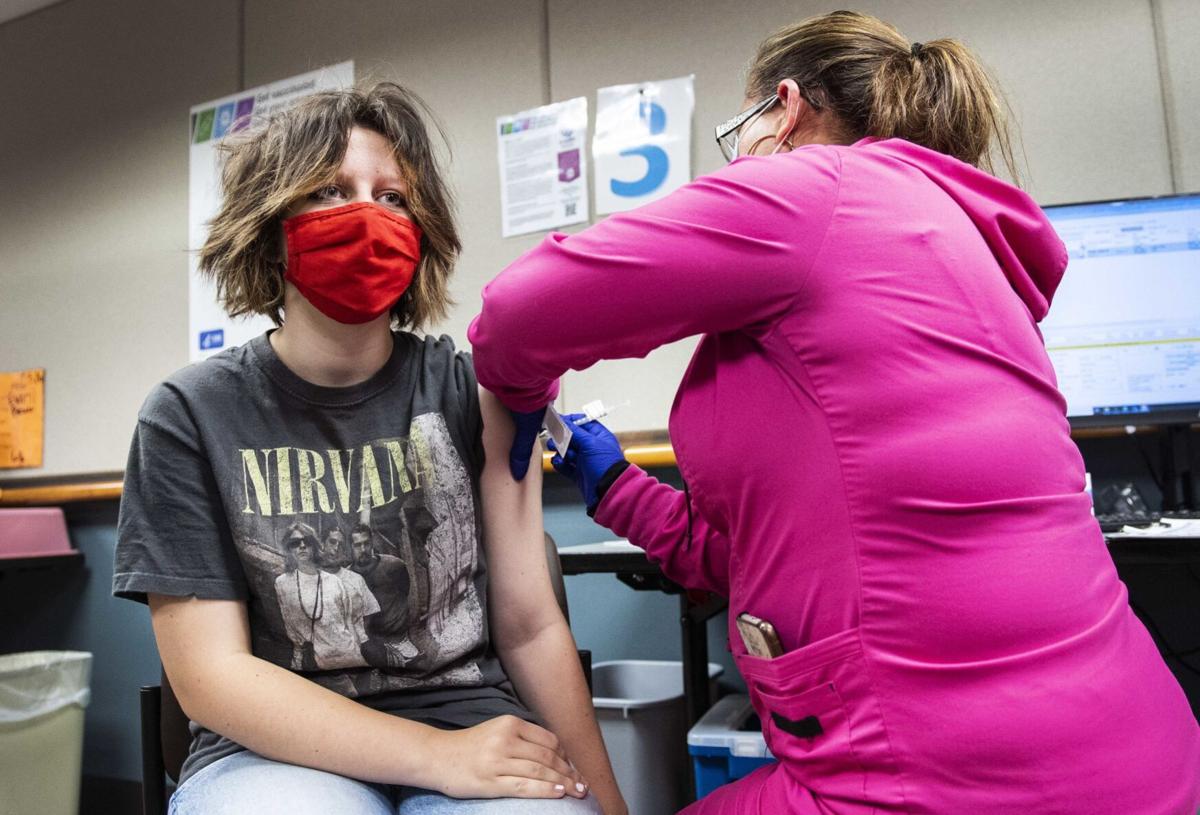 Washington is on track to reach 70% of people 16 and older receiving at least one dose of the COVID-19 vaccine on or before its June 30 reopening date, but many counties, including Cowlitz, are behind the state average.
It's too early to see if the state's plan to offer a $1 million lottery and other incentives will help reach that goal sooner, according to the state Department of Health.
As of Monday, about 64% of residents 16 and older had initiated vaccination.
Cowlitz County's COVID-19 vaccination rate continues to lag behind the state, with about 54% of residents 16 and older initiating vaccination as of Monday.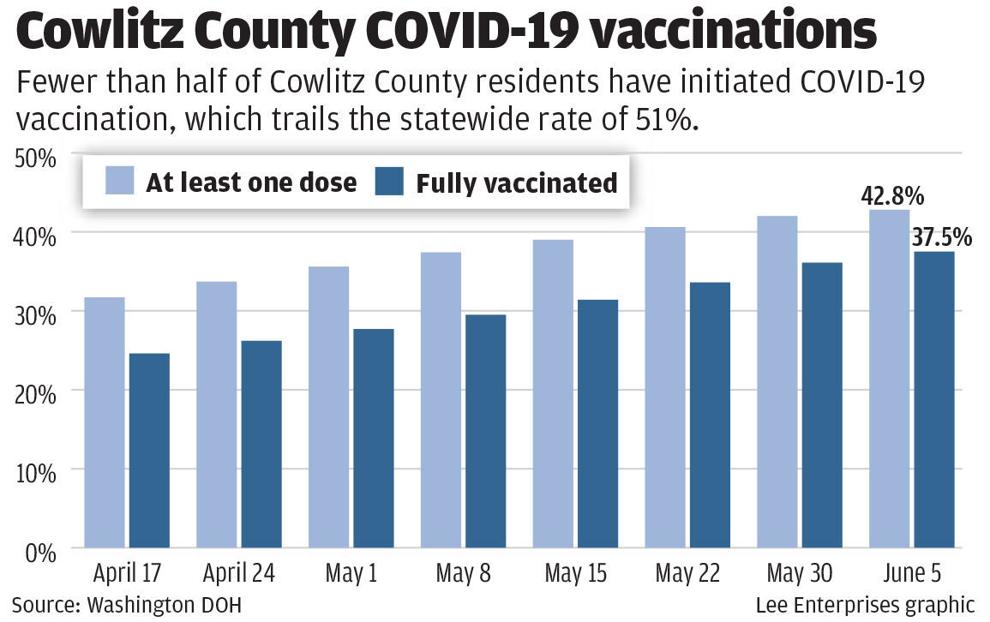 Deputy Health Officer Dr. Steve Krager said in an email Wednesday the health department is concerned about the county's slower progress.
"The counties that have higher vaccination rates are more likely to have lower COVID-19 rates," he said. "I worry that this discrepancy could worsen over time. It is possible we will have counties that have very little COVID-19 infections and other counties that continue to have spikes and large outbreaks. This will lead to more preventable hospitalizations and deaths."
Elevated hospitalizations
Cowlitz County has "elevated rates of hospitalization" and patients are almost exclusively unvaccinated, Krager said.
The county recorded 6.3 new hospitalizations per 100,000 people from May 22-28, above the state rate of 4.9 hospitalizations per 100,000 during the same week. Both the county and state rates appear to be decreasing.
Recent statewide data show COVID-19 hospitalization rates are 21 times higher in unvaccinated people ages 45-64 compared with those who are vaccinated.
"The vaccines work, and are the best way to prevent COVID-19 infection and hospitalization," Krager said.
After a bump in cases from mid-to-late May, Cowlitz County's cases appear to be flattening or decreasing.
Cowlitz County COVID-19 cases are increasing after a dip in mid-May.
Cowlitz County recorded nine new COVID-19 cases Wednesday, bringing the total number of confirmed cases to 5,890, according to the state Department of Health.
Wahkiakum County reported three new cases Wednesday, bringing the total to 149, with 31 potentially active. The county considers cases with a positive test result in the last 21 days to be active, according to the health department.
Krager said it is hard to predict whether the county will see an increase in COVID-19 cases once the state reopens if its vaccination rates remain below the 70% threshold, but he does worry about it.
Even if people begin vaccination now, they won't be fully protected by June 30 if they get the Pfizer or Moderna vaccines, which require two doses. Unvaccinated people should continue to wear masks indoors when around unvaccinated persons and limit social gatherings, Krager said.
Natalie Bargen hates needles, but on Thursday morning she received the first dose of the Pfizer COVID-19 vaccine at PeaceHealth St. John Medic…
"The best way to safely enjoy the summer is to get vaccinated as soon as possible," he said.
Communications Manager Stefanie Donahue said the county health department is developing new outreach materials to keep the community informed about where to access vaccine and to address vaccine misinformation.
The department plans to record a video series addressing questions received on its Facebook page and is exploring other ways to reach people offline, Donahue said.
The health department also is partnering with local health care providers to offer mobile vaccine clinics.
People 18 and older can get their first or second dose of the Moderna COVID-19 vaccine at St. Rose parish Saturday.
Deputy Secretary for COVID-19 Response Lacy Fehrenbach said in a briefing Wednesday that the state has plenty of vaccine supply and capacity.
"There has never been an easier time to get vaccinated and protected against COVID-19 than right now," she said. "There are certainly enough 16-year-olds and older eligible to step forward and help us meet that goal by June 30 or even sooner."