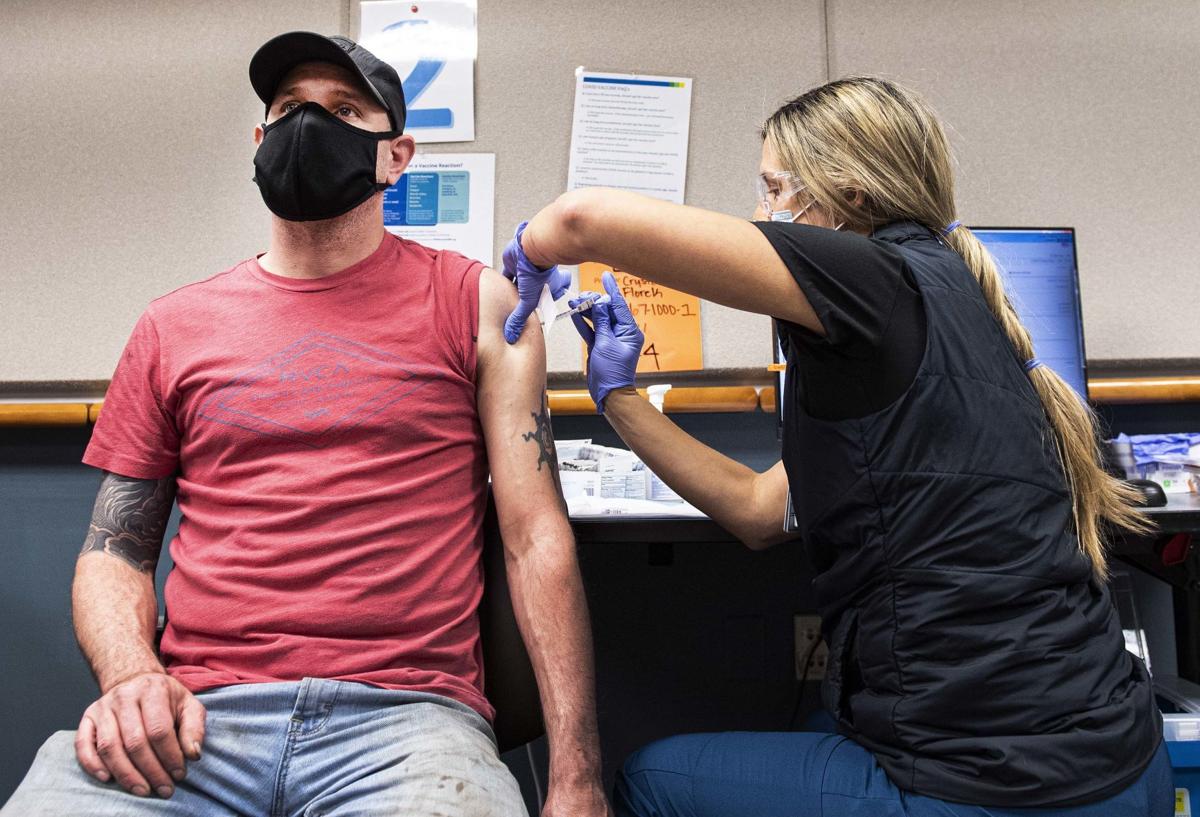 Cowlitz County COVID-19 cases are increasing after a dip in mid-May.
The county recorded about 230 new COVID-19 cases per 100,000 people from May 11-24, up from 196 new cases per 100,000 from May 4-17. Wahkiakum County has recorded several new cases over the last few weeks after a sparse number of new cases through March and April.
The county Wednesday reported seven new COVID-19 cases and its first COVID-19 death, a woman older than 80, according to the health department. Wahkiakum County has recorded 140 cases, with 21 considered potentially active.
The county considers cases with a positive test result in the last 21 days to be active.
Wahkiakum County Health and Human Services encourages residents to contact their medical provider or the department to schedule a COVID-19 vaccination. As of Monday, about 39% of Wahkiakum County residents were fully vaccinated and 43% had initiated vaccination.
Support local news coverage and the people who report it by subscribing to The Daily News.
About 36% of Cowlitz County residents were fully vaccinated as of Monday and 42% had initiated vaccination.
'Breakthrough' cases
The county has identified 56 breakthrough cases, or COVID-19 cases among fully vaccinated residents. The cases make up about 0.14% of the 39,850 fully vaccinated county residents.
Among those, 32, or 57%, had symptoms, five have been hospitalized and three have died from COVID-19, according to the health department.
Natalie Bargen hates needles, but on Thursday morning she received the first dose of the Pfizer COVID-19 vaccine at PeaceHealth St. John Medic…
Ages of breakthrough cases range from their 20s to 90s, with an average age of 64. The department declined to release additional information about the cases to protect privacy.
"Vaccine breakthrough cases are expected with any vaccine," said County Health and Human Services Communications Manager Stefanie Donahue. "These data show the COVID-19 vaccines are effective."
Washington is seeing the expected amount of breakthrough cases, Acting State Health Officer Scott Lindquist said during a briefing Wednesday.
The state recorded 1,575 breakthrough cases out of more than 3 million people fully vaccinated as of May 29, according to a Department of Health report published Wednesday.
Castle Rock has the highest rate of vaccination in the county, with 63% of residents initiating vaccination and 46% fully vaccinated, according to a county health department data report.
Lindquist said the breakthrough cases are fairly equally split amongst age groups.
About 75% had symptoms and many of the 25% that didn't were identified during outbreak-related testing, he said. Not all breakthrough cases are mild illnesses, and 9% were hospitalized, Lindquist said.
According to the report, patients in 27 of the breakthrough cases died from COVID-19. Lindquist said a majority of deaths were older people with underlying health conditions. Those who died were ages 48 to 97, and the median age was 86 years old, according to the report. Twelve of the cases were associated with a long-term care facility.
Lindquist said the state isn't seeing a particular virus variant dominating the breakthrough cases. The state is tracking "variants of concern" identified by the Centers for Disease Control and Prevention as strains that spread more easily and may cause more serious illness.
Outbreaks at Cowlitz County long-term care facilities have decreased over the past couple months but are still happening and leading to deaths…
Full reopening
As of Monday, 62.7% of state residents 16 and older had initiated vaccination. Based on the current rate of vaccinations, the state will be close to hitting 70% of residents 16 and older initiating vaccination by June 30 or just after, said Deputy Secretary for COVID-19 Response Lacy Fehrenbach.
"We absolutely have the capacity and the supply to advance early or reopen the economy early," she said. "We need more people, and there are more people who are not vaccinated in that 16 and older category, to step forward and take the vaccine."
Lindquist said the data showing a higher risk of hospitalization among those unvaccinated should help encourage people to get the shot. Unvaccinated people ages 45 to 64 are 21 times more likely to be hospitalized for COVID-19 compared to those fully vaccinated, according to the Department of Health.