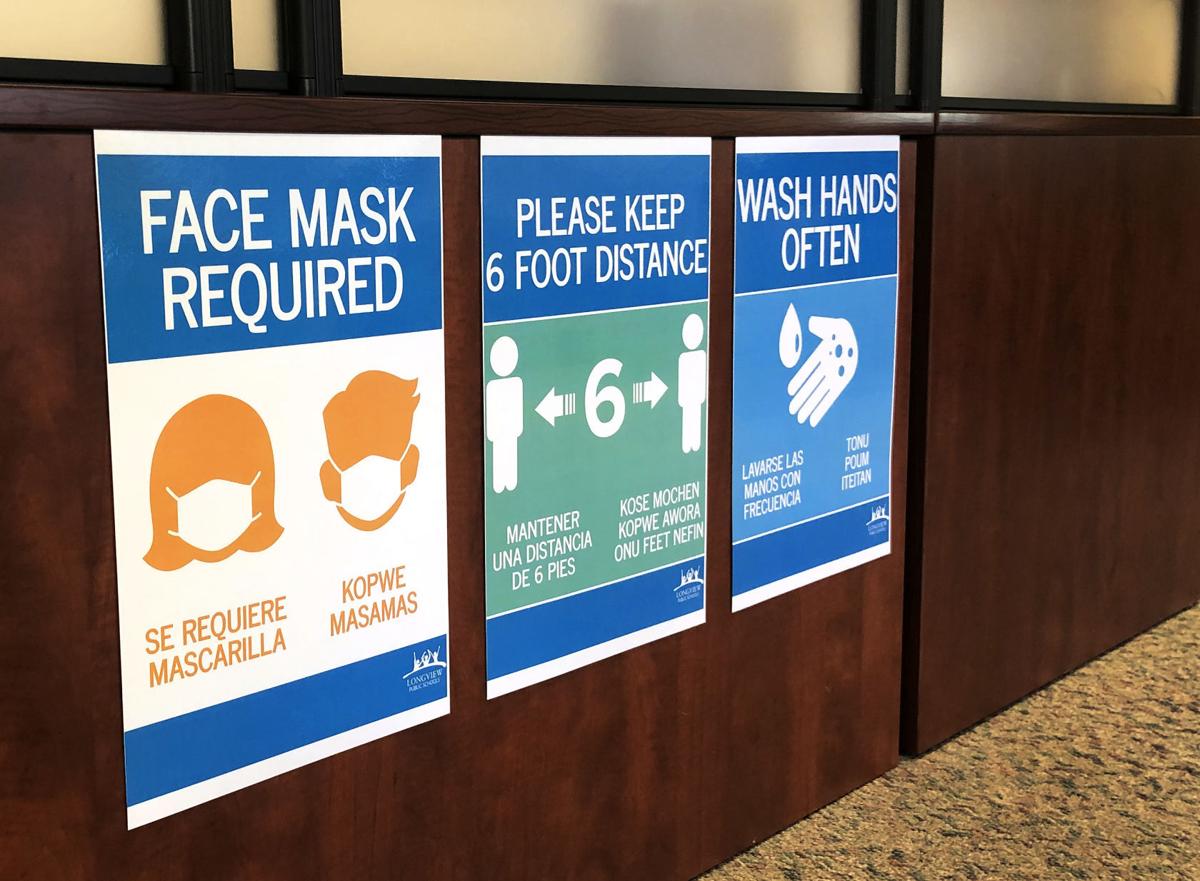 Cowlitz County's high level of COVID-19 activity has led to more than 80 cases among students and staff at three local school districts that publicly report cases, but protection measures appear to be preventing spread at school, according to school and health officials.
So far this year, schools in the county haven't confirmed transmission of the virus between students or staff members at schools, said Stefanie Donahue, county health department spokesperson. Some schools have reported exposures, when individuals with COVID-19 spend time in a school setting, she said.
Longview, Castle Rock and Kelso schools all use COVID-19 dashboards to report cases in schools. Other local districts do not publicly report cases in schools.
Kelso only reports cases that are confirmed to be transmitted in schools, and on Sept. 8 reported one high school student tested positive. The district reported five school-based cases last year.
Castle Rock has reported 13 cases this year, with 12 among students. None of the cases stemmed from in-school exposure, according to the district. Castle Rock recorded 64 total cases among students and staff last school year.
The Longview School District has reported 67 COVID-19 cases among students and staff this school year, with none confirmed to be contracted via school-based transmission. At least one case has been reported at each of the district's 14 schools. The district reported 182 cases last year, with seven passed on at school.
The number of cases in schools so far this year is reflective of virus activity in the community as a whole, said Rick Parrish, district spokesperson.
"The health and safety protocols that are in place appear to be working well, the same as last year," he said. "I hope parents and the community as a whole understand we're working extremely hard to follow the health department guidelines to make sure employees and students are as safe as possible during these challenging times."
The state requires face masks indoors for students and staff, regardless of vaccination status. All staff are required to be vaccinated or receive an exemption by Oct. 18. Other strategies, such as distancing and increased cleaning, also are in place.
Cowlitz County's COVID-19 case rate appears to be declining after peaking at its highest two-week rate ever with 1,198 new cases per 100,000 people from Aug. 16 to Aug. 29. The rate has decreased to 1,035 new cases per 100,000 from Aug. 24 to Sept. 6, the most recent complete data.
The county Tuesday recorded 125 new confirmed COVID-19 cases, bringing the total to 9,747 confirmed and 1,117 probable cases. The county recorded two new COVID-19 deaths, with 160 total.
Cowlitz County's COVID-19 hospitalization rate also is decreasing, with about 43 new admissions per 100,000 people from Aug. 30 to Sept. 5, down from the peak of 69 new hospitalizations per 100,000 from Aug. 21 to Aug. 27.
As of Tuesday morning, PeaceHealth St. John Medical Center had 36 COVID-19 patients.
Wahkiakum County Tuesday reported 10 new COVID-19 cases, bringing the total to 207, with 18 potentially active. The health department considers cases with a positive test result in the last 21 days to be active. The county has recorded five COVID-19 deaths.