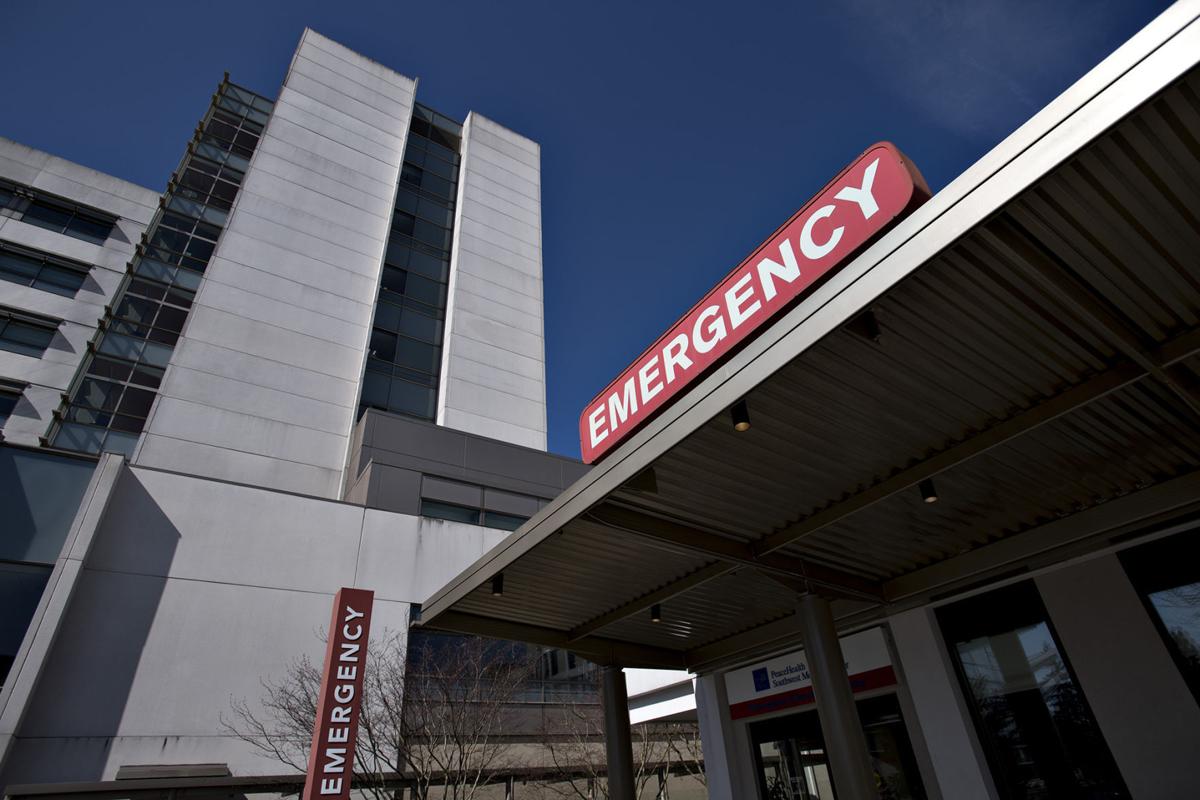 PeaceHealth Southwest Medical Center and Clark County Public Health are investigating the source of a COVID-19 outbreak in the Vancouver hospital after four healthcare workers and 10 patients tested positive over the last few days.
Dr. Lawrence Neville, chief medical officer, said during a press briefing Monday that of the 14 cases, one healthcare worker and four patients were fully vaccinated. All patients had tested negative when first admitted to the hospital.
The first patient linked to the outbreak tested positive on July 10 during surveillance testing, when the hospital checks patients five days after they are admitted and again in another seven days — if they are still hospitalized. PeaceHealth subsequently tested all inpatients in the unit and found nine more who were infected, Neville said.
During the investigation, four healthcare workers tested positive. Two were unvaccinated, one was partially vaccinated and one was fully vaccinated, he said.
Those fully vaccinated did not show any COVID-19 symptoms, Neville said. Symptoms among the unvaccinated people range from "very mild" to more severe but none currently require ICU-level care, he said.
PeaceHealth and Clark County Public Health are investigating the outbreak's cause, which could have begun from a visitor, a patient or a staff member who came into the hospital not realizing they were infected, said Catherine Kroll, PeaceHealth infection prevention director. Patients are tested when admitted but could have tested negative while the virus was incubating, she said.
Kroll said investigators are looking into visitors that came in during the exposure window. All patients at risk of exposure have been contacted, she said.
PeaceHealth contacted 44 discharged patients, none of whom had symptoms or had sought testing, Kroll said. It's unlikely those fully vaccinated will develop symptoms and the organization encouraged unvaccinated discharged patients to have a lower threshold for getting tested, she said. PeaceHealth will provide testing for free and transportation if needed.
Kroll said health officials will feel confident they've identified everyone connected to the outbreak if no one else tests positive by late July.
Health officials are submitting samples from the outbreak to the state Department of Health to test for variants, including the Delta variant, according to PeaceHealth.
PeaceHealth encourages but does not mandate employee vaccination. About 75% of caregivers throughout the organization are vaccinated, Neville said.
Neville said the organization doesn't mandate vaccination because of "our discernment of where we are as a country." While the medical community supports the vaccines as "extremely safe," there is not a universal opinion beyond that, he said.
PeaceHealth wants to "respect its relationship with caregivers," who have different opinions on vaccine safety, Neville said. Most healthcare systems are not yet mandating the COVID-19 vaccine for staff, he said.
"I think the medical community is nearly unanimous that vaccines are the way to go," Neville said. "I think what we've seen with COVID-19 is the medical opinion on this hasn't always been overriding one. That's unique and tragic in some ways because of the consequences."
Neville said PeaceHealth doesn't plan to mandate vaccination at this time. The organization has teams working on ways to reduce risk caregivers may pose to each other and patients, but Neville said he couldn't go into detail.
"If a place as safe as PeaceHealth Southwest with its extraordinary experience taking care of COVID patients and public safety record can have outbreak like this, it shows we're all vulnerable to COVID re-emerging," he said. "We are all tired of COVID and all want it to go away. ... I am sympathetic to that but this is a wake up call. If can happen here, can happen anywhere."
Neville and Clark County Health Officer Dr. Alan Melnick said vaccination needs to increase and encouraged those unvaccinated to get the shot.
"I'm concerned vaccine demand is dropping," Melnick said. "This outbreak points to the effectiveness of the vaccine."