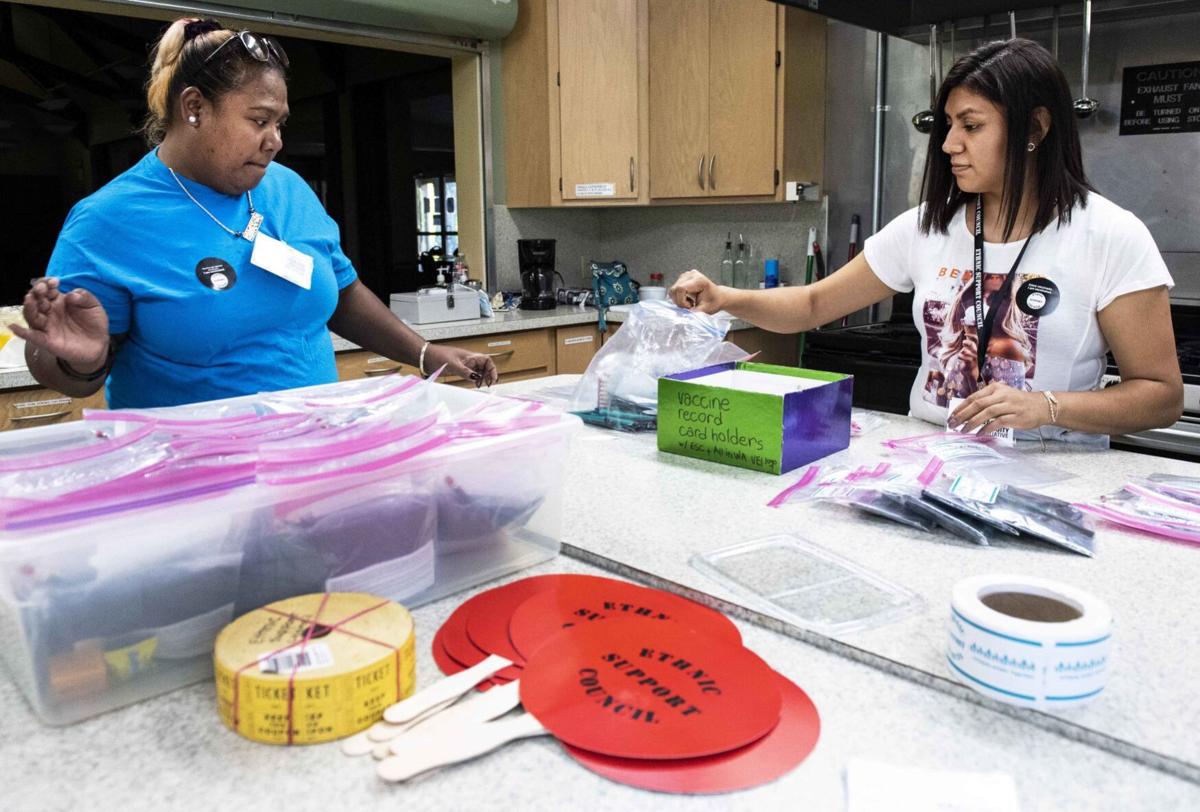 About a week ago, Angelina Jimenez walked a block from her house to Wallace Elementary School to receive the first dose of the Moderna COVID-19 vaccine.
The 19-year-old Kelso resident decided to get the shot because she wants life to resume how it was before the pandemic.
"Really just getting back to normal ... being able to be with family and enjoy being in groups together again," she said.
The state opened vaccine eligibility to everyone 16 years and older on April 15. Jimenez said she hadn't gotten the vaccine before June 19 because she's been busy working and she didn't go out of her way to find a place to get the shot.
Jimenez said she learned about the clinic held by Cowlitz County Health and Human Services, the Child and Adolescent Clinic and the Ethnic Support Council from a flier dropped off at her work.
"I thought this was perfect because the school was a block away from my house," she said. "They were really nice, really supportive and encouraging."
The clinic is part of local efforts to vaccinate Cowlitz County residents such as Jimenez who are Hispanic, or who are part of another community of color, and who have barriers to getting the vaccine, have lower vaccination rates and have been disproportionately affected by COVID-19.
Vaccination gaps
Hispanic people have the lowest vaccination rate in Cowlitz County, with 23% initiating vaccination and 12% fully vaccinated as of June 5, according to a county data report. The county average during the same time was 43% of residents with at least one dose and 37% fully vaccinated.
Black county residents have the second-lowest vaccination rate in the county, with 39% initiating vaccination and 26% fully vaccinated.
"The biggest disparity is the Hispanic population and something we're most concerned about, obviously due to the impacts that COVID-19 has had on that community," Cowlitz County Deputy Health Officer Dr. Steve Krager said Tuesday.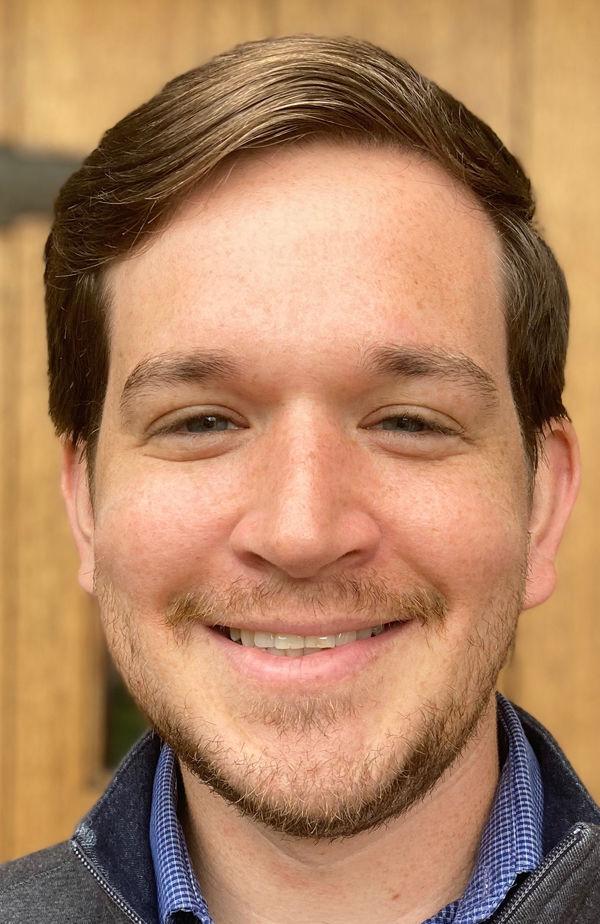 Hispanic people account for 29% of Washington's COVID-19 cases, but make up 13% of the population, according to the state Department of Health.
A state report released in mid-February showed Hispanic, Black and multiracial people infected by the coronavirus at higher rates had received a low percentage of COVID-19 vaccine when compared to their proportion of the state's population.
Some of the inequity came from the state's phased vaccine eligibility, which placed healthcare workers, high-risk first responders, long-term care staff and residents, and other senior citizens at the top of the list.
Limited vaccine supply in the state and Cowlitz County, as well as fewer locations and times available for appointments, played a role, Krager said in February.
COVID-19 vaccines have been available to everyone 16 years and older for more than two months, but other barriers have led to the continuing gap in vaccinations.
"We have more work to do is what the data shows us. We've done a lot, but have more to do," Krager said Tuesday. "I think it's going to be an ongoing effort."
Barriers
The county health department attributes part of the continuing disparity in vaccination rates is the age difference between populations.
Cowlitz County's white population is older than all other racial/ethnic groups, including the Hispanic population, which is particularly young, said Health and Human Services Communication Manager Stefanie Donahue.
About 25% of Cowlitz County's white population is 65 years old and older, compared to 4% of Hispanic residents, according to the health department.
However, the disparity exists even when we look at specific age groups, Donahue said.
As of early June, 56% of Hispanic residents in Cowlitz County ages 65 and older had received at least one dose and 40% were fully vaccinated, compared to overall 65% initiating and 57% fully vaccinated.
Krager said when vaccination began in December, vaccine hesitancy was higher among everyone, including Hispanic people.
A recent poll from the Kaiser Family Foundation showed an increase in people who had been vaccinated or wanted to as soon as possible, he said.
Certain populations have more barriers to getting vaccinated, including communication and language barriers, lack of transportation or limited time off work, Krager said.
"If you rely on word of mouth from community members and family to get information about medical things you may get some misinformation," he said. "It's not as easy to go online and find information in a language you understand."
'Show up and you can get a vaccination'
Krager said the county has tried to make it easier for people to get vaccinated by not requiring appointments, holding clinics on Saturdays and in locations out in the community, such as churches and schools.
The health department has partnered with the Child and Adolescent Clinic and the Ethnic Support Council to hold vaccine clinics at St. Rose Parish Center in Longview, Wallace Elementary School in Kelso and two apartment complexes in Woodland.
The Ethnic Support Council received a $50,000 grant in April from All in Washington, a statewide relief effort, to increase vaccination rates among underserved minority groups. Board President Cindy Lopez Werth said the council expanded its efforts to also reach refugees, immigrants and people with limited English skills.
Lopez Werth said the council used the grant to hire people who are bilingual, speaking English and Spanish or Chuukese. Language has been a barrier, as well as confusion over eligibility, finding time to get the vaccine and concerns about citizenship and health insurance, she said.
"We've made it clear that it doesn't matter if you are a citizen or what your immigration status is," Lopez Werth said. "You don't need ID or insurance. It's just show up and you can get a vaccination."
At the clinics, the staff and volunteers welcome people and make them feel comfortable, Lopez Werth said. For those with limited English, translators help the medical staff ask registration questions, review health information and explain to attendees what is going on.
When Annette Sinem brought her brothers to the vaccine clinic at St. Rose in early May, she left with a job as a vaccine outreach specialist for the council. Sinem, who speaks Chuukese and English, was translating for people at the clinic, she said.
Sinem said she enjoys helping people and has been encouraging others in the Chuukese community to get the vaccine.
"It's good to get vaccinated to get rid of these masks and so we'll all be safe," she said.
Lopez Werth said the outreach and clinics have been working well and reaching Latino and Chuukese people as hoped. Although the clinics have targeted certain populations, anyone who shows up can get the shot, she said.
Information about the clinics seems to be spreading amongst communities through word of mouth, Lopez Werth said. The council also is offering incentives, including free food, raffles and cash prizes, to encourage attendance.
The council put together goody bags to hand out at the clinics, with many items featuring the organization's name and logo so people familiar with the Ethnic Support Council know it is involved, Lopez Werth said.
"It's about building trust," she said.
Lopez Werth said hopefully residents who got the vaccine at the outreach clinics will spread the word about them.
"When someone has experienced it, if they go out to friends, family, neighbors and tell them to call us, then I think that just increases the likelihood more people will get vaccinated," she said. "That and not asking too many personal questions, I think that eases lack of trust."
Kelso resident Jimenez said her uncle received the vaccine about two months ago and was completely fine, which helped her see it wasn't too scary.
She told her co-workers who are interested in getting the vaccine that apart from a slightly sore arm, she's been fine. Jimenez said her grandma also has been too busy to get the shot yet.
"I did want to encourage her more to go out and get it," she said.
Spreading the word
Cowlitz County Health and Human Services is planning more mobile vaccination clinics, but nothing is set yet, said Communications Manager Donahue.
The Ethnic Support Council is considering several locations for future clinics, including St. Helens Elementary School in the Highlands neighborhood, Barnes Elementary School in Kelso and where Chuukese church services are held, Lopez Werth said.
"We're trying to find a comfortable location where people feel safe and ... that they're familiar with," she said.
The health department prints materials provided to people who are getting vaccinated in multiple languages and works with the Ethnic Support Council to provide language assistance on-site, Donahue said.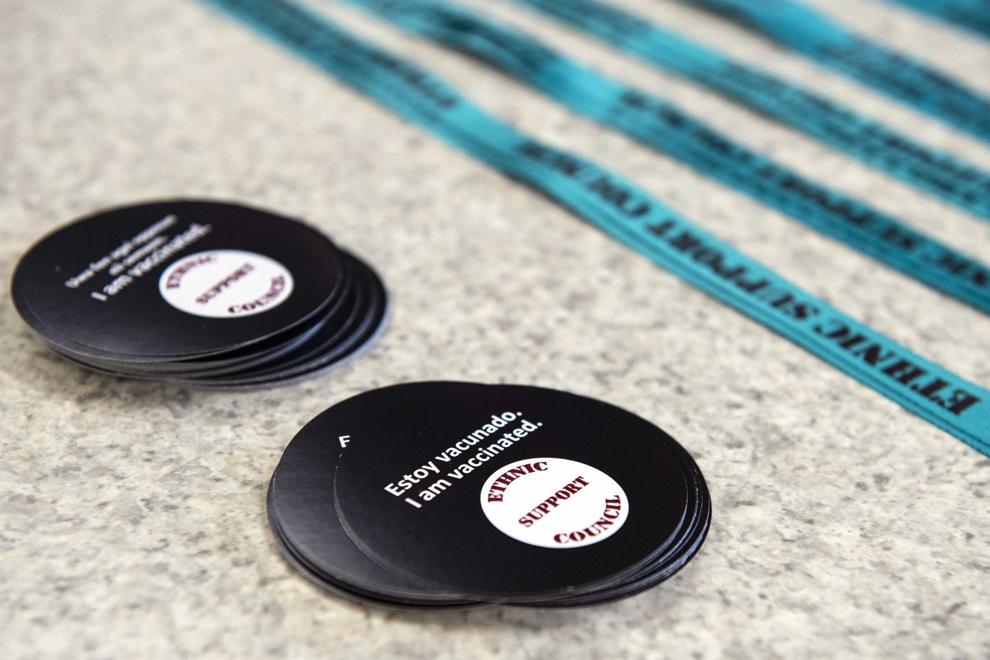 She said the department is planning to send a mailer in English and Spanish to all Cowlitz County residents letting them know how they can access the vaccine in the community.
Deputy Health Officer Krager said he recently recorded some video responses to frequently asked questions about vaccines that also were translated into Spanish to try to address the "information gap."
"I can make videos as much as I want, but having an endorsement from a family member or friend, saying 'I got the vaccine, it went smoothly,' is going to go further," he said.
As more people are vaccinated, Krager said he hopes others will see the benefits and feel more comfortable getting the shot. The guidelines that fully vaccinated people don't have to wear face masks in most situations could also be an incentive, he said.
"It's another way to make vaccination more acceptable and encourage people to get vaccinated because they'll see other benefits," Krager said.