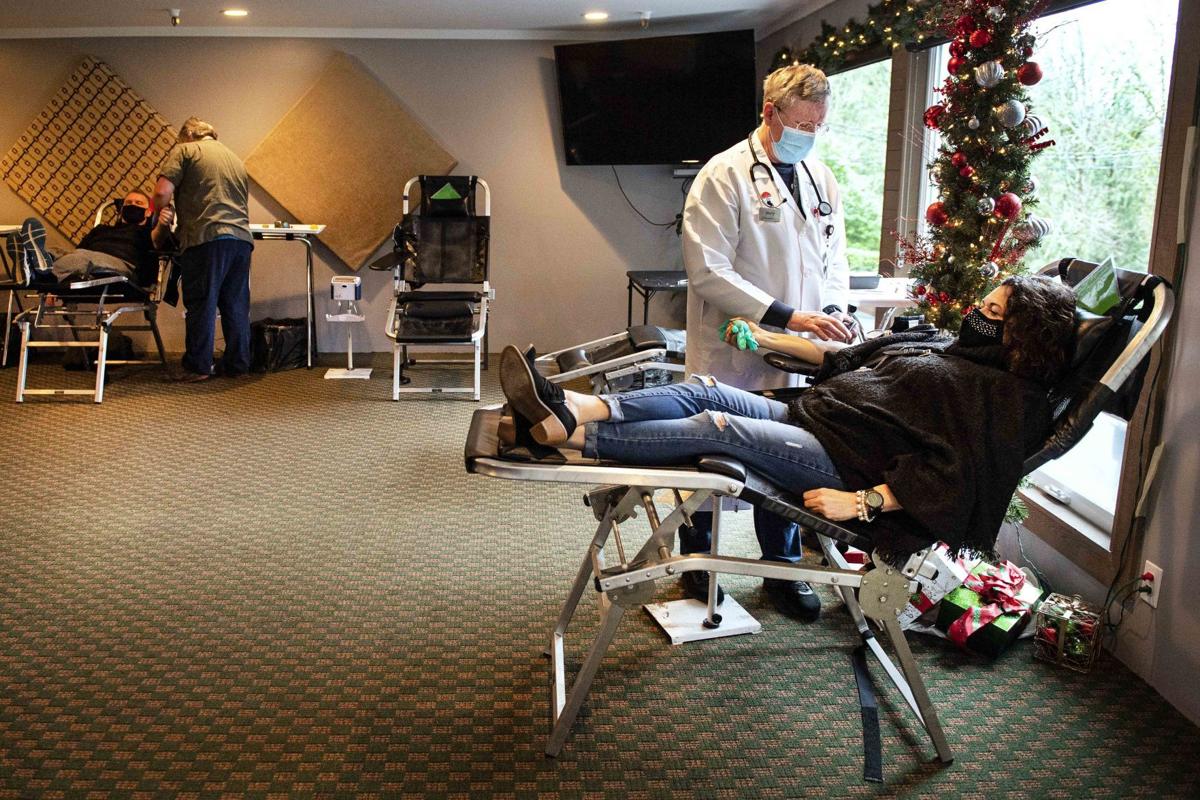 With less than a 24-hour supply of blood on its shelves, Bloodworks Northwest put out an urgent call for donors.
"Blood is being shipped to hospitals faster than it's being collected," Bloodworks Executive Vice President of Blood Services Vicki Finson said in a press release. "We're actively communicating with hospitals to conserve blood and appealing to donors to book appointments so that doctors don't need to make difficult decisions like canceling surgeries or postponing treatments based on the blood supply."
Types O and A are in critically short supply, and Bloodworks can't keep hospital inventories full, according to the press release. Hospitals have been advised to conserve onsite supplies.
Donations from Bloodworks provide 95% of the blood supplied to Pacific Northwest hospitals, according to the organization.
Support local news coverage and the people who report it by subscribing to The Daily News.
PeaceHealth St. John Medical Center spokesman Randy Querin said Wednesday Bloodworks is the hospital's sole source of blood products. The hospital hasn't experienced any interruptions in supply and hasn't delayed procedures and "we hope to keep it that way," he said.
"We definitely encourage people to donate blood as often as they can and through Bloodworks Northwest if possible because those are products that come back into the community," Querin said.
Bloodworks is asking donors in Washington and Oregon to book and keep appointments to donate every 56 days.
Bloodworks has seen a 27% no-show rate in the last couple weeks, Bloodworks Government Affairs and Community Engagement Strategist Juan Cotto said during a Department of Health briefing Wednesday.
The combination of the recent warm weather and confusion about donating after getting the COVID-19 vaccine has contributed to the increase in people canceling appointments and no-shows, Cotto said.
"This is the biggest blood shortage since the pandemic began a year ago," he said. "For the last two weeks, Bloodworks has been down to a 24-hour supply on hand. So, it's a really critical moment."
Cotto said donating blood is safe, and COVID-19 safety measures are followed at donation sites. There is no waiting period to donate blood after getting a COVID-19 vaccine, he said.
Since the pandemic began, donations have been by appointment only. Bloodworks asks people who sign up for an appointment to cancel if they can't make it so others can fill those spots.
Most people in good health, who are 18 years old and older and weigh at least 110 pounds can donate blood, according to Bloodworks. Teenagers 16 and 17 years old can donate in Washington with a signed permission form. In Oregon, anyone 16 years old and older can donate.
Bloodworks has a Vancouver location open Wednesdays through Sundays and has a pop-up location at the Red Lion Hotel in Kelso with varying appointments available.
People can schedule appointments online at bloodworksnw.org or by calling 800-398-7888.
"Maintaining a safe and reliable blood supply is critical to public health and the ability of trauma centers to respond to emergencies," Bloodworks Northwest President and Chief Executive Officer Curt Bailey said in a statement. "The community must immediately prioritize donating blood for the health of local patients, including individuals with cancer and other life-threatening diseases."