Proposed legislation to create a program helping first-time homebuyers historically barred by racial covenants is moving forward despite objections to raising the document recording fee by $100 to pay for it.
While illegal for 55 years, many restrictions remain in property records, and researchers have so far identified more than 50,000 statewide. Most of Longview's original neighborhoods, planned out around 1923, included the restrictions, according to plat documents.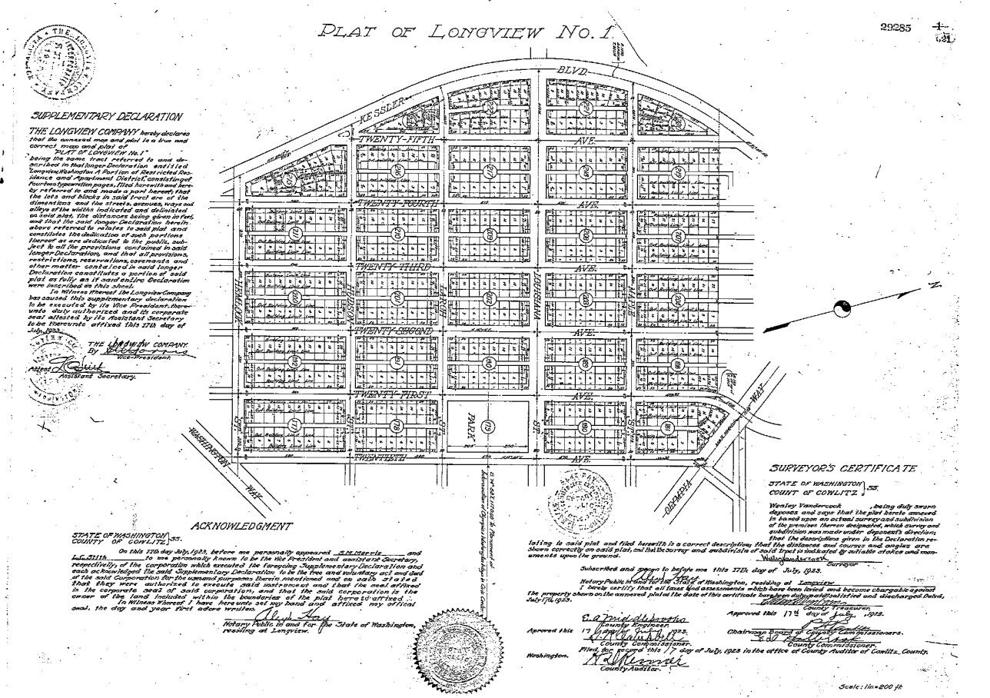 Racially restrictive covenants include several documents recorded with county auditor offices, most commonly listing restrictions in: a plat, a separate covenant document, homeowners' association bylaws, a notarized petition by multiple property owners, or an individual deed of sale, the research project found. Most were recorded from the 1920s through the 1940s.
Identifying and mapping these restrictions began in 2005 as part of UW's Seattle Civil Rights & Labor History Project, focusing on Seattle and King County. The work expanded in 2021 when the Legislature allocated funding for teams at UW and Eastern Washington University to identify existing restrictive covenants statewide.
James Gregory, UW history professor and project director, said the number of covenants found so far has been surprising. Before starting work in 2021, Gregory guessed the state could have 30,000 restrictive covenants. The numbers have "blown way past that" with 34,000 identified so far in King County, he said.
"The fact that virtually every county has this sad story is a big surprise as well," Gregory said.
The research team hasn't investigated Southwest Washington yet, but only four counties with small populations and limited growth when the restrictions were popular didn't have them, Gregory said.
LeeRoy Parcel, vice president and manager of Cascade Title Company, said he sees the restrictions "all the time" when reviewing Longview property records.
Neighborhoods — including the Old West Side, Olympic, St. Helens, Highlands, Columbia Valley Gardens and Hillside Acres — had the restrictions recorded in the original plats from 1923 to 1937, according to documents provided by the title company.
"None of the lots shown on said plat shall be conveyed, leased or given to, and no building erected thereon shall be used, owned or occupied by, any person not of the white race," the covenant states.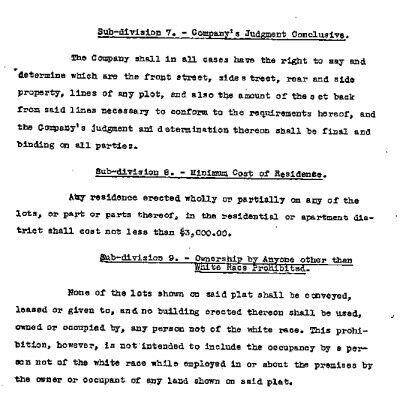 J.C. Nichols — R.A. Long's friend and head of the planning team — suggested these covenants for the new city, according to the book "R.A. Long's Planned City." Nichols put similar restrictions in his multiple Kansas City, Missouri, developments, the Kansas City Star reported.
Parcel said when he began his career in the early 1980s, he didn't expect to see the restrictions.
"I still sometimes get taken aback," he said. "It's great that things did change, but when you're digging into history and see this stuff, it's a surprise."
Longview resident Kathy Thompson said she remembers her parents' dislike for buying an Olympic neighborhood home with the restrictions when they moved to town in the late 1940s.
A few years later, they moved to Wildwood Drive, which didn't have a racial covenant, she said.
Washington property owners can strike the language from the chain of title by recording a modification document or by filing a lawsuit in Superior Court.
The state law authorizing Gregory's research team to identify restrictions also directs the universities to notify property owners and county auditors of them. However, the team has kept busy finding the covenants, and it's unknown if the Legislature will appropriate funding to continue the project beyond June, he said.
Some people have reached out to the project team to find out if their neighborhoods have restrictive covenants, Gregory said. Others offer to help, and more than 800 volunteers have assisted the research team, he said.
"That so many people realize this is important, it's history that still matters because it's been a factor in disparate opportunities for homeownership ever since, is really heartening," Gregory said.
Though illegal for decades, effects of the restrictions are still felt today because they locked families out of homeownership, the number one way generational wealth is built and passed on, according to a September report by the Washington Homeownership Disparities Work Group.
In Washington, the homeownership rate for people of color was 49% compared to 68% among white households, according to 2019 Census Bureau data.
Assistance and program funding
The covenant homeownership program proposed in House Bill 1474 is a step in addressing the "decades of harms" the restrictive covenants and other policies had on marginalized residents, said sponsor Rep. Jamila Taylor, D-Federal Way, during a February committee hearing.
If passed, the bill would create special-purpose credits to help with down payments and closing costs. Participants would repay the loans when the house is sold.
To be eligible for assistance, first-time homebuyers would be required to have an income at or below the area median income — $75,100 for a Cowlitz County family of four — and be Washington residents who were excluded by covenants before the Fair Housing Act or descendants of those affected.
The program would be funded by a $100 increase to the $203.50 document recording fee, collected by the county auditor when recording deeds, easements, liens/releases and other documents.
Representatives who spoke against the bill were in favor of the program but opposed the funding source. A proposed amendment to fund the program with money appropriated by the Legislature instead of the fee increase failed to pass the House.
Cowlitz County Auditor Carolyn Fundingsland said the bill has good intentions but doesn't reflect the day-to-day transactions or an understanding of the documents being recorded and the hardship on those paying for it.
"If you don't have that involvement, you won't understand consequences of those good intentions," she said.
For example, a small homeowners' association recently put a lien on the property of a resident who hadn't paid fees in a couple years, Fundingsland said. The $203.50 recording fee for the lien costs more than annual HOA fees due, she said.
The Washington State Association of County Auditors suggested the Legislature tie the surcharge only to documents where the hardship may be felt less, such as when purchasing or refinancing a home, because adding it to every document is "painful," Fundingsland said.
On March 2, the bill passed the House 53-43 and was forwarded to the Senate for consideration. It's scheduled for a public hearing 10:30 a.m. Friday in the Senate Committee on Housing.