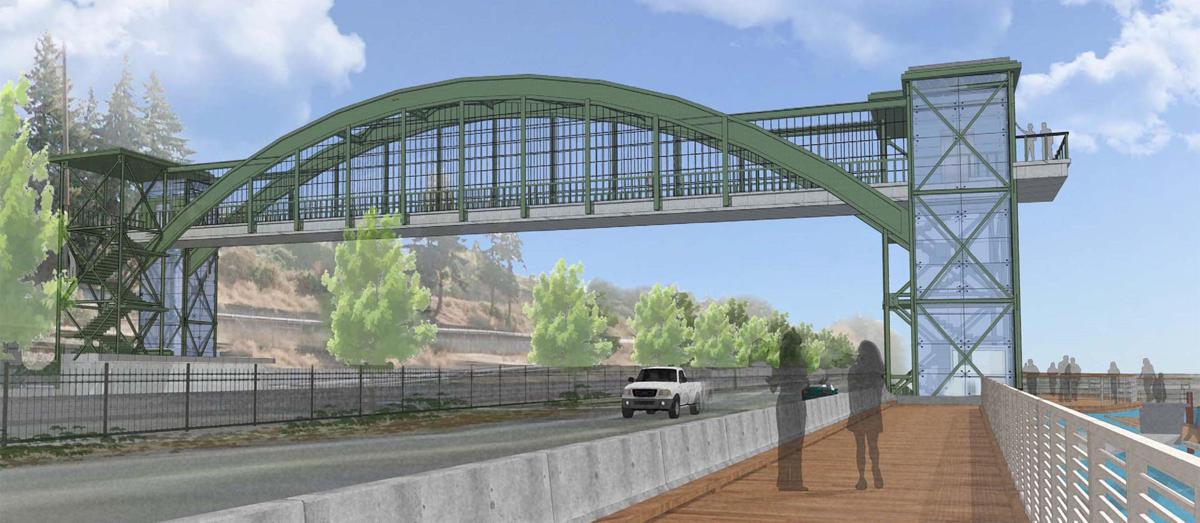 The Port of Kalama will receive $2.2 million from the state to fund half of its new pedestrian bridge, one of several Cowlitz County projects allocated a total of about $11.3 million in the Capital Budget recently passed by the Legislature.
Executive Director Mark Wilson told commissioners at the board's Wednesday meeting the port received the funds.
The port had to have 30% designs and some permits before asking for the funds, said Port spokesman Dan Polacek. The port still has other permits and clearances from Burlington Northern Santa Fe railway to get, but receiving the money is "helpful in keeping up our momentum," he said.
Support local news coverage and the people who report it by subscribing to The Daily News.
The current pedestrian overpass linking West Frontage Road and North Hendrickson Drive was built in 1973 and is not ADA accessible. The new crossing would be in the same location and include stairs and elevators, according to the port.
"When complete, the new overpass will better integrate the downtown core with the Port, provide a safe means of crossing, beautify the area and provide lasting benefits for all," the port's website states.
If everything goes to plan, the port expects to begin construction in about a year, Polacek said.
Other Cowlitz County capital projects that received funding include:
Lower Columbia College Center for Vocational and Transitional studies, $3.2 million
Lake Sacajawea renovation project, $900,000
Community Home Health and Hospice renovation, $765,000
Longview Fire Station purchase $995,000
Campus Towers Roofing project, $301,000
Fort Vancouver Regional Library in Woodland, $2 million
Woodland Scott Hill Park and Sports Complex, $600,000
Toutle River fish collection facility, $239,000
Cowlitz County Historical Museum collections storage, $17,000
The Legislature allocated funds to the Brian Abbot Fish Barrier Removal Board for projects in Cowlitz County, including:
North Fork Ostrander Creek, $1.7 million
Stillwater Creek, $352,000
Delameter Creek tributary, $224,000
Republican 19th District Rep. Jim Walsh sponsored or co-sponsored several of the projects in the bipartisan-approved spending plan, according to a press release from his office. The 19th District includes part of Cowlitz County.
"What I liked about the state's Capital Budget is that it leverages local resources to complete funding for local projects. It's a 'force multiplier' for getting good things done all around our district," Walsh said in a statement. "This latest slate of projects continues the 19th District's tradition of outperforming in the capital budget."