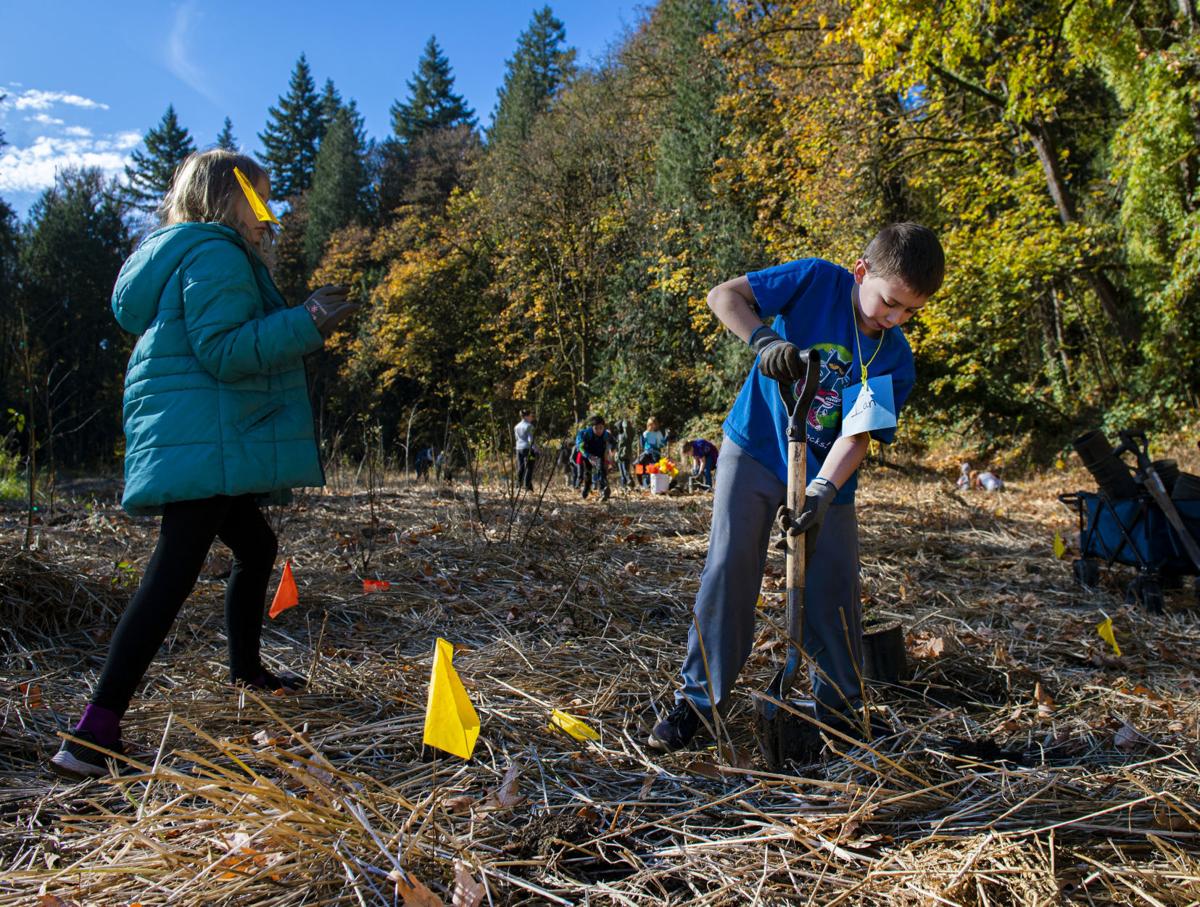 Fox Creek will get even more native trees and plants in the coming years, after the Rainier City Council voted Monday to give a local restoration group access to more land.
The council voted to give the Lower Columbia Estuary Partnership permission to plant on another 0.6 acres of city land on the other side of the creek from where they are currently working.
According to Lower Columbia Estuary Partnership volunteer coordinator Sam Dumont, since 2019 the group has planted 3,600 native trees and shrubs in the north and south areas of the creek on about 1.7 acres of land. Over the summer of 2020, the group found the south area had a 91% plant survival, well above the 75% goal.
"A 91% success rate the first year is great," she told the council. "We will keep monitoring for at least 5 years."
The planting work was done by about 300 local youth and about 60 adult chaperons, who planted about 1,600 plants along the creek, and by about 30 community volunteers over three planting events.
The goal of the restoration is to establish a healthy riparian buffer along Fox Creek and to control invasive species including reed canary grass, blackberry, thistle and Japanese knotweed.
Dumont said the advantage of taking local students to Fox Creek is that they can "walk by, see it and know they're making a difference."
"They want to come back and see the plants grow," she said. "They start to connect with it."
Public Works Director Sue Lawrence said the partnership was a win for the city, as it reduces maintenance in the area when the city no longer has to mow and cut back plants.
Support local news coverage and the people who report it by subscribing to The Daily News.
Mayor Jerry Cole also declared April a month of HOPE to support the local food pantry, HOPE of Rainier, and honor its "faithful service to the community."
"HOPE still needs your donations and your help," Cole said. "Hunger is something that goes on all year round."
He challenged the community to step up and donate to "keep HOPE alive in our community."
In other business, the council:
Appointed Laura Tretheway to the Planning Commission; Mike Avent, Scott Cooper, Ethan Pearson, Dena Nordstrom and Jeremy Howell to the Budget Committee; Terry Deaton to REDCO; and Randall Johnstun, Jason Nulph, Sharon Jump, Tiffany Hatley, Kristi Cole, Gary Rice, Terry Deaton, Scott Cooper, Laura Tretheway and Denise Watson to the new Parks and Recreation Committee
Directed city staff to start the process of declaring a house in the 500 block of East E Street a dangerous and derelict building after a fire there last year
Approved the purchase of a $93,000 jet vac trailer for the public works department. To purchase it, the city plans to take a loan from its timber fund, then pay it back over a 5-year period
Approved a $34,800 expenditure for a geotechnical study on West First Street, as the street is sliding off the hillside and threatening the water and sewer line. Lawrence said she didn't know how long the city had "until it's going to be a catastrophic failure."