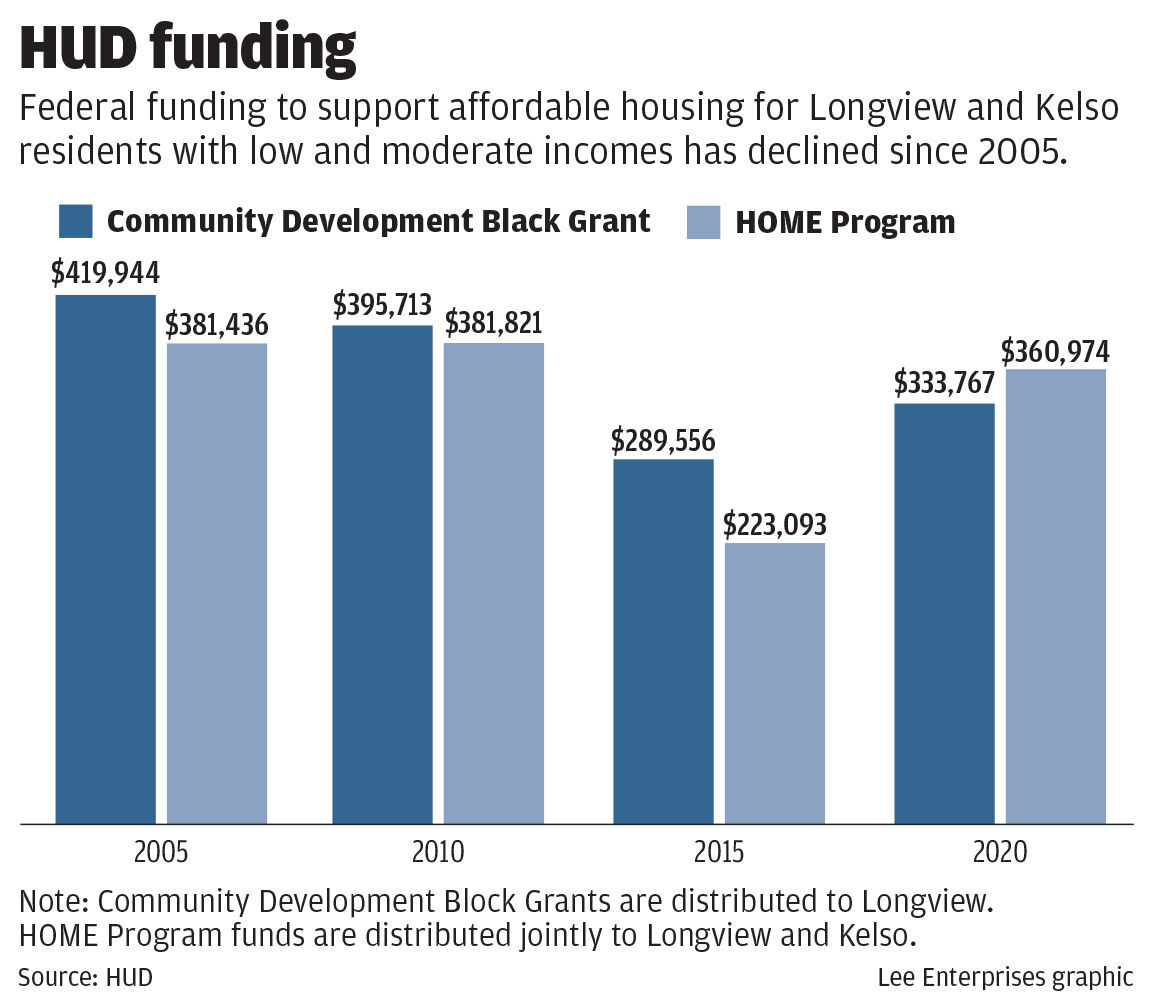 Longview and Kelso officials are reviewing a plan to provide housing for people living on low or moderate incomes in order to receive federal funding, which has fluctuated over the last 16 years.
Longview reports the city received almost $92,000 less in Community Development Block Grants this year than in 2005. Longview and Kelso jointly received about $15,000 less in HOME Investment Partnership funds over the same time period.
"The impact of these reduced funds is even more pronounced when considering the impact of inflation in those 16 years," states a Longview report.
Interim Planning Manager Adam Trimble said U.S. Department of Housing and Urban Development money fluctuates depending on the annual budget Congress sets for the agency.
Trimble said the reduction in money limits administrative staff hours to oversee applications from local organizations seeking funding.
FundingLongview receives HUD Community Development Block Grants and Longview and Kelso receive a joint distribution of HUD HOME Investment Partnership funding.
Both sources can be used to increase affordable housing by offering services such as rental and mortgage assistance and the creation and rehabilitation of new houses or rentals.
Annual income requirements range from a maximum of $25,000 for a single person to about $40,000.
Longview received about $330,000 in block grants in 2020 and 2021 and expects similar amounts each year through 2024.
Longview and Kelso received about $360,000 in HOME funds in 2020 and 2021 and expect similar amounts each year through 2024.
Despite the fluctuation in HUD dollars, additional money to support affordable housing and homeless services was provided to the cities in 2021 through federal pandemic relief funds.
Longview and Kelso received more than $1.3 million from the American Rescue Plan Act signed into law by President Biden in March.
Plan updates
The cities annually re-evaluate a five-year housing plan needed to receive HUD funding.
The change comes after the county government received millions of federal dollars to help renters since the pandemic began.
Longview officials will host a June 10 public hearing and Kelso leaders planned to set a June 15 public hearing at their Tuesday meeting so citizens can comment on the update.
City officials want to know if the current plan aligns with today's issues.
The plan's current goals are to stabilize and revitalize neighborhoods, promote thriving commercial districts and options, and reduce the numbers of homeless and the amount of time people go without a permanent residence.
The state Department of Commerce has sent Cowlitz County $1.5 million for "housing and homeless prevention services" for hundreds of families …
Both cities have to submit the plan to HUD by Aug. 16.