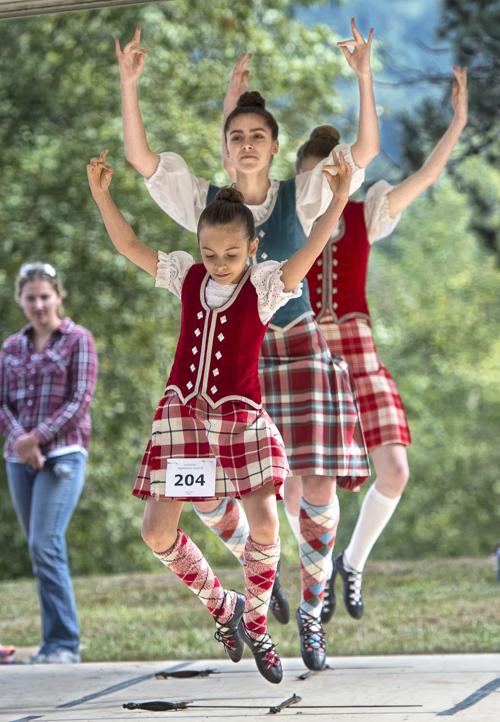 Grab your kilts and tam caps: the Kelso Highlander Festival is taking place this weekend.
The annual two-day festival will take over Tam O'Shanter Park on Saturday and Sunday for a celebration including the Highland Games, traditional dances, Scottish bands and representatives from several clans of Scottish descendants. The festival is free to all visitors.
Every part of the festival other than the Highlander Parade was canceled last year by the COVID-19 restrictions. During the weekend when Tam O'Shanter would normally host the festival, the park underwent a $1 million renovation to improve its roads and parking lots.
"It's going to be pretty much the same as it always has, except the park has been remodeled. It should be a great return for the festival," said Fiina Fowler, advertising director for the festival.
Fowler has been involved behind-the-scenes at the festival for two decades, between the marketing side and organizing the Kirkin' of the Tartan worship services. Fowler said the festival usually draws thousands of visitors a day, though she wasn't sure if and how the pandemic would affect attendance this year.
Kelso's connection to Scotland dates back to the city's founding in 1848. Peter Crawford named the city after his hometown of Kelso, Scotland, and established the city's high school and Presbyterian church. Since the last Highlander Festival was held in 2019, the two Kelso's entered into a Sister City relationship.
Highland Games were canceled earlier this summer in Seattle, Spokane and Prosser, when it was unclear how COVID restrictions would impact mass gatherings. Fowler said festival organizers are asking visitors to wear face masks in the handful of indoor or covered areas that are hosting events this weekend and will have a station offering free COVID vaccines.
"We're keeping it as safe as we can so visitors can enjoy the games without worrying about catching something," Fowler said.
The festival kicks off Saturday morning with the 5K Kilted Fun Run. Walkers take off at 7:30 Saturday morning, with runners following at 8 a.m. The largest event outside of Tam O'Shanter is the parade between downtown Kelso and the park, which leaves at 10 a.m. Saturday.
There will be individual competitions in the Highland Games on Saturday and the team games taking place Sunday. Regional bands Wicked Tinkers, Men of Worth and Sons of Malarkey will perform multiple times throughout the weekend.