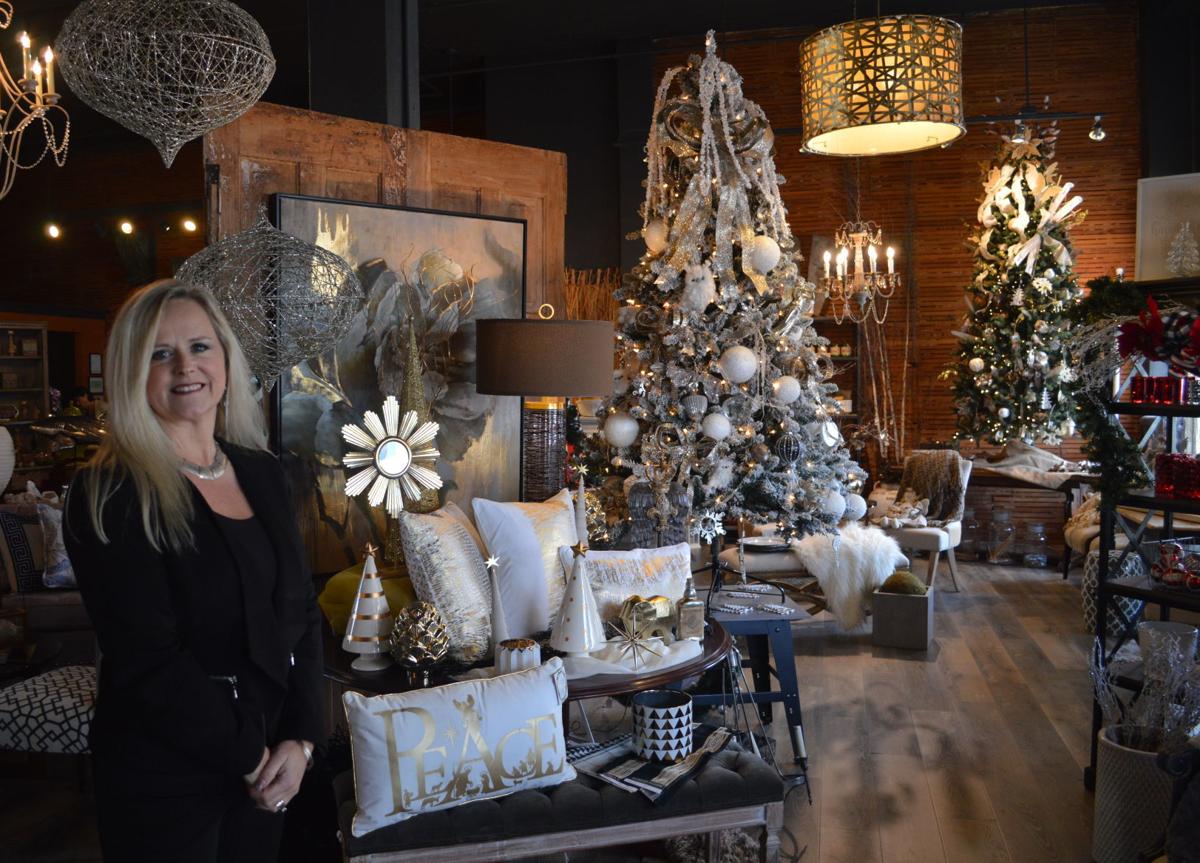 Golden Ladder Interiors is already brimming with towering, glittering Christmas trees and welcoming wooden signs only one month after returning to Longview.
Owner and Longview resident Hollie Burns, 45, said she closed up her interior surfaces and home decor shop in Camas and reopened at 1432 Commerce Ave. to be closer to home where her two daughters attend Mark Morris High School.
"I wanted to be part of (nonprofit group) the Downtowners and be part of enhancing downtown Longview," Burns said last week. "I'd like to see consistent growth so more people shop downtown."
Golden Ladder's main business is floor coverings, countertops and tiles. Burns said her store stands out because it offers a variety of products from almost 500 vendors.
"If someone is looking for a special piece and can't find it, chances are we can find it," she said.
Customers can hire Burns as a general contractor to help with commercial and residential remodeling projects from start to finish, or they can just purchase the products from the store.
"We don't want to have the big box store mentality (on prices), but we also don't want to be super high-end. We work with all budgets," she said.
Burns first opened Golden Ladder in Cathlamet, her hometown, in 1994 and stayed there for 16 years.
You have free articles remaining.
Then she moved to 820 Ocean Beach Highway in 2011, but the space was small and the location didn't attract many new customers. So she opened a second Golden Ladder location in Camas and started taking on more remodeling projects as a general contractor. She closed the Longview location on Ocean Beach Highway in 2016.
"I moved to Camas because I thought I wanted to be bigger with more projects. But I was up to 45 projects at once and I ran myself sick and ended up with pneumonia for five months last year," she said.
The two-hour commute on the freeway also was exhausting, she said. When Thiel's Musical Instruments put the 5,000 square-foot space on Commerce Avenue up for sale in August after being there for 22 years, Burns said she jumped on it.
Thiel's was out on Aug. 31. Burns had the keys on Sept. 1 and had her grand opening on Oct. 20.
Burns said she's excited to offer more seasonal decorations, custom arrangements and home decor at her new store. She also has home accessories and furniture.
About 200 people stopped by her store on opening day, she said. And traffic has been consistent since then.
Burns said there seems to be more activity downtown since the last time she had a store in Longview.
"It feels different from five to 10 years ago," she said. "I like that there's a lot of boutiques and shops. It makes people want to shop and creates a better vibe."
Burns said she's done moving her shop around: Commerce Avenue is Golden Ladder's permanent home.
"I've had so much support from the community. Some old clients have come in to wish us well. It feels good to be home."
Get local news delivered to your inbox!
Subscribe to our Daily Headlines newsletter.