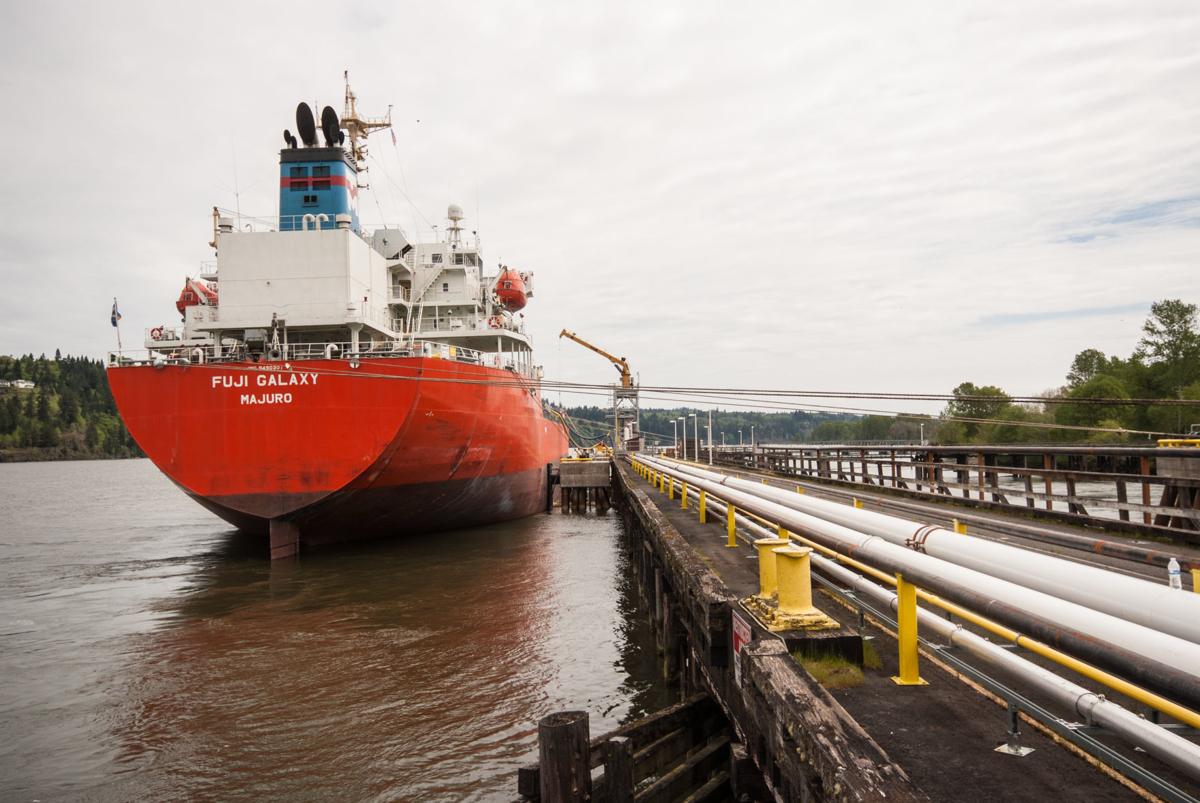 The Oregon Department of Environmental Quality on Tuesday renewed and updated an air quality permit for a Clatskanie-area ethanol plant, which will allow the facility to ship renewable diesel, ethanol and crude oil.
Global Partners, the Manhattan-based company that owns the plant, says the permit allows the group to "move the low-
carbon fuels of the future" under a five-year contract to handle renewable diesel for an undisclosed client. The company announced it would begin shipping the fuel product this fall.
"We want to thank everyone who participated in the permitting process, and especially the local community. Without local support, we couldn't take this next step in the use of the facility," Global CEO Eric Slifka said in a prepared statement Wednesday.
Conservationists say the permit opens the door for Global Partners to quietly shift back to crude oil shipments, which could bring up to two oil trains through downtown Rainier and other parts of Columbia County daily.
"This permit, while it talks about renewable diesel, definitely permits for transloading crude oil," said Dan Serres, conservation director for Columbia River Keeper, a Hood River, Ore.-based environmental group.
Earlier this year Global Partners announced plans to start handling renewable diesel under a five-year contract with an undisclosed company. Before it could sign the contract, Global needed permission from DEQ and the Port of Columbia County to add the fuel product to its shipping permit.
Renewable diesel is chemically similar to petroleum-based diesel but is made from organic materials such as used cooking oil and animal tallow. Generally it is less flammable than ethanol or crude oil and is easier to clean up, according to DEQ. It also burns cleaner than regular diesel.
"There is large demand for renewable diesel, driven in part by government climate policy, and Global's Clatskanie Terminal is well-positioned to distribute it in a safe and reliable manner," the company said.
Global can use the same equipment to ship and store renewable diesel as it does crude oil and ethanol, but it must clean storage tanks and piping every time it switches products.
Riverkeeper urged the company to remove crude oil from the permit to prove it would not revert back to "moving bomb trains through Columbia County, Vancouver and Portland," Serres said.
Global fell under fire around 2013 when it started shipping crude oil at much higher rates than allowed under a permit to produce ethanol. DEQ fined the company and required Global to apply for a separate permit for shipping operations.
"We've seen Global Partners switch to crude oil before with little to no public notice," Serres said. "If Global is so serious about moving something other than crude oil, they didn't have to include crude oil in their permit. But they went out of their way to do that,"
Although it's permitted to do so, the company has not handled crude oil at the Clatskanie facility since 2015.
The company has stressed that the five-year contract is specific to renewable diesel, so it would not switch commodities during that period. But Slifka said the company was unwilling to abandon crude oil entirely to avoid limiting business options.
"With this permit modification, our ability to handle a portfolio of advanced biofuels is further enhanced," Senior Vice President of Terminal Operations Dylan Remley said in a prepared statement Wednesday."The addition of renewable diesel provides further capabilities and opportunities for the biofuels marketplace, which are driven by West Coast low carbon fuel standards."
Serres, the conservationist, said he "would like to believe that Global Partners is going to move something other than crude oil," but the company's recent actions suggest otherwise.
For example, Global asked the Port of Columbia County in 2018 for permission to handle more dense oils, which would potentially include "toxic tarsands oil." It also renewed its ethanol production permit, which covers much of the same equipment as transloading crude oil would, despite publicly stating that there are no plans to restart ethanol production at the plant.
Serres called the state agency's decision "rushed and sloppy."
"It seemed like a slap in the face to people. There were more than 2,000 people who weighed in urging DEQ not to rush forward and approve this permit, and they did it anyway," he said. "We are still reviewing that decision and we will definitely be sharing with people we know in Columbia County any next steps on how to push back on the idea of more oil trains coming through the county."
Get local news delivered to your inbox!
Subscribe to our Daily Headlines newsletter.