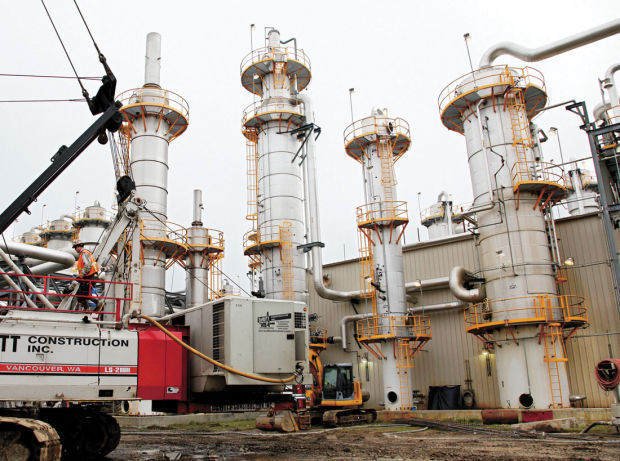 Global Partners on Wednesday received the first of two approvals needed for the company to ship renewable diesel from its Clatskanie-area ethanol plant.
Port of Columbia County commissioners unanimously approved amendments to the company's sublease, dock use agreement and pipeline easement. Global also can continue to handle ethanol and petroleum products, such as crude oil, but Global has not shipped crude from the site since 2015.
Global still needs state Department of Environmental Quality approval for the plan, which would involve shipping renewable diesel to Port Westward along the Portland and Western Railroad tracks that run through Scappoose, St. Helens and Rainier. It would then ship the diesel out by barge.
Renewable diesel is chemically similar to petroleum-based diesel but is made from organic materials such as used cooking oil and animal tallow. Generally it is less flammable than ethanol or crude oil and is easier to clean up, according to DEQ. It also burns cleaner and has fewer emissions than regular diesel.
Global officials say they have a customer who wants to start a five-year contract to ship the product.
Global CEO Eric Slifka said he doesn't want to explicitly remove Global's ability to handle crude oil because "it's very limiting" for business not to have flexibility to handle multiple commodities.
However, the customer agreement would be specific to renewable diesel for the five-year term, so the company would not switch commodities during that period, he said.
You have free articles remaining.
Global still needs permission from DEQ to add renewable diesel to its air quality permit. DEQ is currently drafting that permit. If DEQ does not approve the permit, Global could not complete the deal.
"I think it'd be a big (economic) miss for the state," Slifka told TDN Tuesday night at a company open house in St. Helens.
About two dozen people attended the open house to mingle with Global officials. Most attendees supported the company's plan.
"We need business in Columbia County. We need employment. We need jobs. We need the tax base," said Diane Dillard, a St. Helens resident who owns Dillard's Marina and Max's Moorage.
Global's ethanol plant currently employs about 25 people, about half of whom are from Columbia County. The company expects employment to stay relatively steady under the renewable diesel operation.
Carroll Sweet, chair of the St. Helens-based Envision Columbia County citizens activist group, said the renewable diesel "sounds good to me. ... Anything is better than oil."
But like Riverkeeper, Sweet's group would "very much like it if Global dropped their lease not to have oil at all," she said.
Columbia City Resident Blair Walter said he'd support Global even if it wanted to switch back to crude oil.
"They've never had an accident, and they've been some of the best corporate citizens we've had in Columbia County. ... The cool thing about having a company that's nimble to the market is that it means they will be around for a while," Walter said.
Get local news delivered to your inbox!
Subscribe to our Daily Headlines newsletter.