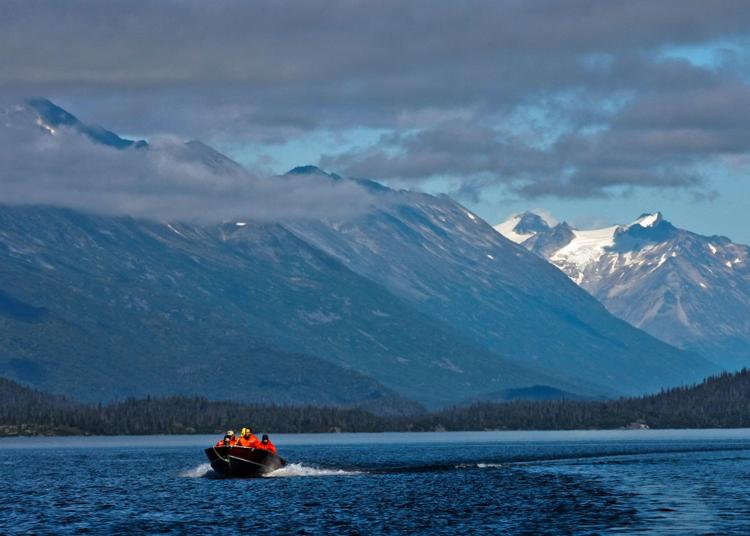 Lower Columbia River gillnetters say the Trump administration's recent decision to withdraw protections from Bristol Bay could pave the path for a giant gold and copper mine in Southwest Alaska that would threaten their source of sockeye salmon — and their chief livelihood as fishermen.
Members of the fishing industry said the move is indicative of the president's "pro-business, anti-environment" agenda, one they say is shared by Alaska Gov. Mike Dunleavy.
"I think it's a general policy push in the Trump (administration). You look at their track record: They've lightened up environmental standards. … Some of it is not bad, but this is particularly bad," said Steve Fick, owner of Fishhawk Fisheries in Astoria and Kenai, Alaska. The decision highlights how Dunleavy "appears to have special interests that are directly affecting the largest, most productive salmon population in the world."
Pebble Limited Partnership, the Alaska-based company proposing the mine, celebrated the EPA's decision, noting that it removed a "pre-emptive veto" that would have blocked their project.
"Finally, this Administration has reversed the outrageous federal government overreach inflicted on the State of Alaska by the Obama Administration," said PLP CEO Tom Collier. "The pre-emptive veto was an action by an Administration that sought to vastly expand EPA's authority to regulate land use on state, private and native-owned lands throughout the United States, and in doing so kill one of America's most important mineral projects before a development plan was proposed or a comprehensive Environmental Impact Statement (EIS) permitting review was undertaken."
The EPA said in a July 30 news release that its action does not approve Pebble's permit application or determine a particular outcome in the Corps' permitting process. It does, however, create an opportunity for the mine to acquire permits and start operations, should the Corps deem it OK.
According to the release, the EPA withdrew its 2014 decision because more specific information about the mining project was made available in recent years. For example, the decision was based on three hypothetical scenarios for the mine site, which all differed from the actual project proposal submitted to the Corps in 2017 for review.
There is also now a draft environmental impact statement, released by the Corps, and thousands of public comments on the project that weren't available before, according to the EPA.
"This action removes the Agency's outdated, preemptive proposed veto of the Pebble Mine and restores the well-understood permit review process. … The now-five-year-old Proposed Determination does not grapple with the currently available expansive record, including specific information about the proposed mining project that did not exist in 2014," the release says.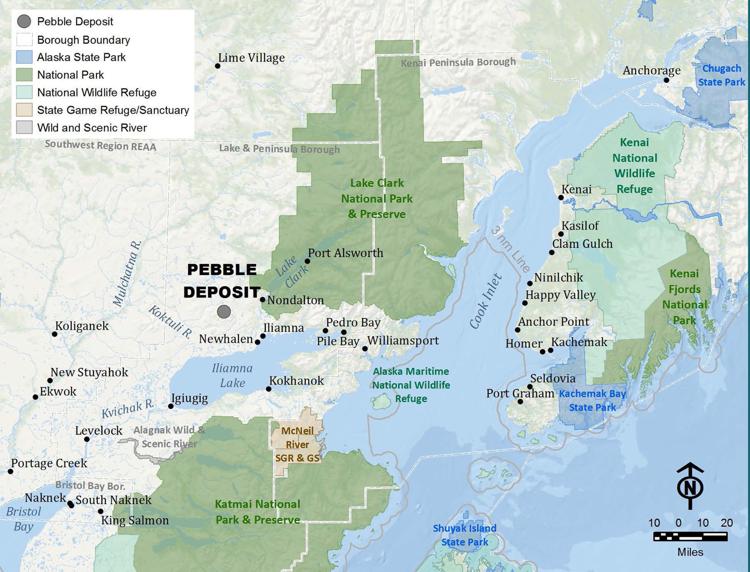 "The infrastructure that will go into that mine has to affect the surrounding areas. I haven't seen anything or any science (showing that the mine) won't affect the surrounding natural resources," Fick said.
The mine also faces long-time opposition from U.S. Sen. Maria Cantwell, D-Wash., who slammed the administration's decision to withdraw the Bristol Bay protections.
"The Bristol Bay watershed supports fishermen, shipbuilders, suppliers, sportsmen, restaurants and over 50 million salmon that make up a $1.5 billion economy," Cantwell said in a July 30 prepared statement. "The Trump administration's reckless action today threatens our salmon, our maritime economy, and the livelihoods of thousands of Washington fishermen. This is another example of this administration making a foolish and short-sighted mistake by choosing special interests over working-class jobs."
U.S. Representative Jaime Herrera Beutler, a Battle Ground Republican, is also "very concerned" about the Pebble Mine proposal.
"The salmon runs in Bristol Bay are vitally important for both commercial and sport fishing interests who reside in Southwest Washington, especially the smaller communities of the lower Columbia River," Herrera Beutler said in an Aug. 14 email to The Daily News. "I have voiced my concerns to the Army Corps of Engineers and the EPA, and I will continue to monitor the federal permitting process closely and take action when necessary to protect those who rely on these sustainable fishing grounds."
You have free articles remaining.
The Pebble Mine, an operation the EPA estimates will cover an area larger than Manhattan, would include an open pit mine site, a 270-megawatt power generating plant, a transportation corridor crossing Iliamna Lake, a new port and a 188-mile natural gas pipeline. It would be located north of 77-mile-long Iliamna Lake (Alaska's largest lake) and the headwaters of the Kvichak and Nushagak (NEW-shah-gack) rivers, which feed Bristol Bay.
Bristol Bay produces almost half of the world's wild sockeye salmon. On average, about 37.5 million salmon return on the watershed each year.
Those "mind-boggling, abundant" returns support many lower Columbia gillnetters, who earn most of their annual income while fishing Bristol Bay in June, said Kent Martin, a Skamokawa resident and retired gillnetter of 38 years.
"Those Alaska fisheries have been pivotal as they've reduced fisheries here. … Nowadays it's half or more of your income," Martin said.
The mine would produce enough waste to fill nearly 4,000 football stadiums, most of which would be impounded on a 19-square-mile area that includes several streams, wetlands, lakes and ponds important for salmon, according to the EPA. Over the mine's 20-year lifetime, 1.4 billion tons of material would be mined. That's about half as much debris as Mount St. Helens dumped into the upper Toutle Valley during its May 1980 eruption.
The EPA released a report in 2014 stating that if the Pebble Mine was built at the headwaters of the rivers, 24 to 94 miles of salmon streams would be destroyed. Another 48 to 62 mile of streams could be contaminated with toxic mine waste.
"Once that kind of damage is done related to chemicals … I have no idea how long it would take to clean it up, and whether it could be done in the foreseeable future," Martin said.
He noted that salmon runs in the Pacific Northwest suffered after regional projects, such as installing hydroelectric dams, "destroyed, blocked off, dammed up, ditched, diverted and drained" salmon habitat. And once abundant Columbia River salmon returns have yet to return to their past numbers.
After completing the 2014 report, the EPA decided to invoke a "proposed determination to restrict mining activities near Bristol Bay, a rarely used authority that is part of the federal Clean Water Act. Many stakeholders called that decision a "preemptive veto" of the project by the federal organization.
Fishermen say the EPA's decision to withdraw the Obama-era restriction likely was politically motivated.
Jim Wells, president of Astoria-based Salmon for All gillnetters association, said the Trump Administration has been "anti-environmental, pro-business," and the governor of Alaska is facing pressure from advocacy groups outside of the fishing industry.
PLP CEO Collier expressly thanked Gov. Dunleavy for encouraging EPA to withdraw the Bristol Bay protections.
"As Gov. Dunleavy clearly recognizes, major companies will not invest in resource development in Alaska if projects can be vetoed before they receive a fair review. Alaska has needed this kind of leadership for years," Collier said in a news release. "Gov. Dunleavy appears to be fulfilling his pledge to make sure the world knows Alaska is open for business, and supports responsible resource development."
The lower Columbia gillnetters say they are prepared to oppose the mine once again.
Martin said he is "always willing to sign petitions and make phone calls, if necessary" to block the mine.
Fick expects "continued court fights" over the project, delaying any potential start date. However, if the chips fall in favor of the mine, Fick joked that commercial fishermen might try blocking access on the river to the construction site to stop the mining company from bringing in equipment.
"There is a very strong basis for opposition to this mine," Fick said. "It's irresponsible the way they're trying to push it through."