COLDWATER RIDGE — At a lazy creek Wednesday morning nearby Coldwater Lake, six girls carefully collected water and tested it for sediment.
They laughed and waded around the bank — sometimes yelling, "What the heck is that?" — or navigated slippery rocks in the riverbed.
The group was starting day four of the annual GeoGirls camp, a five-day, four-night excursion at Mount St. Helens for 25 middle school and five high school girls from across Washington and Oregon. They're led by female scientists, educators and university students on scientific experiments around the most active active volcano in the Cascade Range.
The camp is in its fifth year, and previous participants are now returning to the program as high school mentors and adult volunteers, program officials said.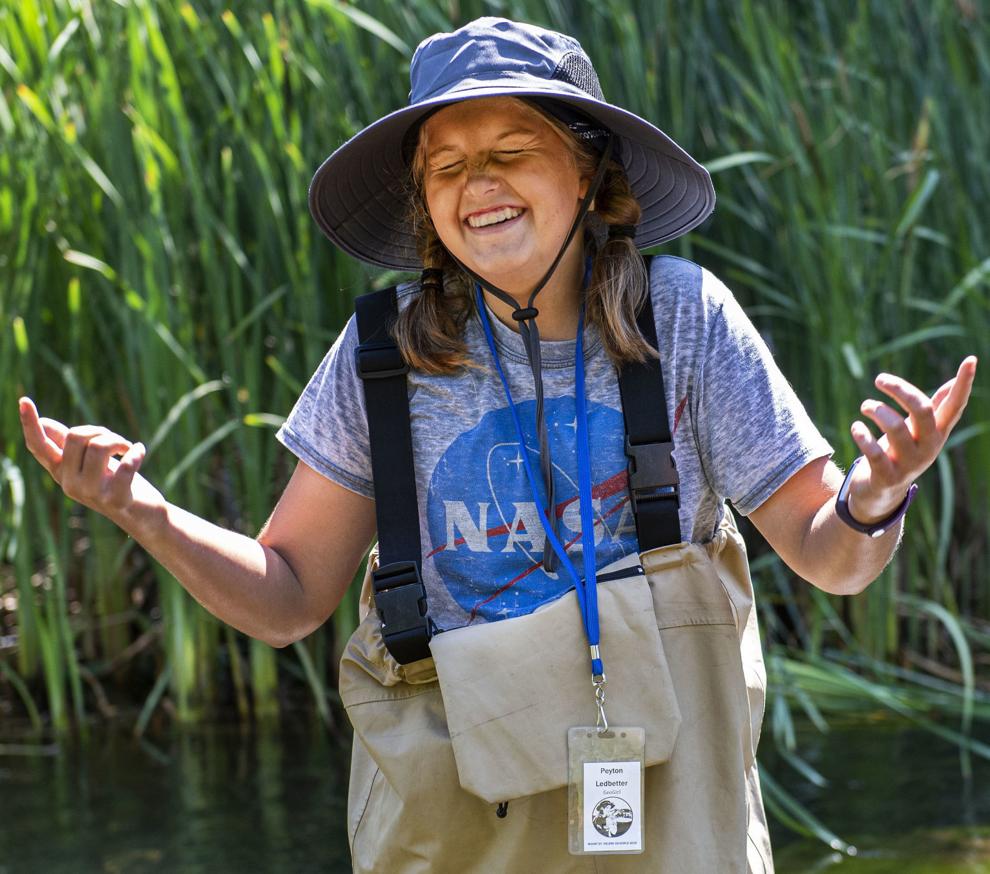 GeoGirls was developed by Mount St. Helens Institute science education director Abigail Groskopf and U.S. Geological Survey geophysicist Kate Allstadt to inspire more girls to enter science-related fields. Thanks to donors and grants, the program is free. So the only limiting factor for interested girls is the strength of their application.
Cassandra Harker, a 16-year-old at the International School of Beaverton, was lit up as she talked about her new friends and the scientific projects they were working on, including the sediment study.
Cassandra said her role is to guide the other seventh- and eighth-grade girls and help them grow confidence. She said she's especially excited for a night hike and camping under the stars with the other girls.
"Math and science are often undermined for women, so I wanted to show them my passion, and what you can see in science," she said. "Some of us have been stereotyped. ... To come here, a lot of us were like, 'Wow, I can like geology. I can like science.' For a lot of them, it was a breakthrough."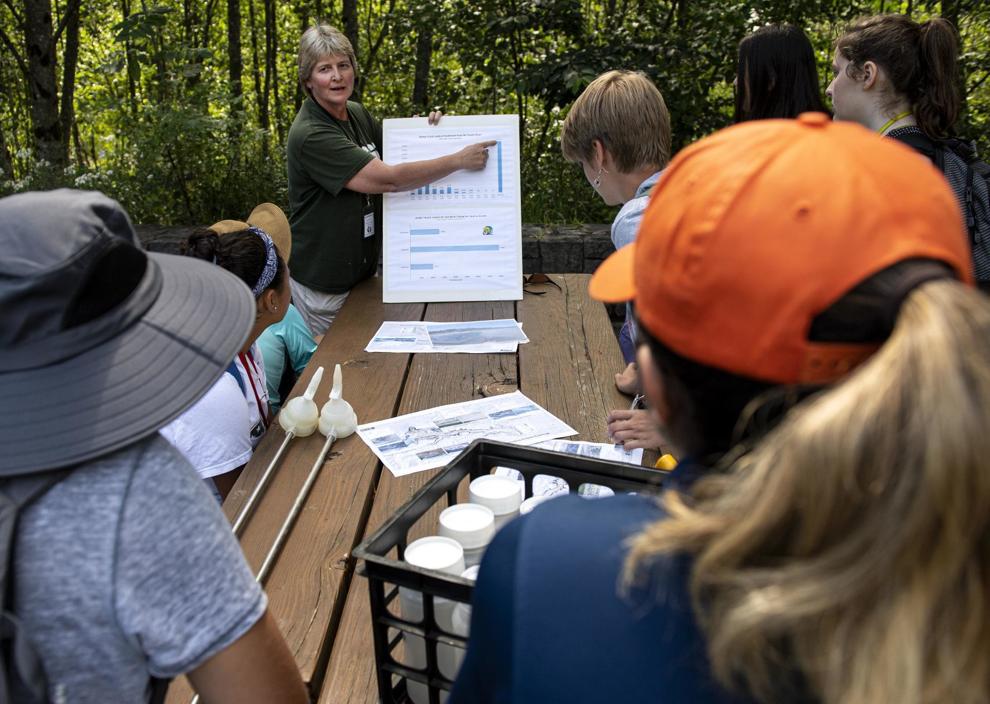 Tami Christianson, a hydrological technician at Vancouver's USGS Cascades Volcano Observatory, led the group in collecting sediment samples at the creek. It's her second year participating in the program.
The May 18, 1980, eruption of Mount St. Helens dumped more than 3 billion tons of debris into the upper Toutle River Valley. If unchecked, it could wash downstream and clog the Cowlitz River, increasing flood risks.
There are real economic and ecological concerns, not to mention human lives at stake in studying the sediment flow and flood risks of the Toutle River, Christianson pointed out.
"It gives them a perspective of how we work, what we do, and to see if they like it," Christianson said. "Each different job, they can see why it's done. Why are we collecting the sediment? Who cares how much dirt is in there?"
Liz Westby, a geologist at the Cascades Volcano Observatory, said the program opens the girls' eyes beyond the stereotype of geologists standing around looking at rocks and fossils.
"They're realizing it's cool to be a science nerd as a girl," Westby said.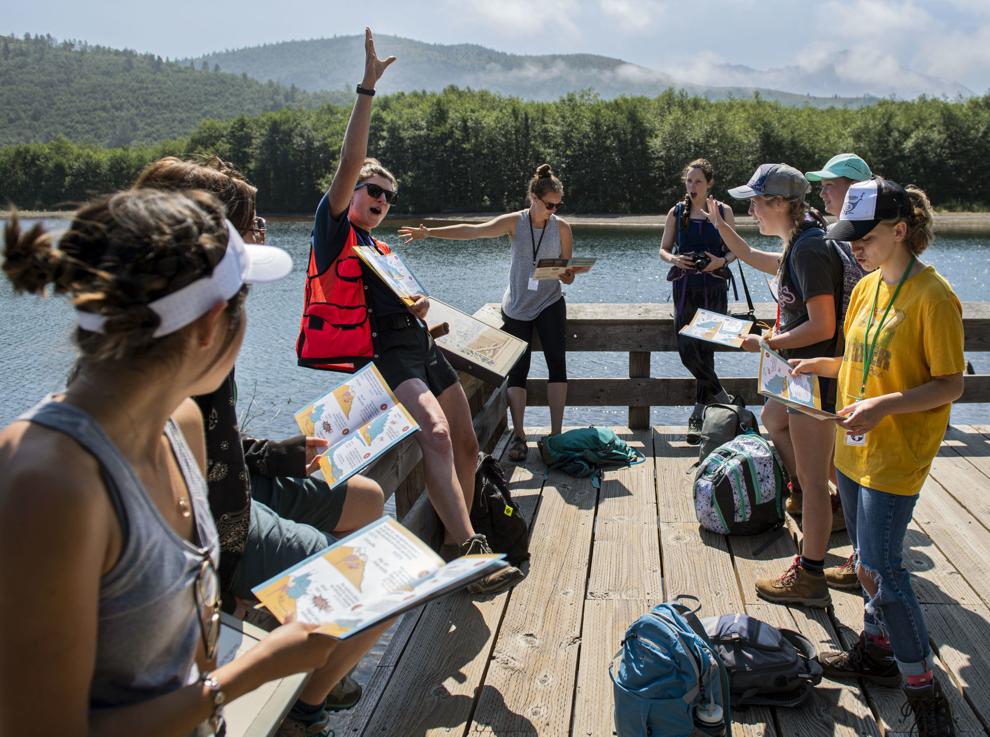 Wednesday morning, Cat Samson, a volunteer and mapping assistant for the Washington Geological Survey, led girls on a hike around Coldwater Lake to examine landslide deposits from the eruption. Another group examined rocks and minerals at the Coldwater Ridge Science and Learning Center.
Rian Newby, a 13-year-old who goes to Hamilton Creek School in Lebanon, Ore., and a member of the sediment testing group, said she's fascinated by astrophysics and wants to one day work for NASA.
Newby said her science teacher signed up as many seventh and eighth grade girls from her school as possible for the GeoGirls, and Newby was chosen to go on the trip. She's bonded with the other girls from camping, playing games in the car on the drive up and performing experiments, and said she plans to stay friends with them.
"I already have two of the girl's Instagrams," Newby said with a smile.