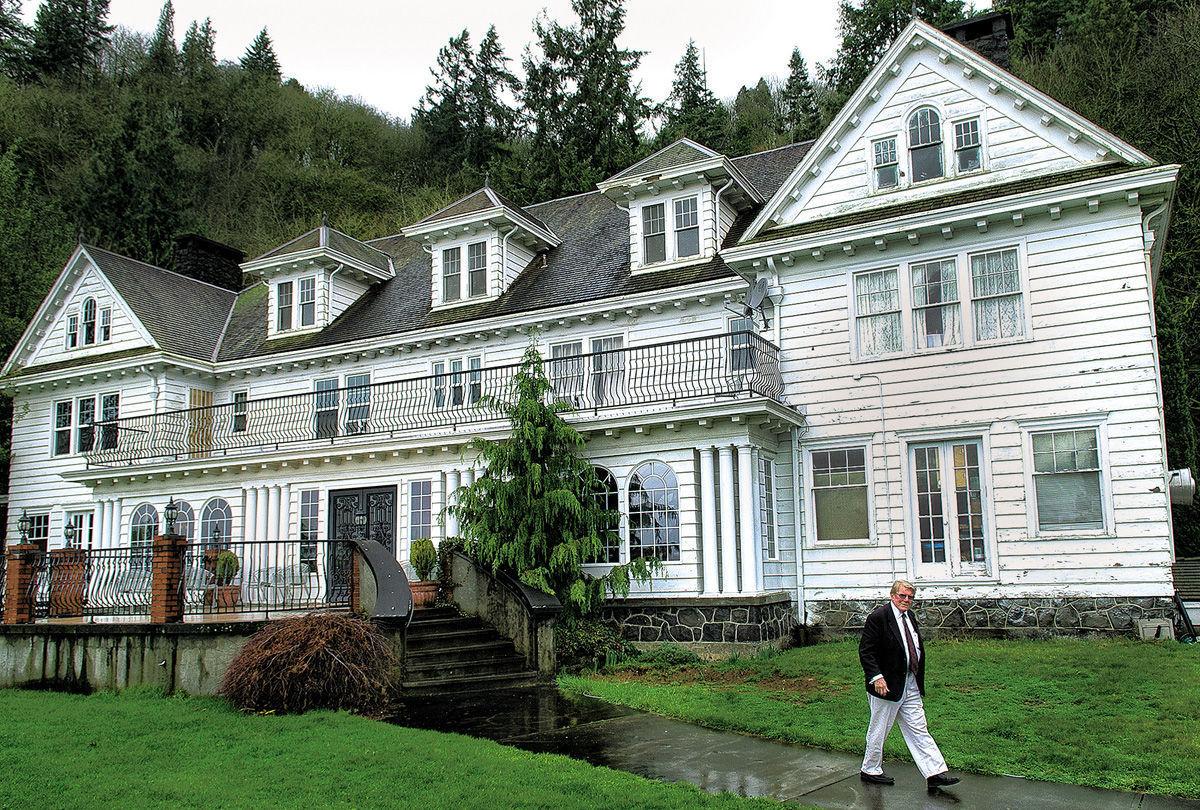 Reuben Grendahl, who ran a bed and breakfast and restaurant at the historic Rutherglen Mansion on the slope of Mount Solo for 45 years, died Monday at his son's Longview home. He was 94.
Grendahl remained an optimist and retained a mop of sandy red hair even to the end, and he was remembered for his warmth, hospitality and a rich and varied life.
"He was so endearing to people. He would fully listen and make the person who he was speaking with feel like his number one priority, no matter if it was a child or adult or what their status was in the community," said one of Reuben Grendahl's two sons, Mark Grendahl of Longview.
Rick Little, a member of the local Stageworks Northwest theater company, said the group held several dinner performances at Rutherglen for four seasons before finding a permanent home. Grendahl, he said, should be remembered as "a man of hospitality and openness."
"He never let anything take him down. He was always positive and always a friend to anyone who came up to visit him. He had a remarkable life. And he had a lot of good stories," said Little, who is also the director of Steele Chapel at Longview Memorial Park.
Grendahl served in the merchant marines for 43 years, doing duty during World War II and the Korean and Vietnam wars as a radio electronics officer, Mark Grendahl said. He fell into that line of work after moving from the Midwest to work in the Portland ship yards. He also was an avid photographer and painter, and he and his wife, Iva, ran a hotel in Seaside, Ore., before purchasing the Rutherglen in 1970.
That story itself is poignant. Iva Grendahl had drawn a picture of her "dream house," and on one of his stops in Longview, her husband saw the old mansion, perched on the east flank of Mount Solo. It looked almost exactly looked like the house Iva had drawn, Mark Grendahl said. So his dad bought it, even though it had been vacant for years.
Rutherglen is on the National Register of Historic Places. It was built in the late 1920s by J.D. Tennant, the general manager of Long-Bell Lumber Co., which founded Longview. The mansion was built to resemble an old Southern plantation home, with more than 15 rooms (including a ball room and dressing rooms), a basement, a "model farm" and a house for employees.
Grendahl and Iva hoped to turn the white, two-and-a-half story mansion into a grand restaurant. But Iva passed away shortly after the purchase. Grendahl never remarried, and no plans for Rutherglen took shape.
In 1976, Grendahl leased the mansion to the county as a home for troubled teenage girls for about three or four years. According to The Daily News archives, the space was vacant for eight years before it was converted to a bed and breakfast and restaurant in 1988 by Diane Armstead and Donna Bosler. In 1997, Grendahl took over management after retiring from the merchant marine.
The restaurant space has hosted hundreds of events, including wedding receptions, family reunions, business meetings, live music and "Murder Mystery" dinners hosted by Stageworks.
Grendahl sold the building in 2015 to Longview-based financial consulting firm, KinetiQ Group, and now is a private residence. He said he no longer had the energy and that his two sons didn't want to take over the mansion or restaurant. His three daughters had passed away.
Over the years, Grendahl poured money into renovations: creating a level front lawn and parking lot; constructing a tiled outdoor seating area; digging out a wine cellar. He converted the ballroom into a wedding chapel, installed carpeting upstairs, added oak doors on the two bed-and-breakfast bedrooms and commissioned a Woodland iron worker to add artistic coverings to the fireplaces.
"Whatever I've done here, it looks like it belongs here," he told The Daily News when he sold the place five years ago, motioning to a red-gum wood door he installed to keep out a draft. "Nothing looks like it was tacked on."
Arrangements are pending at Steele Chapel, and a larger gathering will be held once the pandemic passes.
Get local news delivered to your inbox!
Subscribe to our Daily Headlines newsletter.