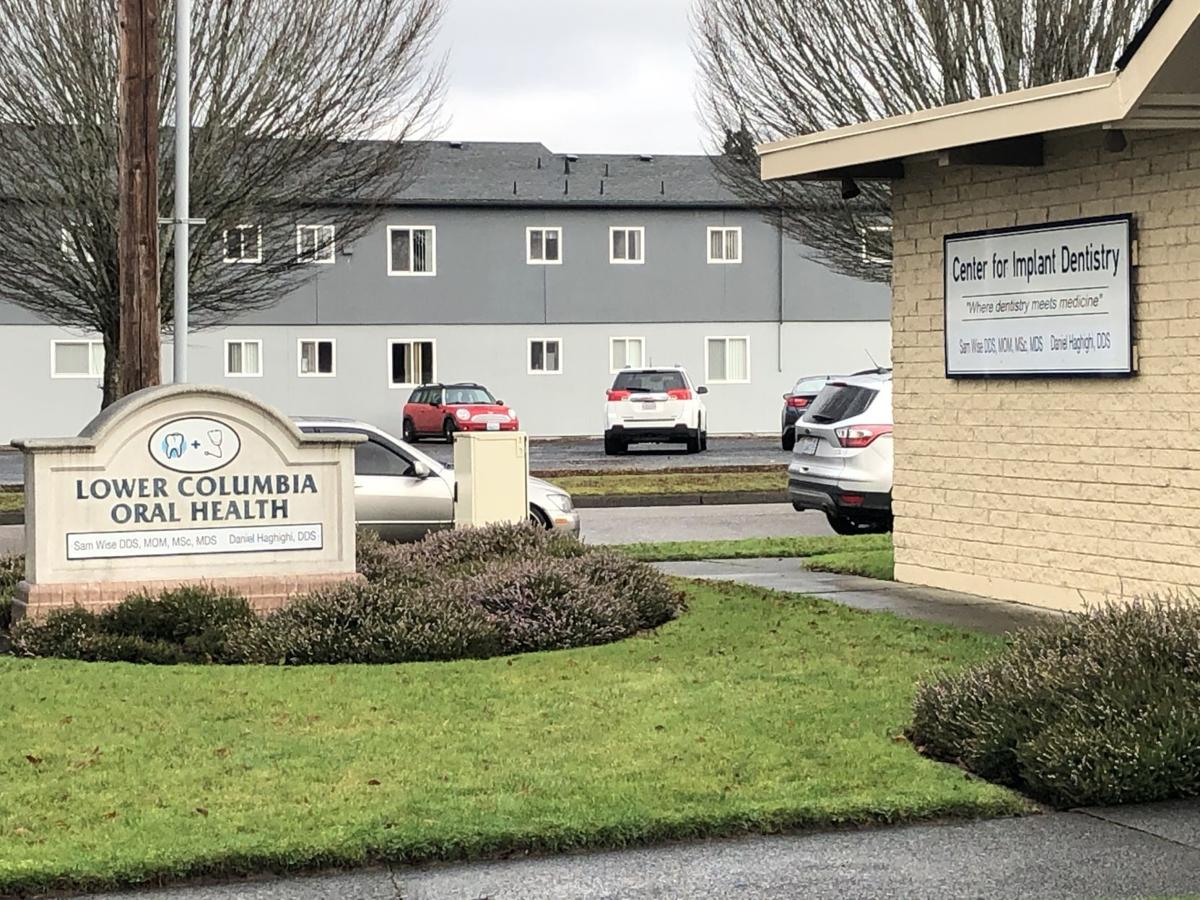 This story has been updated with an additional statement from Dr. Wise over allegations concerning gold crowns.
A storm of accusations hit social media this week over the practice of a dentist who took over a well-known Longview clinic last summer.
Former employees and patients have claimed Dr. Sam Wise, who bought the practice at Lower Columbia Oral Health from Daniel Haghighi last summer, breaches medical privacy laws, belittles patients and employees, fails to follow certain medical standards, overworks staff, and overrides his staff's legal and ethical concerns.
In an interview with The Daily News this week, Wise, 44, said he's the victim of a social media character assassination campaign by disgruntled ex-employees. He denied the accusations and said that if his accusers have evidence, they should take those claims to court or state investigative agencies.
Some of them have. Patients and employees alike said they are talking to attorneys about pursuing a possible class-action lawsuit against Wise for his treatment of employees, patients and workplace conditions. Wise, in turn, said he plans to sue a former employee.
Washington Department of Health spokeswoman Sharon Moysiuk confirmed Friday that Wise is the focus of six agency investigations. She said she could not go into detail while the cases are active.
Many of the criticisms have been posted across social media or in negative reviews on sites like Facebook or Yelp, and some of the employees and patients involved discussed specifics in interviews with The Daily News.
Wise responds that some of the claims are just plain wrong, and others are coming from people who don't understand medicine as well as he does. And he said he's frequently been a victim of discrimination himself. Wise claims there is no one in Washington State who has as many qualifications as he does. Those degrees, which are posted in his office, include two masters of science in oral implantology and dental surgery from German universities and a master of oral biology from Rutgers University in New Jersey.
"Hundreds of patients are very satisfied," Wise said. Criticism is coming from "five or six deplorable, desperate employees that were fired. Them, their spouses, their friends are doing this campaign, plus two patients."
Wise said "thousands" of fraudulent reviews of his clinic have been written across various social media to defame him. He said he only recognized two or three real patients in those reviews.
Wise said he has fired about 10 employees — some of whom had worked for Haghighi — since he took over the clinic in August, either for dishonesty, disloyalty or lack of knowledge and experience. He touted his eight years of post-dental school medical education and knowledge of surgery, and compared the criticism against him to passengers demanding control of a plane instead of the pilot.
"It's like 399 people versus one pilot. You don't take the opinion of the 399 people," Wise said. "And they're maybe 10 (making the criticisms), more or less, and the others never met me, they never knew about me. … They're talking to the public, and the public will empathize with any lie."
Former patient Jackie Baker said she initially visited the clinic in December for an appraisal on braces, but said Wise told her she had "a horse face" and would need "extensive surgery" if she wanted to look pretty.
Wise said the context of that conversation was different. The term he uses is "horse smile" or "gummy smile," and he said he simply informed her that he had a procedure to "fix" that condition. He claimed the procedure is both cosmetic and medically valuable because it can help a person feel better about their appearance.
"If you have a good appearance, you're going to have good self esteem, confidence, and psychological inner peace," Wise said. "It is cosmetic, but it is part of our life that we cannot ignore."
Wise asked her how many children she had, and offered to put his phone number in her phone if she wanted more boys, Baker said. But Wise said it's a joke he makes to many of his patients about giving one of his four boys away, not a sexual come-on.
When Baker returned for a procedure for laser cavity fillings on Dec. 26, Wise told her he would have to push her gums back to access her teeth, she said. But when she went back to the clinic the next morning still in pain, she said he told her he had removed one millimeter of her gum line to access her front teeth.
"If I wouldn't have went back … I don't think he would have ever told me what he did," Baker said.
Wise said Thursday that he told her during the procedure that her gums were inflamed, and he was removing swelling. He said he never does work on patients without their permission.
Baker said the operation left her in pain and she spent a week after recovering in bed. She's had to schedule a visit with another clinic in Portland after developing an infection in her gums, she said. Baker has now started a change.org petition to have the clinic either be shut down or find a new dentist to take over.
Tiffani Dschaak, a dental assistant hired in May who was present during both of Baker's visits, backed Baker's version of events, including Wise's comments about children.
Dschaak said employees were treated "like almost slave labor," expected to punch in long days and work through lunch breaks. Former dental assistant Crystal Handwerk agreed that assistants were "always very busy" and that it was hard to find the time to accomplish everything Wise scheduled for them.
Wise responds that he fought for employees to take their breaks and showed a reporter several pages of employee schedules that typically listed lunch times scheduled for an hour.
Wise joked with a patient and told Dschaak herself in separate occasions that they could sell medicine if they didn't need all of it, she said. That was a one-time joke, Wise told The Daily News, and he said he's "very, very cautious" about giving pain medicine.
Dschaak claimed Wise told one patient about Dschaak's own medical insurance, and when she told him he could not share that kind of confidential information, he told her: "Oh well, what's going to happen, I'm above the law."
Wise in general denied violating patient privacy laws.
But "he breaches everybody's confidential information," Dschaak said. "When people hear about it … it's so crazy it's unbelievable. (They think you) have to be making things up."
Former clinic director Austin Covington, who was hired in August, agreed and said Wise is "breaching HIPAA daily."
Dschaak said she quit Monday after a new company policy was posted in the employee break room. Purported pictures of those policies posted to social media included employees agreeing to not find any of Wise's statements or behaviors "inappropriate, offensive or harassment," and waiving all rights for litigation against Wise for anything he says in the clinic.
Employees are also tasked with making social media posts leaving "good reviews expressing their honest opinion without any criticism and without mentioning they work in this business."
Wise again denied these claims. He said the documents were fake and said that all real documents from his office are specially marked.
Afterward, a post on the clinic's Facebook page appeared Wednesday with Dschaak's face that claimed she was fired over mishandling a patient's golden crown crowns, but that post had been removed by Thursday. By Friday, the clinic could no longer be found on Facebook.
"I woke up (Wednesday) morning (and) I started crying," Dschaak said. "I didn't even want to leave my house. ... He had my face plastered everywhere with these accusations against me."
The patient was supposed to keep those crowns, but Dschaak and Wise dispute what happened to them. Wise claims he fired Dschaak after the patient returned to the clinic to tell him Dschaak had thrown the crowns in the garbage. But Dschaak and other employees claim Wise's wife sold the crowns for cash.
Wise said Sunday that his wife sold a jar that they collect crowns in. It contained only metal and porcelain crowns, and the gold crowns in question were not included. He further alleged that Dschaak claimed to have accidentally put the crowns in that jar, and he said he would ask the patient in question to write a statement about the incident. Dschaak denied Wise's version of events and said his claims about her are not true.
Covington, who said he is gay, said Wise made homophobic slurs at him during staff meetings, and made inappropriate comments about his sexuality to patients as well.
"He has no professional boundaries. None," Covington said. "He does not. Telling patients they have a horse face, telling females their face is crooked. … It's a very hostile and uncomfortable environment to work in. You never know what racial or sexual or discriminating word is gonna come out of his mouth next."
Wise responds that he was harassed by Covington, not the other way around. And he claims that a day after telling Covington to leave the practice in November, Covington stole sensitive patient files from the clinic.
That's an outright lie, Covington said. Covington said that the day Wise let him go, he took his coat, coffee cup and a few personal affects and left the clinic for good. Covington was interviewed by police about the allegation and said he was cleared.
The Daily News has requested a copy of the Longview police report, but it was not available before the weekend. Wise himself said he plans to take Covington and his husband to court.
The Daily News will continue to follow this story.
Get local news delivered to your inbox!
Subscribe to our Daily Headlines newsletter.