At this time last year, Julianne Vanas was living in a tent with her granddaughter, fighting to keep up her grades at Lower Columbia College while battling the cold and rain and the urge to give up hope.
"Water started coming into the tent after three days of raining," Vanas said. "At first it was just little puddles next to the bed. I had my electronics in my lap saying 'OK, we're going to make it through this.' And it just started coming in one morning really bad when I woke up, and I said, 'I have to go. I can't do this.'"
Now, she and her granddaughter are living in an apartment. She is nine months away from graduating and is looking for jobs in information technology. It was all possible, she said, thanks to LCC's Student Success Fund.
The Student Success Fund provides emergency grants to students at risk of dropping out of school because of financial pressure. The Daily News has partnered with LCC to raise money for the fund since 2016 in its annual Students in Need drive, which starts today and runs through April 24. This year's goal is $50,000.
LCC counselor Jennifer Houge said feels humbled and "thankful that we have the funding in order to make a change in somebody's life." She said she's known Vanas for several years.
"She has worked really hard to get where she is, and faced a lot of different barriers at different times," Houge said. "But she has been able to overcome those barriers with hard work and perseverance. I'm proud of her for doing that."
For Vanas, 48, the emergency grant was what she needed to get back on her feet and end two months of homelessness. She had just gained legal custody of her 10-year-old granddaughter when they were evicted. Her roommate had been arrested for drug use, she said, and the landlord couldn't just evict one of them.
A former addict, Vanas has been clean for five years and she didn't know her roommate had been using drugs. She had been focusing on providing more stability for her granddaughter, but now she also needed to keep her safe.
With less than $1,000 in her bank account, Vanas said a motel room was out of the question: "We would have run out of money in the first two weeks." So she bought tents and sleeping bags and lied to her granddaughter to protect her from the truth.
"I told her we were going camping. We went camping in Rainier for four days," Vanas said. "We could only stay for four days at a time, but we had security there."
They collected firewood to cook dinner when they could and "ate a lot of hot dogs," Vanas said. She kept herself and her granddaughter in school, and even kept her granddaughter on the soccer team. But the strain of moving every four days wore her down.
"I came to school stinking sometimes, to be honest. I was having stomach problems because of everything. It was really stressful," Vanas said. "I came to (LCC counselor) Jennifer Houge and was just like, I can't do this anymore. ... It had been a month and a half. It was really emotional and hard."
Houge told her about the Student Success Fund, but warned Vanas that it was late in the semester and emergency grant funds were running low. She applied anyway.
"I left and I cried," Vanas remembered. She said she felt like she was going to have to drop out and abandon her dream of working in computer coding and building databases.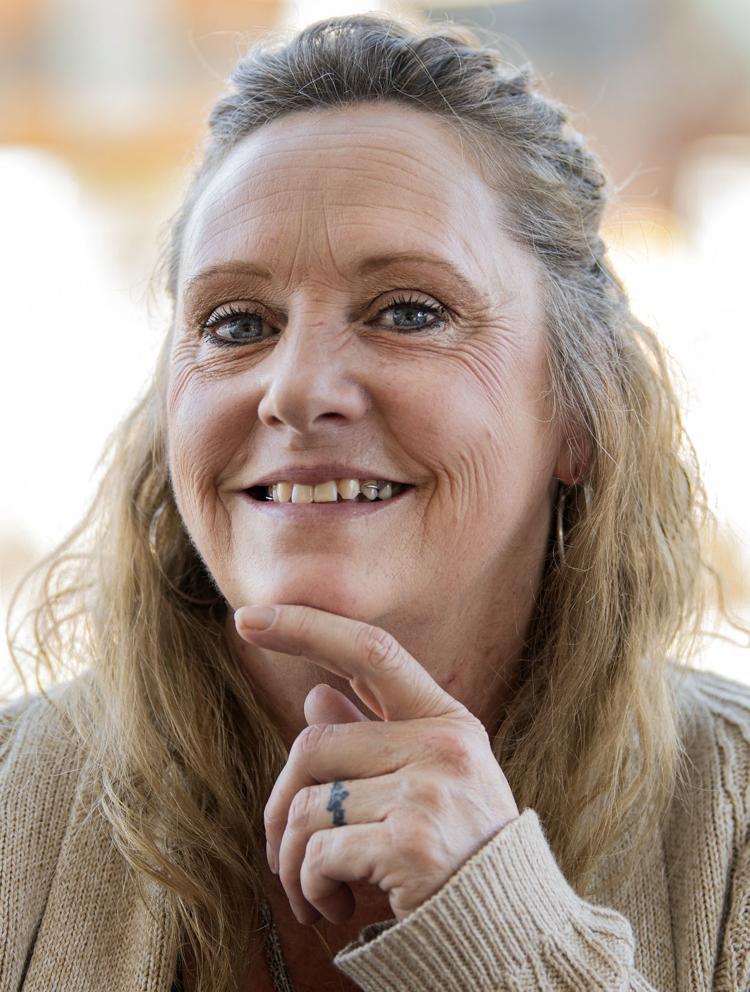 "It felt like I was walking away from my future, from being able to take care of her," Vanas said.
But a week and a half later, a friend who was getting her mail called. She had a letter from LCC.
"I said throw it away," Vanas recalled. "I said it's probably a letter saying they can't help me."
It wasn't. It was a check from the Student Success Fund for $1,800, enough to get a security deposit on an apartment.
"I was totally blown away that the school would do that. I'm so grateful," Vanas said through tears. "It's the only way I was able to stay in school. I have nine months left, then I'm graduating."
The day before her birthday last May, Vanas and her granddaughter moved in.
LCC officials say the emergency funds are often the difference between abandoning dreams and getting a diploma or certificate. They point out that completion rates for Student Success Fund recipients is nearly double that of the general student body.
To date, the Students in Need fundraiser has contributed more than $160,000 to the Student Success Fund, which also supports LCC's goal of an endowment. The endowment is currently at $900,000, with a goal of reaching $1 million so it can produce at least $50,000 annually for emergency grants.
"Students in Need is an outstanding way to give students struggling to stay in school a hand up instead of a hand out," said Daily News Publisher David Thornberry. "The drive has helped dozens, if not hundreds, of students stay in college and improve their lives, and it is just one way that The Daily News makes a big difference in our community."
The Washington State Association of College Trustees awarded TDN with the 2019 community partner of the year award for creating and managing the Students in Need drive. The newspaper pays all administrative costs, meaning every penny donated to the drive goes to the college.
Vanas said her education is a big part of her quest to be a better person, and her path to information technology started while she was in prison five years ago.
"It has changed my life tremendously. That's why I'm pushing for school so much," Vanas said. "Because I want to be a better person and fit into society properly."
Houge said that's a common theme with recipients of Student Success Funds.
"They're all people doing their best to make a better life of themselves and their families," Houge said.
Vanas said she's also showing her granddaughter the value of staying in school. Vanas is already looking for coding jobs for when she graduates.
"I don't know what I can say to encourage people to donate to the foundation, but it's made a big difference in my life at a time when I didn't think that anybody cared for me to stay in school or for me to take care of my granddaughter," Vanas said.
Get local news delivered to your inbox!
Subscribe to our Daily Headlines newsletter.