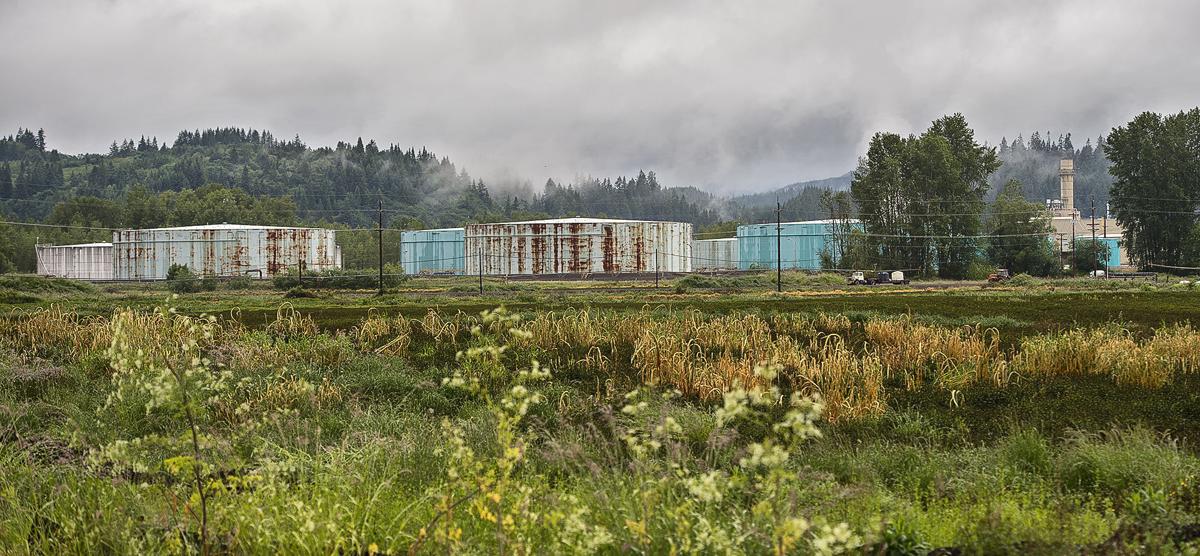 A company that has shipped crude oil out of Port Westward has state approval to buy tanks to expand its storage capacity by 1 million barrels.
Environmentalists worry the move could significantly boost crude-by-rail traffic through Columbia County.
In spite of some opposition, Oregon Public Utility Commission Tuesday unanimously approved Portland General Electric's sale of its underused Port Westward storage tanks to Global Partners at an undisclosed price. Global Partners previously shipped oil to California and other locations out of its facility at Port Westward near Clatskanie. Yet sinking oil prices forced it to switch to shipping ethanol instead last year.
Global Partners says it won't resume shipping oil for the foreseeable future, and it says the tanks are intended to increase its flexibility for handling different grades of ethanol.
But environmentalists fear the storage tanks could eventually lead to an increase in the number of crude oil tankers trundling through Oregon communities.
"Despite a legal mandate to protect the 'public generally' the commission ignored a rare opportunity to reduce the threat of oil-by-rail in communities along the Columbia River," said Jasmine Zimmer-Stucky, organizer with Hood River-based Columbia Riverkeeper. "Instead, the commission joined several other Oregon agencies by putting on blinders and refusing to acknowledge the serious risk of oil-by-rail and oil spills."
After delaying the decision two weeks, the commission ultimately followed the advice of PUC lawyers, who said that environmentalists' concerns about rail traffic safety and climate change were outside the scope of the commission's authority.
Commissioner Megan Decker said these are "desperate times" for fighting climate change and that "there is a feeling that state, local and private action has to pick up the slack on responsible climate progress" under the Trump administration.
But Decker said the commission still had to stay within its mission of focusing on overseeing electric rates and services for Oregon utilities. Even if the commission did not approve the sale, Global Partners said it would move forward with plans to build its own storage tanks, she acknowledged.
"I don't think denying (the sale) will make enough of a practical difference," Decker said.
Global Partners spokeswoman Catie Kerns said the company is buying the tanks to store a greater variety of ethanol grades. Each grade of ethanol has to be stored in a separate tank, she said, and right now Global only has two tanks at its Clatskanie facility.
"They're general storage tanks so they could be used for ethanol or oil … they're bulk liquid commodity tanks. You could put water in them for that matter," Kerns said.
Kerns said Global will have to clean and refurbish the aged tanks to meet updated environmental regulations.
Under the approved sale, PGE will sell nine storage tanks to Global Partners with a total capacity of 1.2 million barrels. Global Partners will then sell PGE two of its own existing storage tanks with a capacity of 200,000 barrels.
Kerns said the company can't accept more than 24 trains per a month under a cap set by Port of St. Helens, which runs Port Westward. Eventually the cap will increase to 38 trains per month once rail upgrades on the Portland Western line are complete, she added.
Utility commission staff recommended the sale and they said it would lower rates for PGE electric customers. Although PGE couldn't say how much revenue the sale will generate, PGE spokesman Steve Corson said the utility will factor in the additional revenue the next time it has to adjust its electric rates. Supporters of the sale also said giving Global Partners more flexibility in its storage could boost job security in Columbia County.
Get local news delivered to your inbox!
Subscribe to our Daily Headlines newsletter.