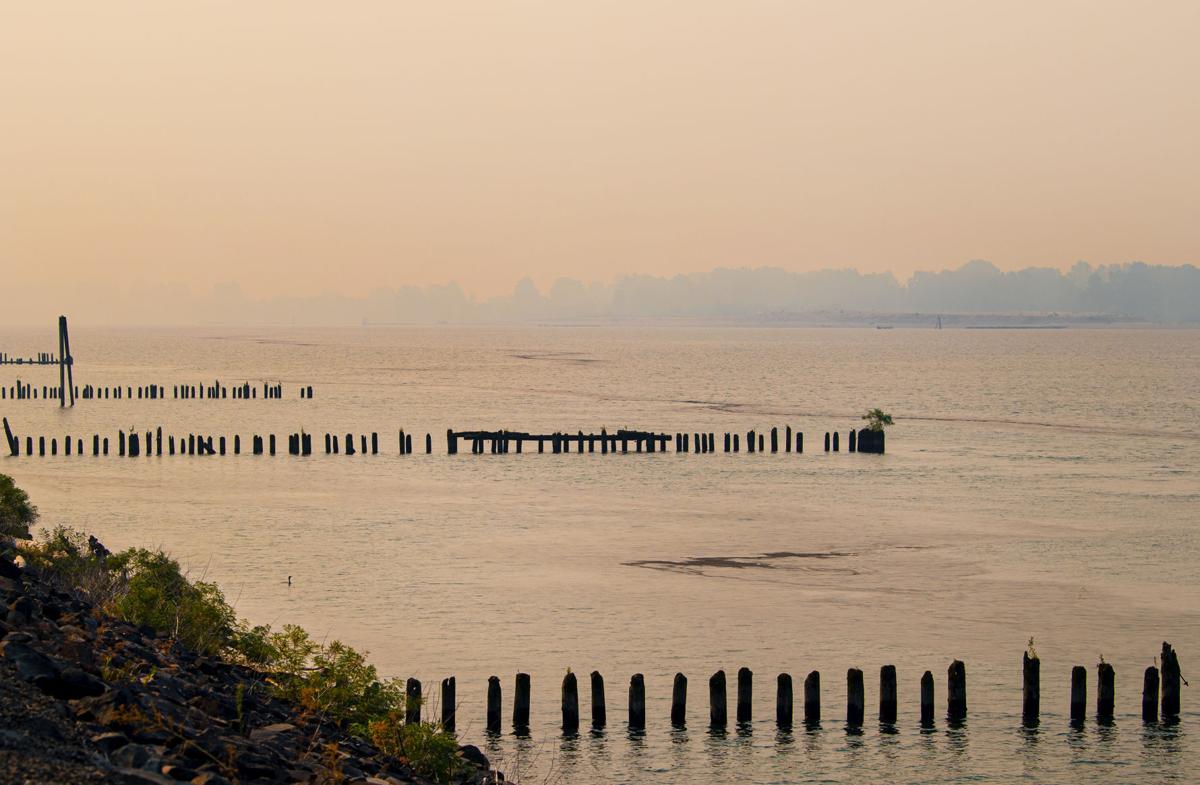 A roughly 2,000-acre fire near Big Hollow in the Gifford Pinchot National Forest several miles south of the Swift Reservoir continued to grow Tuesday, sending clouds of smoke blowing through Cowlitz County.
The spreading smoke from the fire shaded the sun in the Kalama and Woodland area earlier Tuesday morning, then hit the Longview and Kelso area Tuesday afternoon when the wind shifted, according to Tyler Kranz, a meteorologist at the National Weather Service in Portland.
According to the Southwest Clean Air Agency, air quality levels fluctuated in Longview throughout the day but had just barely reached "very unhealthy" levels by 2 p.m., where they remained into the early evening.
The Big Hollow Fire was reported around 4:30 a.m. Tuesday, and the Forest Service expected closure orders to go into effect by Wednesday morning, said Forest Service spokesperson Gala Miller. Evacuations were ordered at Paradise Creek Campground, she said.
Washington Department of Natural Resources spokesperson Thomas Kyle-Milward said firefighters suspect the fire was human-caused, though it is still under investigation.
The fire itself was scattered but growing Tuesday, spread over an area of 5,000 to 10,000 acres, Kyle-Milward said. It is in an area of steep terrain that is difficult to survey and to access, he said.
He confirmed that at roughly 2,000 acres Tuesday evening, it was the largest active wildfire in Southwest Washington by acreage.
No structures were threatened by the fire Tuesday, and emergency responders were already closing roads in the area and amassing firefighting equipment to attack the fire Wednesday, Kyle-Milward said.
"Absolutely we'd urge folks to avoid activities that could cause a spark," Kyle-Milward said. "Consider not going out into recreational areas, (and if you do), respect recreational and campfire bans. Basically folks, stay home."
"We don't want to be in an area where folks are unwittingly putting themselves at harms way," he said.
A hog fuel fire in Longview and wildfires from Eastern Washington also kicked up smoke in the area Monday evening, and strong winds caused havoc in the Portland area. Thankfully, cooler weather is on the horizon.
While the Pacific Northwest eagerly awaits a crisp autumn, state officials are warning that conditions remain ripe statewide for more fires.
"Our state is extremely vulnerable to fires right now," Gov. Jay Inslee wrote Monday on Twitter. "Not just Eastern WA. Not just Central WA. The entire state."
More acres burned in Washington on Monday alone than in 12 of the last 18 entire fire seasons, Inslee said.
State agencies have already begun further tightening restrictions.
The Washington Department of Natural Resources Tuesday banned all fires on all 12 million acres of DNR-managed lands. It also closed all recreation lands east of the Cascades through at least Friday.
The Bureau of Land Management closed all recreation sites and certain roads until September 15.
The Washington State Parks commission has banned campfires statewide on state parks through Sept. 15, with many of its locations also prohibiting open flames in general.
Oregon declared a statewide fire ban on state parks and closed some parks outright.
Willow Grove Park in Longview is prohibiting all fires and barbecues until further notice.
Cowlitz County remains under a burn ban through the end of September.
Temperatures locally are forecast to spike in the mid-90s Wednesday and Thursday, but cooler weather is ahead, Kranz said.
"Friday is kind of when things will start to transition and become a little bit better inland," Kranz said. "You should be back into the 80s for your high temperature, pretty much the same Saturday, and Sunday (it will be) much cooler, with a high temperature right around 80 — back to seasonable norms for mid-September."
Kranz cautioned that the forecast doesn't yet include rain. And dry conditions locally have already contributed to fires.
One broke out Monday at 6:58 p.m. in a wood waste pile at Northwest Hardwoods, located at 120 Industrial Way in Longview, according to a release from the Longview Fire Department.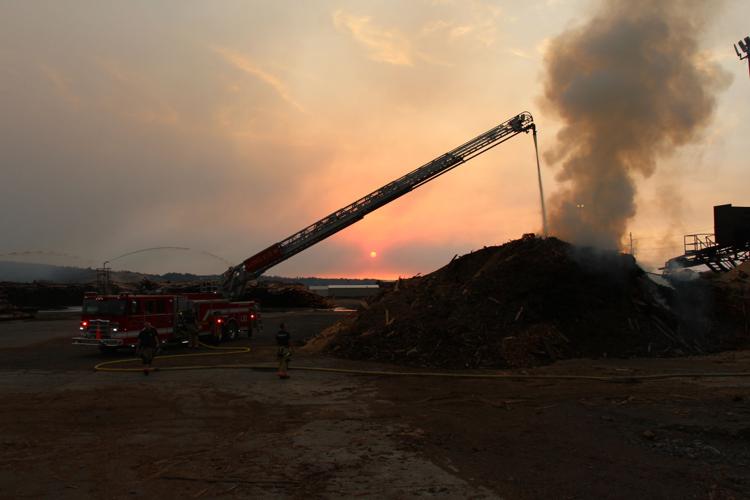 Firefighters knocked out the surface-level fire after dousing it with tens of thousands of gallons of water, and passed management of the situation to Northwest Hardwoods. Extinguishing the fire will require heavy equipment to dig inside the pile of fuel, which is made of wood residue and waste product.
At 1:28 p.m. on Tuesday, firefighters were dispatched to a fire that broke out in the trees and bushes between the Woodland Walmart and Woodland High School, Clark County Fire & Rescue Chief John Nohr said.
Fire units arrived within five minutes. With the assistance of Cowlitz Fire District 1, they had the flames under control by 2:00 p.m. and reported no injuries or damage to property.
Strong winds and gusts knocked out power, downed trees and wreaked other mayhem in the Portland area earlier this week. The Woodland Police Department reported that multiple power lines near the Cowlitz-Clark county line were knocked over Monday evening from high wind, requiring Cowlitz PUD crews to briefly cut power to avoid the downed lines from sparking fires.
Outages Monday evening, mostly caused by tree limbs colliding with power lines, took out power for about 1,600 PUD customers in the Lewis River Road area, Cowlitz PUD spokesperson Alice Dietz said Tuesday.
The outages were reported around 11:30 p.m. Monday evening and crews had power restored by about 1:15 a.m. Tuesday.
By late Tuesday morning, Cowlitz PUD reported no outages. However, Dietz cautioned that crews will be taking extra safety precautions for the time being given the elevated fire hazard risks. That means power outages may take longer than usual to be restored, she said.
Wildfire smoke from Eastern and Central Washington crossed the Cascades over Labor Day, leaving the taste of smoke in the air.
High winds have also blown around dust from Mount St. Helens, Kranz said. Because the soil on the mountain's southern slope is so dry, strong gusts can easily whip it up and around. The dust was expected to blow through Tuesday, making any trips up the mountain inadvisable, Kranz said. It should subside by Wednesday, he said.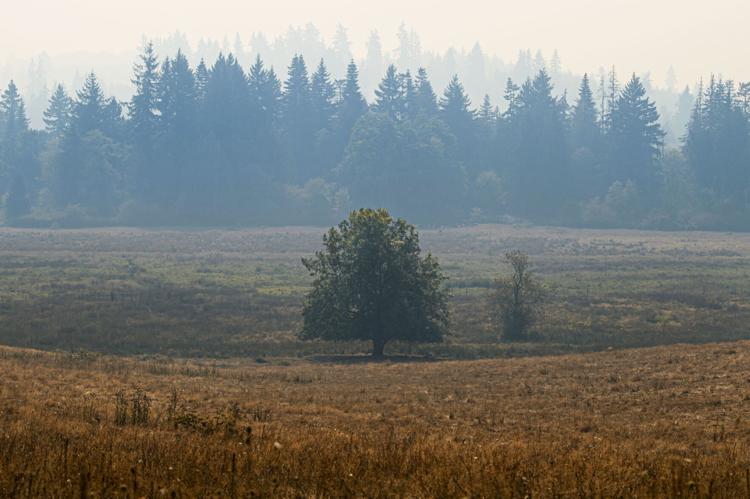 The greater Portland metro area including most of Clark County was under a High Wind Warning through early Tuesday afternoon. The High Wind warning zone also extended from the Northwest Oregon coast to the Cascade foothills, including Toutle, Ariel, Cougar and Mount St. Helens.
Between low humidity, high temperatures and strong winds, a fire that starts locally could spread rapidly. September can be an especially dangerous time for wildfires, as wood, debris and other fuels continue to dry out.
Most of the U.S. West Coast is under a Red Flag (Fire) Warning from the National Weather Service. The warning is in effect through Wednesday evening locally.
"I'll tell you, people are doing a good job and they need to keep it up," Cowlitz 2 Fire Chief Dave LaFave said Tuesday. "Right now the main threat for ignition to a fire is human-caused. This last month or so has been exceptionally dry. The fuel beds are very receptive to fire."
Get local news delivered to your inbox!
Subscribe to our Daily Headlines newsletter.