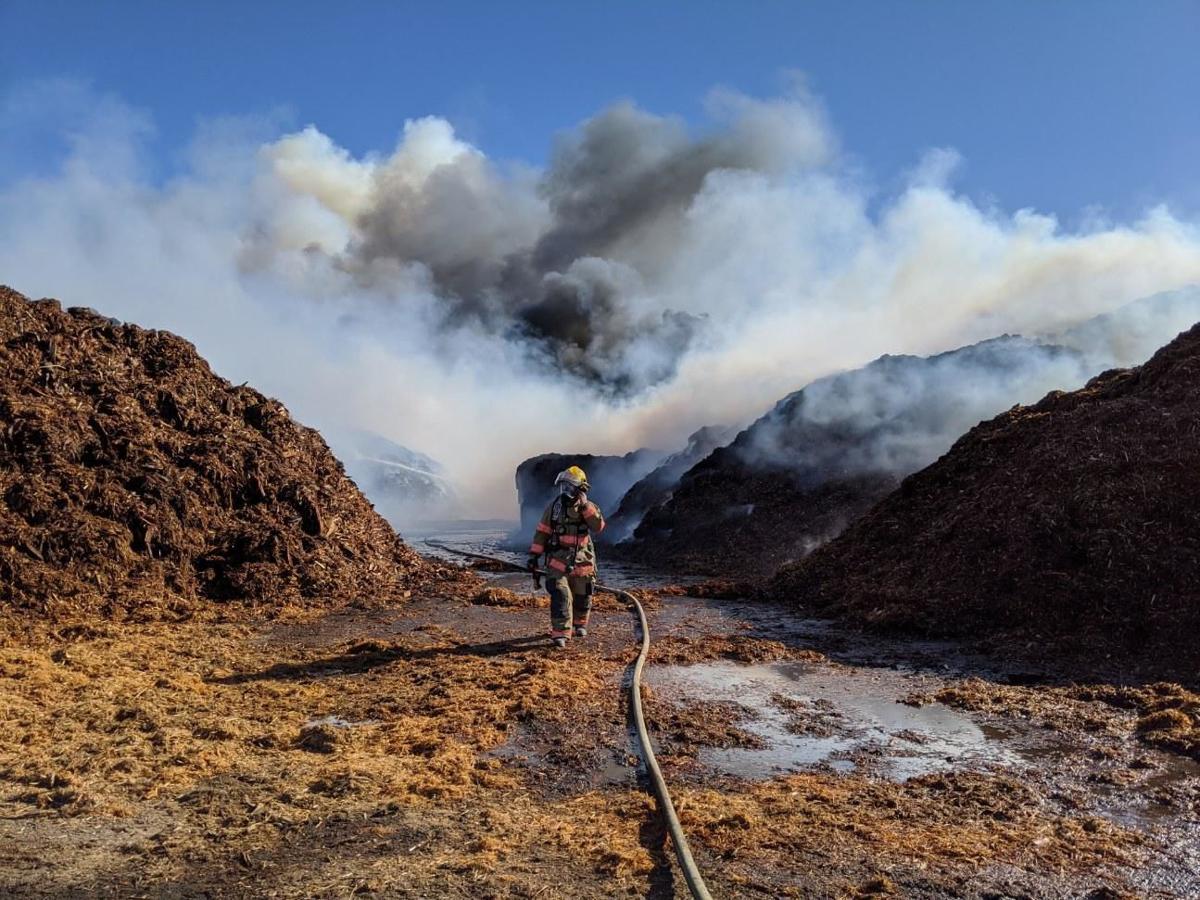 The Easter Sunday fire that started in a bark dust pile later engulfed the entire 80-acre site of Swanson Bark and Wood Products along Tennant Way and continued smoldering at midday Monday, according to Longview fire officials, wafting smoke across the area.
Two contract helicopters are continually dumping water from the Cowlitz River onto the bark piles as part of Swanson's continued efforts to extinguish the hazard, and workers deployed hoses and sprinkler systems over hotspots Monday afternoon in the drifting, wood-scented smoke.
"Buildings, machinery, vehicles and conveyors were damaged and/or destroyed. Firefighters deployed multiple hand lines and two aerial ladder trucks, flowing in excess of 2.5 million gallons of water in their suppression efforts. The incident commander requested a firefighting helicopter to assist, but none were locally available," according to a fire department press release issued late Monday morning.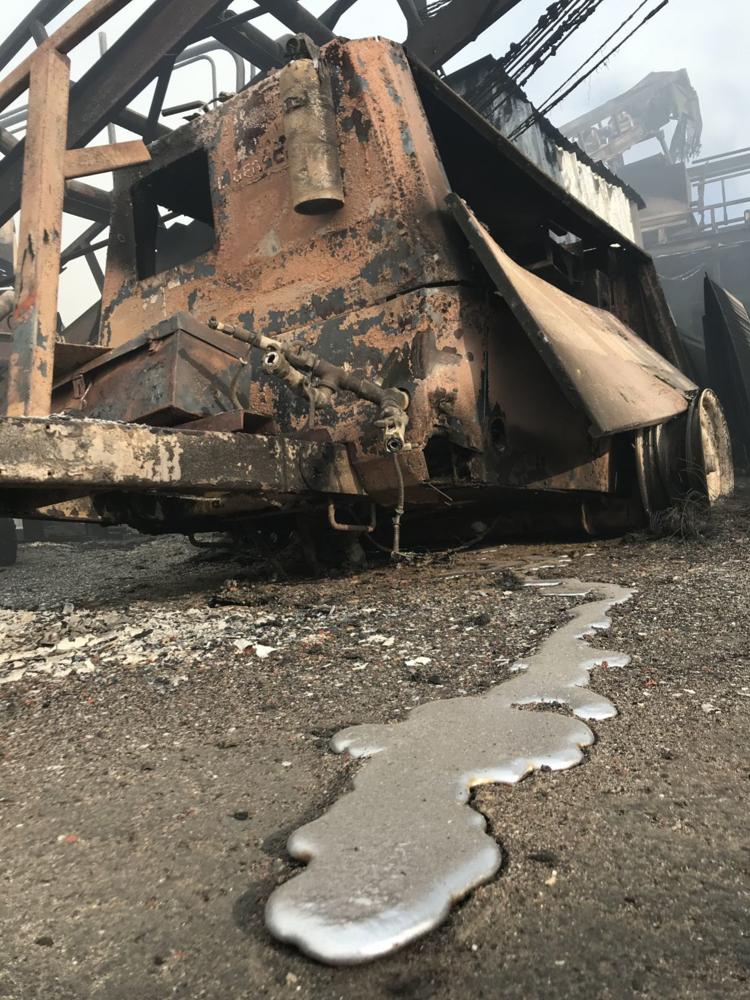 Longview Fire Battalion Chief Troy Buzalsky said the call was tricky to respond to for a number of reasons: low staffing due to other fires, windy conditions and a challenging environment.
The facility has many massive piles of mulch and wood products on the property, and in the drifting smoke and eventual darkness, Buzalsky said firefighters were hard-pressed to access both the piles and structures on fire and hydrants. They also had difficultly getting equipment where it needed to be in the "maze-like conditions" of towering wood chips. The winding paths between the piles can dead-end without warning, and they change shapes constantly as product is removed or added.
"With help from Swanson there's been a lot of moving and negotiating," Buzalsky said. "They moved mountains ... to put the fire out and gain access to put the fire out."
For now, Swanson is still shipping out bags of product, Buzalsky said, and is reorganizing the yards to decrease the risk of the fire spreading again if the wind picks up.
Swanson Bark and Wood Products turns wood waste into firewood, mulch, bark dust, soils and biomass. Smaller fires there are common because of heat generated by the composting/decomposition process. For this reason, staff at Swanson use temperature probes to assess the risk, according to fire officials.
"They're not uncommon, but when they spread like this they become monumental in their difficulty to put out," Buzalsky said.
Buzalsky said the fire department gets around 100 phone calls each year for fires at the facility, but most are not significant enough for the fire department to respond.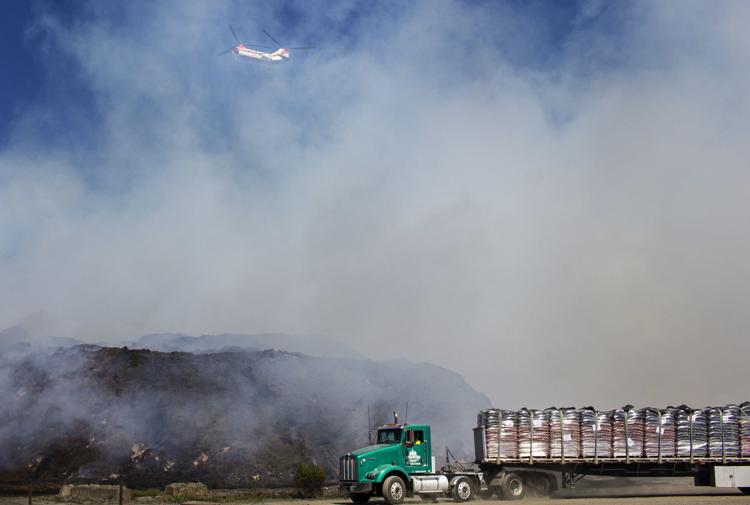 "Oftentimes our hackles aren't raised when we get calls for Swanson, but yesterday's fire shows you how things can change," Buzalsky said.
A passerby reported the fire at 2:37 p.m. Cowlitz 2 Fire and Rescue already was fighting fires on Ragland Road in the Coal Creek area and Astro Drive in the Ostrander area, limiting the initial number of personnel that could respond.
Eventually, firefighters from Longview, Kalama, Cowlitz Fire District 1, Cowlitz 2 Fire and Rescue, and Woodland fought the Swanson fire, marshaling water pumpers, ladder trucks, water tenders, and brush rigs.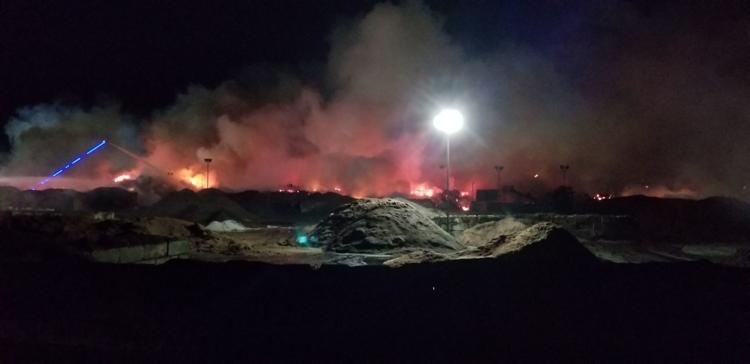 Although fire suppression wrapped up at 4 a.m. Monday, dozens of bark and wood products piles were still smoldering, creating a smoke cloud that continues its wind-driven drift, according to fire officials.
Swanson staff is conducting mop up fire suppression and has contracted with two helicopter services to assist. Buzalsky said the facility is well-equipped to handle smaller fires and suppression on its own, and routinely does. Swanson officials were not available for comment until Tuesday.
Buzalsky said if the winds stay low, then the main fires could be extinguished in 24 hours. However, Monday evening's forecast calls for gusts of 18 miles per hour, Buzalsky said, which could reignite the fire and send it hopping from pile to pile once again.
Already, Swanson has lost a fairly new bagging building, Buzalsky said, and several pieces of equipment. Firefighters had to make choices about priorities Sunday evening, Buzalsky said, due to the scope of the fire.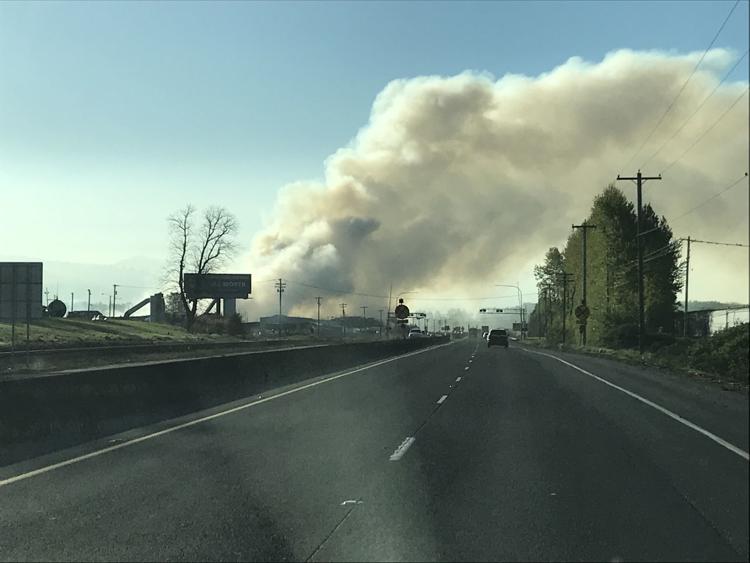 Firefighters have yet to complete an investigation, Buzalsky said, and will wait until Swanson finishes suppression efforts. No damage estimates are available at this time, and no staff or firefighter injuries were reported.
And a June 2018 wood chip fire that broke out at Swanson Bark in Longview prompted a four-hour shutdown of Tennant Way. This week's fire has not affected Tennant Way, though the off ramps to Dike Access Road are closed.
Get local news delivered to your inbox!
Subscribe to our Daily Headlines newsletter.