Fire destroyed a condemned house at 404 Burcham St. on Friday and covered most of North Kelso in haze and smoke.
Nobody was injured, and firefighters don't believe anybody was inside the house when it ignited, according to Cowlitz 2 Fire & Rescue firefighter and investigator Dan Cothren.
The two-story house was supposed to be unoccupied, Cothren said, but transients have used it for several years. The cause remains under investigation.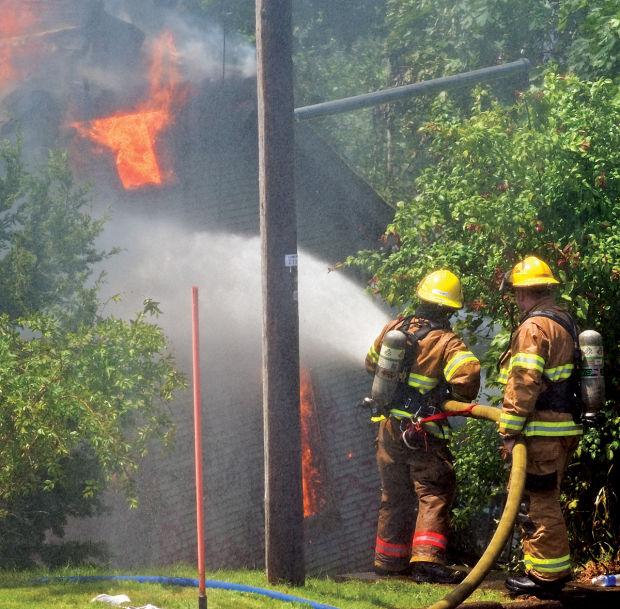 The fire started in the basement, and neighbors first reported it around noon, Cothren said. Four fire engines, a chief officer and a medic unit responded. Firefighters had decided not to enter the structure.
"We fought a defensive fire, making sure no other structures or property was damaged," Cothren said.
Flames threatened nearby homes and vegetation, but crews from Cowlitz 2 and the Longview Fire Department contained the flames to a single residence. They extinguished the blaze within 50 minutes but continued hosing down smoky areas until nearly 5 p.m.
Authorities did not order evacuations but recommended that nearby residents close windows and advised people with respiratory troubles to leave the area.
You have free articles remaining.
The city condemned the 2,600-square-foot home in January 2011 after an eroding hillside threatened to undermine it. It is owned by the Federal National Mortgage Association, the government mortgage lender commonly known as Fannie Mae.
The house was also set ablaze in May 2011, when authorities discovered bizarre writings on the walls that led to transient Cody Joseph Blakely's arrest for third-degree rape.
As she watched it burn from beneath a hillside near where she lives, Nicole Perkins said it's widely known that kids hang out in the abandoned house.
"It's incredible. I hate to say incredible, but wow," she said, reporting that 50 to 75 people were gathered to watch the fire.
Perkins said the flames and smoke made it difficult to see the house itself.
"All I see is flames and a sliver of the house. Lots of black smoke."