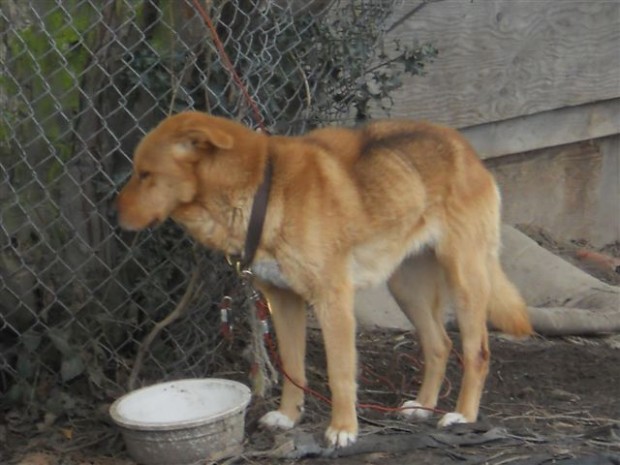 A volunteer group is building fenced yards and insulated dog houses Saturday for four outdoor Kelso dogs in memory of "Lil Miss," a dog that starved to death while tethered in a Longview backyard last year.
Fences For Fido, a nonprofit Portland-based group that aims to improve the lives of dogs kept chained outdoors, is erecting the fences at three South Kelso homes at no cost to the owners. Since the group formed in May 2009, its four regional chapters have put up fences at more than 300 homes in Oregon and Southwest Washington.
"Saturday's goal is to bring honor and dignity to Lil Miss's short little life and, in a way, that brings some sort of meaning to what happened," said Kelly Peterson, the group's co-chair and founder, choking up as she spoke. "We're still haunted that we didn't know about Lil Miss in time."
Lil Miss' owner, Jessie Howard Woodruff, 30, pleaded not guilty in Cowlitz County Superior Court last month to one count of first-degree animal cruelty for allegedly allowing his 5-year-old golden retriever mix to die of starvation. His case goes to trial March 12.
When police arrested Woodruff, he admitted he had been capable of caring for Lil Miss but just didn't feed her, according to court documents.
Peterson, 44, emphasized the difference between Woodruff and the families who accept Fences For Fido's help, which includes veterinary attention and free spaying and neutering. Many families work alongside the volunteers during the fence-building, she said.
"Our clients embrace our help and want to do better for their dogs. They're simply struggling," she said.
Saturday, Fences for Fido volunteers are heading to Kelso to unchain the following pets:
• Sadie, a brindle pit bull mix, has a loving family, a nice dog house and a nice yard — with no fence. She is always chained.
• Bruticus, a pit bull, and Zuko, a Pomeranian/Shih Tzu mix, sleep indoors with their family but spend a lot of time tethered outside together. Sometimes they escape their chains and roam the neighborhood.
• Payton, a pit bull, is always chained, even when he sleeps in the garage at night. He loves people and often stands on his dog house to interact through the kitchen window with his family. His yard will be small but safe.
The moment when the new fence is ready and the dog is released into its new yard is "magic," Peterson said.
"It moves us all to tears. We just soak up that special time. It's nice when your helping hands can change a life within a few hours."
---
• Dogs are pack animals that want and need socialization and companionship.
• Chaining dogs can contribute to aggressive behavior because they can't back away from what frightens them.
• Studies have shown chaining results in neurotic, anxious, depressed and fearful dogs.
• Chained dogs are 2.8 times more likely to bite than unchained dogs, according to the Centers for Disease Control.
Get local news delivered to your inbox!
Subscribe to our Daily Headlines newsletter.