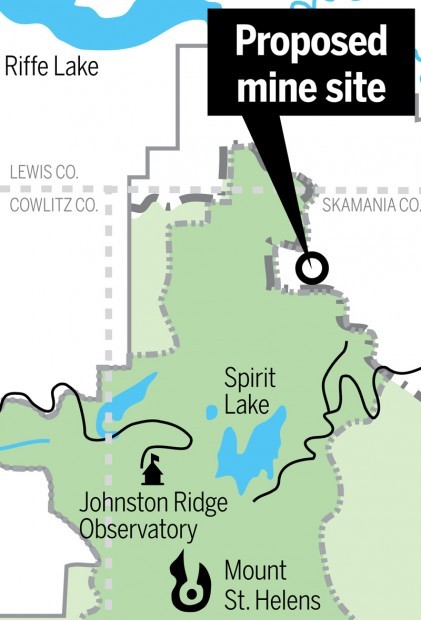 The U.S. Forest Service on Tuesday cleared a Canadian mining company to prospect for copper, gold and other minerals in the Goat Mountain area just north of the Mount St. Helens National Volcanic Monument.
Pending approval by the U.S. Bureau of Land Management, which is expected to weigh in later this week, Ascot USA will be able to conduct exploratory drilling at 23 sites in the upper Green River watershed. Once granted the permit, Ascot could begin drilling as soon as next summer.
Two federal agencies must approve because the BLM regulates subsurface land use and the Forest Service manages any surface uses.
Michael Campbell, a BLM spokesperson, said the decision is not final until his agency formally determines that exploratory drilling would have no significant environmental impact. He acknowledged, though, that the BLM is unlikely to issue a ruling that conflicts with the Forest Service's.
"Before we can make our decision we need that go-ahead from the Forest Service. Now that we have that, we can then issue that final piece of the puzzle," Campbell said.
Ascot, based in Vancouver, British Columbia, wants to conduct test drilling to assess whether mineral deposits are rich enough to warrant mining. Holes bored in the 1970s showed high levels of copper, gold, silver and molybdenum.
A permit for exploratory drilling in no way guarantees that a mine will be built at the site. For that to happen, Ascot would have to go through a separate, extensive permitting process. Ascot has said it would mine below the surface, but critics fear that Ascot would seek an open pit mine.
Many groups, including environmentalists, recreation groups and some local city governments, have opposed exploratory drilling, citing concerns about placing a major mine on the edge of a nationally known tourist attraction and in the watershed of a major river (the Green is in the Cowlitz River watershed).
Jessica Schafer, conservation director for the conservation group Gifford Pinchot Task Force, was disappointed the agencies are about to allow prospecting on land rich in natural beauty and recreational opportunities.
"The agency decision wasn't consistent with the original intent for the land, so it's really frustrating for us that they're moving forward with the exploratory drilling," Schafer said.
Cowlitz Valley District Ranger Gar Abbas acknowledged public interest and concern about the proposal.
"I recognize there are concerns related to potential for future mining," Abbas said in a prepared statement. "The current actions before the federal agencies are related only to prospecting [exploration] activities within the permit areas. This is not a mining development project."
Previous plans by General Moly, an Idaho company, to mine on the site 12 miles north of the volcano's crater met fierce public opposition. The BLM denied the lease application in 2008 and the General Moly dropped its plans. Ascot has since obtained an option to buy General Moly's mining claims.
Ascot's CEO Robert Evans could not be reached for comment Tuesday.