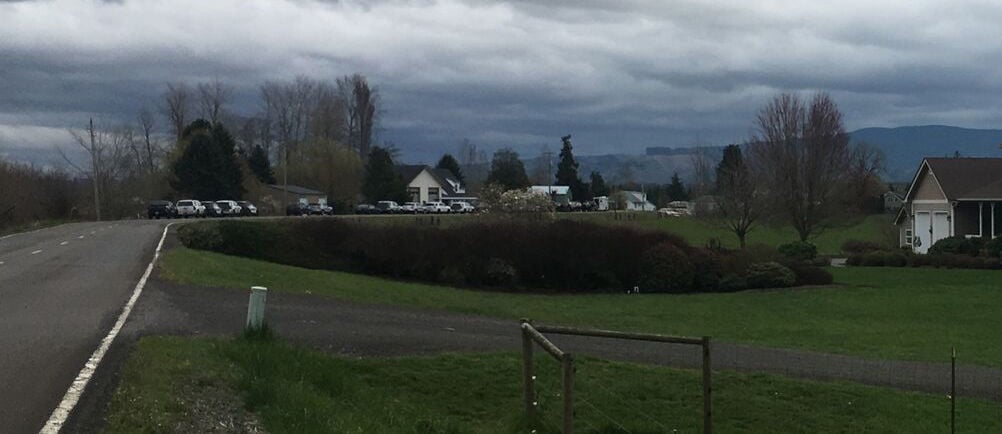 Don Wages was on the phone with his son when two Wahkiakum County deputies and a state trooper arrived to check on his condition on March 21. Lee Wages, who has paranoid schizophrenia, according to his father, was confused and afraid, uncertain why the officers were at his Puget Island home, his dad said.
"He called me and left his phone on. … If you would have listened to his voice, his attitude was of a 10-year-old, absolutely terrified. I've never heard a man of any kind with that type of terror in his voice and that type of terror in his attitude. He was screaming at them to leave him alone."
That day, Lee Wages allegedly shot at the three officers and now faces three counts of attempted first-degree murder. He gave up without further incident after a four-hour standoff in which a SWAT team was called out to the usually peaceful island of farms.
Wages said it's likely his son didn't even understand what the officers wanted, but he blames mental health agencies and his own family for failing to help his son handle his troubles.
"I'm not sure (Lee) understood anything," Wages said in a recent phone interview. "He was driving and he shouldn't have been. He had guns in his house and he shouldn't have. … We let those guns stay in there because we didn't realize it would get that bad."
No one was injured at any point during the confrontation. But for several months, Lee Wages' family had urged the Wahkiakum County Department of Health and Human Services to help the 54-year-old Puget Island man, according to his father.
"The last month or so, we called them two or three times a week," Wages said. "We were really hammering at them. We knew it needed to be done. They should have known. Evidently they didn't know or didn't care."
Chris Bischoff, the health agency's director, said he could not speak to the specifics of Lee Wage's case due to federal privacy laws. Generally, though, he said the agency has limits on how much it can intervene, and involuntarily confining someone requires proof that a person is an imminent danger to himself or others.
"It's taking someone's rights away without having committed a crime," Bischoff said. "When we can get them stabilized, where they're at, the probably of a good outcome is much larger. (Institutionalization) is not a very good methodology for getting good outcomes for people with mental health issues."
Don Wages said his son's mental health began to deteriorate after the 2016 death of his wife, Anna. For much of his life, he said, his son functioned well while he was married, and he held down a job for about 20 years.
"He loved his wife like nothing else. And she loved him like nothing else. They were really a good couple. … We didn't worry about him for the length of the marriage. She made sure he took his medicine (and) got him in to see the doctor."
His son was a mild-mannered, quiet, easygoing person before his wife died, Wages said. Lee could occasionally be quick to anger, but he was never belligerent. But after his wife's death, Lee stopped taking his medicine regularly and became more withdrawn, according to this father.
His son's living conditions became progressively worse, and his dad called Lee's Puget Island home a "boar's nest." He became belligerent with visitors and families.
On the day of his standoff with police, his dad and his brother Don Wages Jr. had come to his property to turn out cows. But Lee Wages was in complete distress and threatened to kill them if they didn't immediately leave the property, Wahkiakum County Sheriff Mark Howie told the Wahkiakum County Eagle. The incident prompted Don Wages Jr. to request the welfare check.
"When (Anna) passed away, I'd ask if he took his medicine, and he'd say 'oh yeah,' and he didn't. And (the health agency) refused to look into that," Don Wages Sr. said. "They never met with him, they said they talked to him, but they never did. … They really, as far as I'm concerned, did a real poor job of looking after him."
Lee Wages remains in the Wahkiakum County Jail in lieu of $500,000 bail. He faces a court hearing later this month in part to determine his competency to stand trial. It is not certain whether the evaluation will occur in the jail or at Western State Hospital.
While his father said the county didn't do enough to help Wages before his standoff with police in March, he also said the family did not anticipate the degree of his son's mental health decline.
"We don't know anything about mental illness," Wages Sr. said. "Absolutely nothing. And the little that we were exposed to when he was younger, it wasn't nearly as bad. So we thought it would round out and he'd get better."