WOODLAND — For some students at Columbia Elementary, a typical school day is conducted half in English, half in Spanish. Soon, more students will have the opportunity to join the popular dual language program.
After four successful years of kindergarten through third-grade immersion, next year the program will include a fourth-grade classroom as well, and soon after that, it will include middle school.
"Our program is a hidden gem in this town that we are all proud of," kindergarten teacher Jill Thoeny said.
Thoeny, who teaches in Spanish, helped get the original program off the ground. In her third year teaching at Woodland, she said the then-principal approached her and asked if she would be interested in starting a dual language program.
Since Thoeny already was using Spanish in her classroom's daily routine, she readily agreed. She studied Spanish with the intention of using it in the classroom and connecting to her students and families. Although Thoeny was only using Spanish for daily routine tasks, that eventually changed. After a year of touring other programs, attending conferences and studying best practices, the dual language program was ready to start. It was a hit with families, and there's always a waiting list.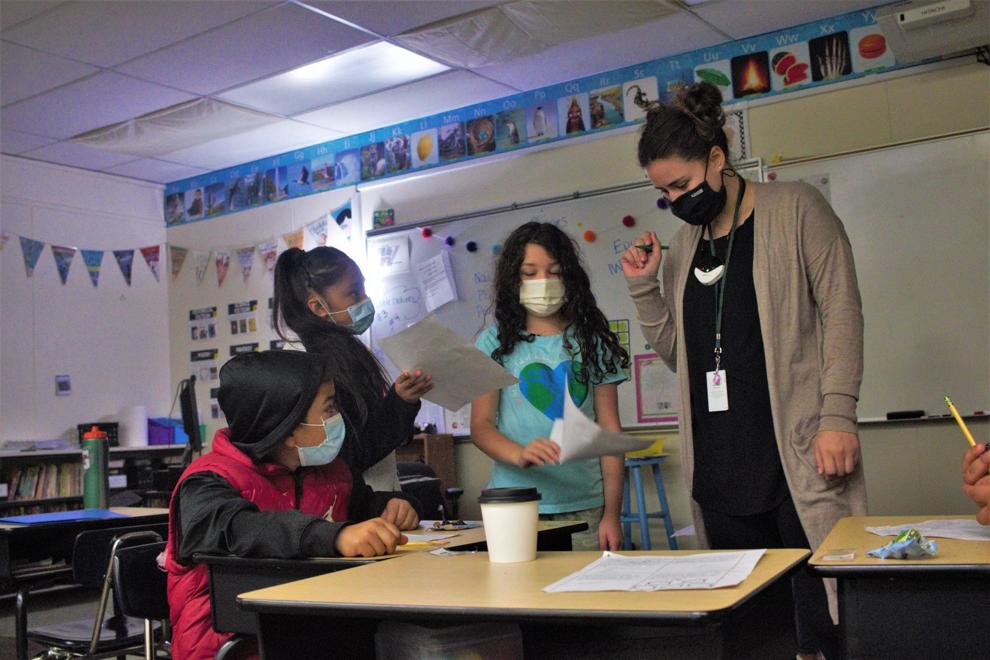 "I'm so proud of our program," Thoeny said, as she gets to start kindergarteners on the path to becoming global citizens and multicultural, bilingual and biliterate members of the community.
Other teachers in the program said it was enjoyable, if challenging to get started. Each grade in the program has a pair of teachers, one who teaches in Spanish and one who teaches in English. They each take half the students, then switch partway through the day.
Third-grade teacher Kayla Forman teaches in English. She said this is her first year teaching in the program, and it's a fun experience.
Forman's counterpart is Sara Lopez Lopez, who teaches third grade in Spanish.
"I love it. It's such a unique experience," she said. "I'm able to watch the students grow in the program each year."
Columbia Elementary Principal David Starkey said teachers work hard to keep students immersed in the language.
"It's amazing that in third grade it's 100% Spanish or 100% English," he said. "The kids need a few reminders, but it's fully immersive."
There are benefits to students in the program, Thoeny said. First, students learn another language right off the bat, and "to be multilingual in our world is a great strength."
In a district where 22.5% of students are Hispanic, Thoeny said the chance for students to learn in the language spoken at home can help them learn more because they don't have to spend the whole day thinking about how to communicate in English.
"We celebrate all languages in our classrooms," she said.
Students who speak English at home get to learn about different cultures, and all students get the chance to learn from native speakers. English- and Spanish-speaking students are paired up so they can support each other and model language. That also creates close class bonds and lasting friendships, Thoeny said.
"Communication is natural for kids, it's one of the things they do best in all its forms," Thoeny said. "They are brilliant. They pick up language quickly."
Beyond the students, having a bilingual school also helps Spanish-speaking families feel more comfortable.
"It's a more welcoming atmosphere," Thoeny said, when they can walk in and see signs and communications in both Spanish and English.
Not only are directional signs in both languages, but motivational posters and flyers about the Scholastic Book Fair on the walls alternate between Spanish and English.
After the program expands to Columbia fourth-graders, Starkey said the middle school is next. Eventually, he'd like dual language options available for kindergartners through 12th graders, but "it takes a while to figure out what it will look like."
Logistics become more complicated at the middle and high school level, when students start switching classes each period. Starkey said the district is in the planning stage for middle school, and a recent two-year $100,000 grant from the state is supporting that work. The grant also helps with professional development and buying materials. Starkey said while the program gets a state grant most years, this is the largest amount so far.
One of the biggest challenges is bilingual teachers are in short supply, and while "there's not many bilingual programs north of Woodland, there are a lot south of us, so recruitment is hard," Starkey said.
The district's solution is recruiting bilingual student teachers and extending specific invitations to people "to come and experience our program and show off the great stuff we're doing here," he said.
Thoeny said she's excited for the future, especially as her own daughter moves through the program.
"Now it's a natural part of our day, but six years ago that wasn't happening at all," Thoeny said. "It's an extraordinary transformation in a short time."