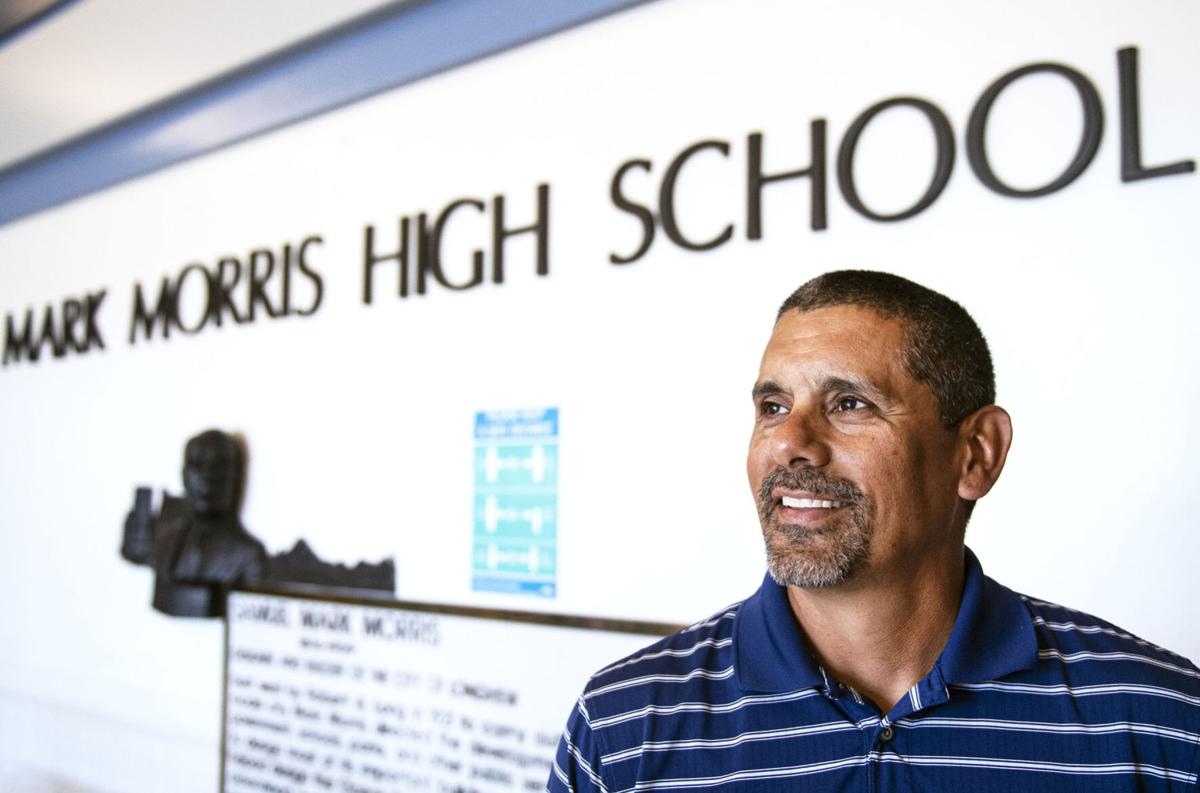 Most people are eager to leave high school and never look back, but for new Mark Morris principal Aaron Whitright, the goal was always to return.
"Excited" sums up Whitright's view of this coming school year, with the return to full-time, in-person learning, sports, clubs and his new role.
"I'm excited to get back to a more traditional high school experience," he said. "To bring Monarch pride back, because I feel like there's a little bit that's missing when you're not in person."
Whitright, who previously was principal at Columbia Valley Gardens Elementary School since 2014, has spent his career in the Longview School District. Jean Merritt will take over the role of principal at CVG instead of retiring, the district said.
He grew up in Castle Rock, graduated from Castle Rock High School in 1989, and decided to "follow in my father's footsteps" and become a teacher.
His father, Roger Whitright, taught in the Kelso School District for 30 years and was "highly regarded," which attracted Whitright to the profession.
His first job in the district was at Cascade Middle School in the 1993-1994 school year. He taught math there for the next 19 years, he said, mostly at the eighth-grade level, but in other grades as well.
"Then, I wanted a change, so I went down the administration road," he said, getting his certification from the University of Portland, where he also earned his master of education degree in 1997.
Whitright became the dean of students at Mount Solo Middle School for a year, then served as an instructional coach at the school until taking the opportunity to be CVG principal in 2014.
"I always wanted to be at the middle or high school level and it just so happened that I ended up at the elementary school level, but I couldn't have asked for anything better," Whitright said. "It's an amazing staff and team."
The biggest difference between the roles will be that at the elementary level, Whitright was the "lone administrator," now he'll be part of an administrative team.
"It will be a good fit for me here," Whitright said, though he knows the biggest challenge, COVID-19, still will play a role in the next school year.
District spokesperson Rick Parrish said the school will be "in good hands" with Whitright's experience growing up in Castle Rock and working in Longview schools for decades.
As the new principal, Whitright said he plans to get to know the staff, students and culture at Mark Morris before making any changes.
"Moving into a building I'm not familiar with, I think it's super important for me to really not look to make major changes in the beginning," he said. "The previous administration was a very strong one and they have systems in place that worked and that I plan on following."
Eventually, he said he will make "some more subtle changes," working with the rest of the school community to improve school processes and education quality.
The middle and high school level is Whitright's favorite because "you just grow up with the kids." This year, the first class of elementary students Whitright had as a principal will be high school seniors, making it a poignant year to start the new role.
"It's an enjoyable age," he said. "I did a lot of coaching over the years, I coached basketball for 18 years at Cascade and some football. It's a rewarding thing, to be a part of them growing up and become responsible citizens."