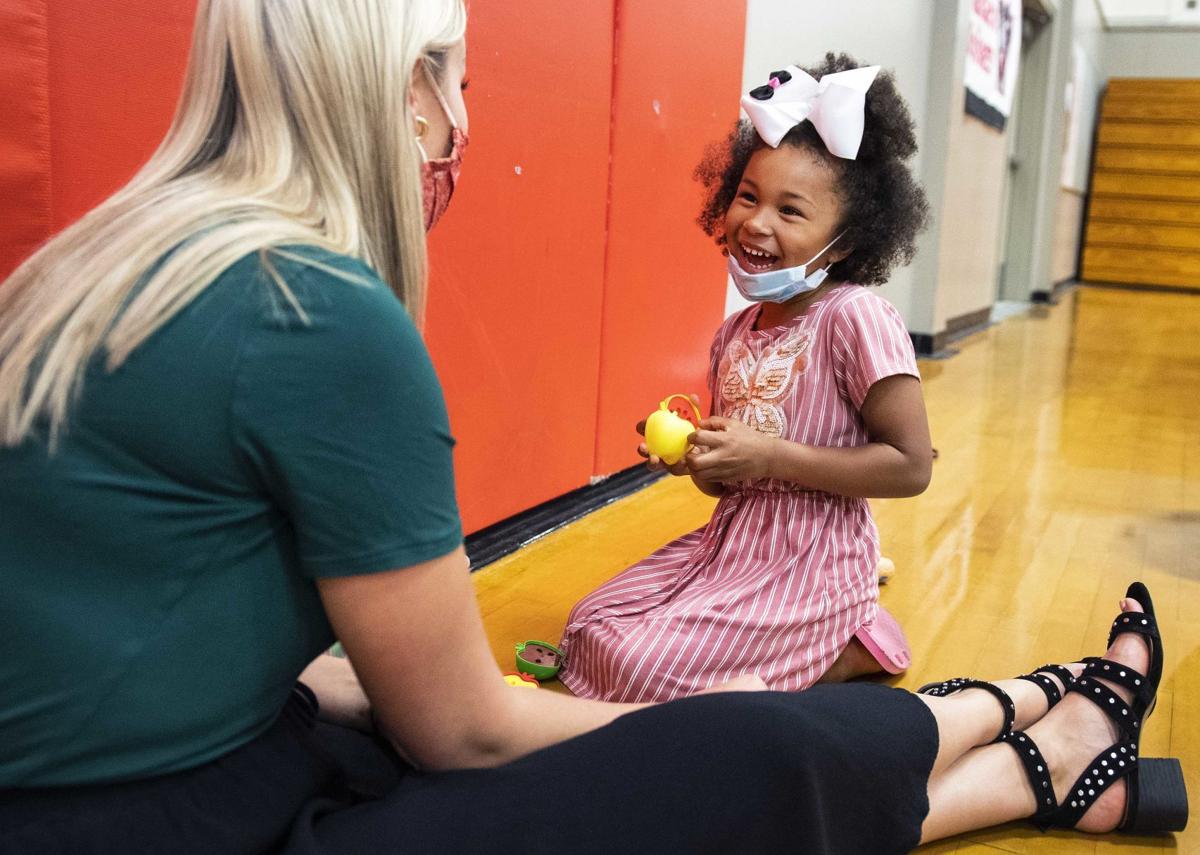 Groups of soon-to-be kindergartners replaced Coweeman Middle School's usual student population Thursday night, as families registered for school and got comfortable with the idea of school during the district's second Kinderpalooza event.
Mother Alexis Conway said her son will start at the new Wallace school this year, and as this is the first time she's had to navigate signing a child up for school, she appreciated the event.
"The district was great," she said. "They really walked me through it step by step and we also got a lot of really good information tonight."
As Conway and her family just moved two blocks away from the new Wallace elementary school, she's "excited it will be a nice new school" for her son.
"He was a little nervous, so it's nice for him to see other kids tonight," Conway said. "He's starting to warm up."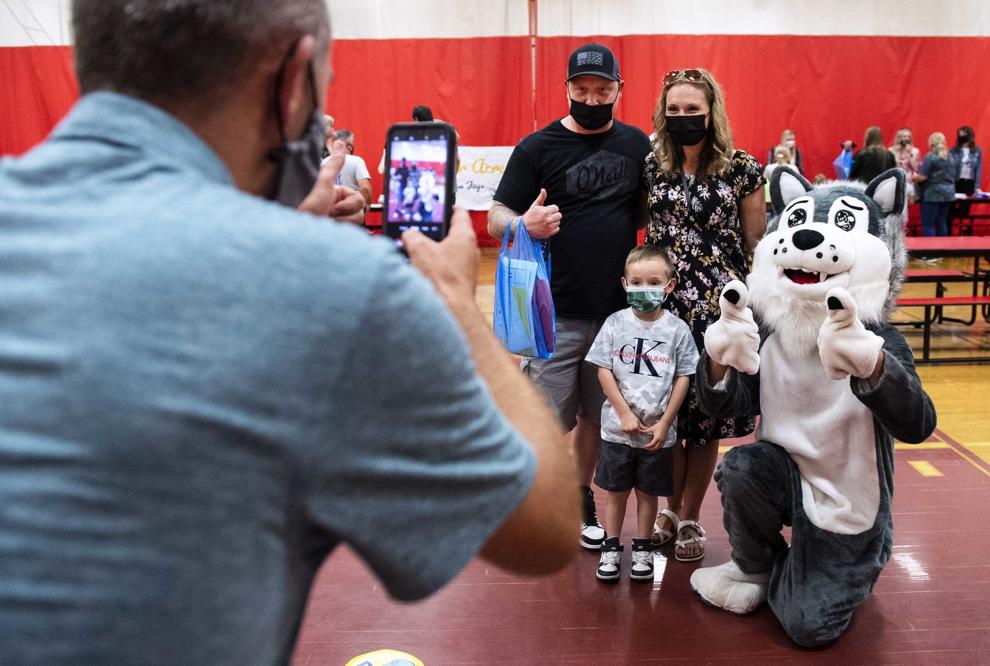 The district debuted Kinderpalooza in 2019 as a way to reverse a downward trend in kindergarten readiness. While COVID-19 put the event on hold in 2020, this year prospective kindergarten families could go to Coweeman Middle School to register, meet teachers, ride a school bus and get questions answered.
Kinderpalooza also is intended to boost low kindergarten enrollment numbers.
Kelso was down 60 kindergarten students last year, with 294 enrolled, and nearby districts reported similar declines as parents held students back a year during the pandemic and distance learning. As districts get federal funding based on student head count, the decline tightened district budgets across the county.
After a year of lower kindergarten enrollment, local districts are bracing for higher numbers and are asking parents to sign kids up for next …
This year was also Chelsea Eddington's first time registering a child for kindergarten, and she said the event was "really cool" and she hopes it will make the first day of school easier for everyone.
Her son will attend the new Lexington elementary, and "I'm really excited that he'll have a brand new school to go to. It's awesome."
Local groups
While each elementary school was represented, along with school nurses and nutritionists, several community organizations also set up tables at the event, including Youth and Family Link, the Cowlitz Tribe and Happy Kids Dentistry.
Before Julie Brigman can start reading, writing and math lessons, she has to spend several weeks teaching her Barnes Elementary kindergartener…
Kelso Library Director Natalee Corbett came to sign kids up for free library cards, but a half hour into the event was already running low on physical cards the demand was so high.
"The district reached out to me to attend and we're getting back to programing and staring to open up, so it's good outreach to have with the community," Corbett said.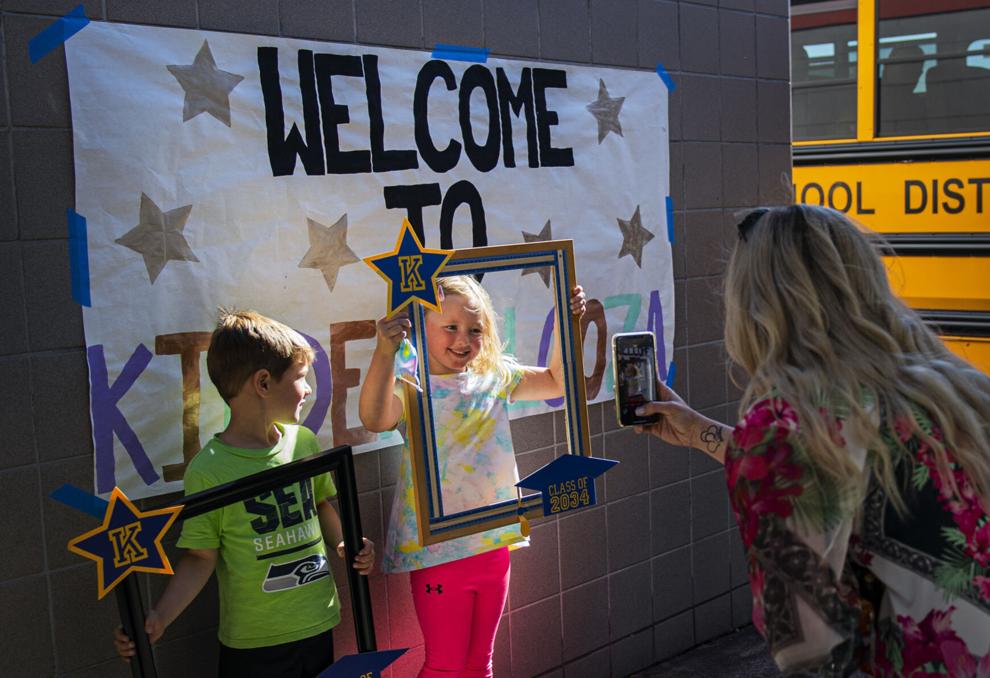 She also handed out summer reading program information and some activity bags, to get students familiar with all the library has to offer as they start their school careers.
"I'll definitely come back next year, with more library cards," Corbett said.
Smooth event
District Associate Director of Teaching and Learning Lacey DeWeert said the event was going smoothly thanks to a dedicated team and a K-12 effort.
"Everyone wanted to participate," she said. High school art students hand-painted banners for each table, and students from the yearbook class were in charge of taking photos of kids in the class.
Support local news coverage and the people who report it by subscribing to The Daily News.
DeWeert said the buses were a big hit with students.
"The bus drivers got together before and they're taking the chance to teach kids and parents about bus safety," DeWeert said. "They're going over the right way to ride a bus, get on and off, and cross the street safely."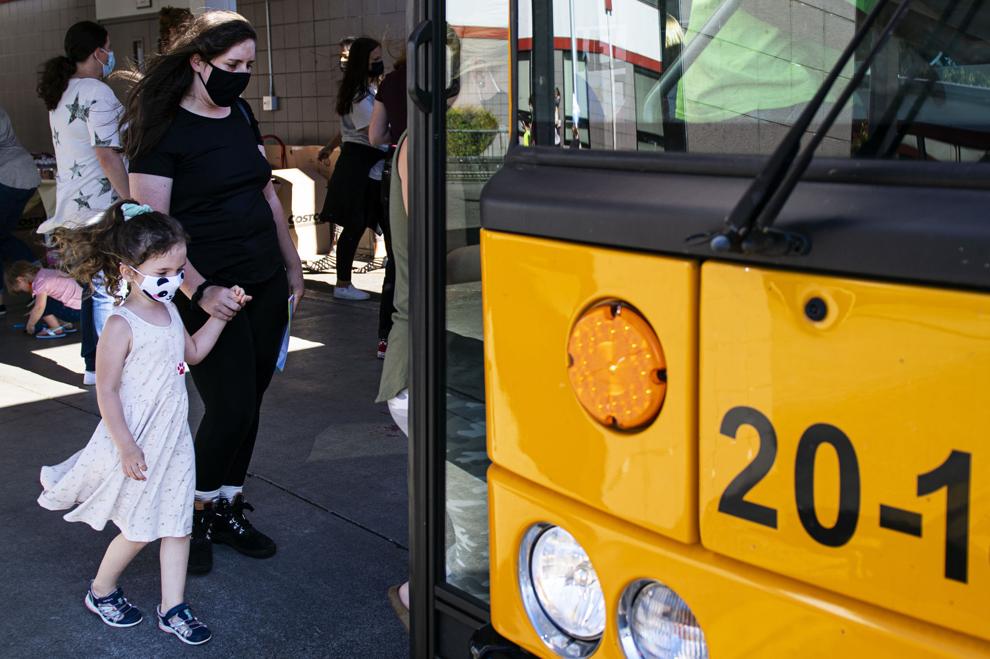 While the overall goal is to get students enrolled in school, DeWeert said it's also an opportunity for parents to connect with the school and for the school to work with community partners.
Even though Julia Darr had already registered her son for kindergarten online, she came to Thursday's Kinderpalooza anyway.
"It's a pretty cool event," she said. "It makes you a lot more comfortable for school."
To register children for kindergarten, families need their birth certificates, immunization records and two forms of proof of residency. To be eligible for kindergarten, children need to be at least 5 years old on or before Aug. 31.
This year from 5 p.m. to 8 p.m. June 3, prospective kindergarten families can come to Coweeman Middle school to register for school if needed, meet teachers, ride a school bus and get questions answered.
Not only did the event make Darr more comfortable, but her son was clamoring to ride the bus around the parking lot, a change from the nerves first-time students sometimes feel getting on a school bus on the first day.
"He really wants to ride the bus now," Darr said.