While Longview elementary students enjoyed a sunny day off Friday, teachers were in classrooms rearranging furniture, adjusting lesson plans and preparing for Monday's return to full, in-person class.
"I feel like I've just been walking around with two yardsticks in my hands," said Robert Gray first-grade teacher Lisa Reid as she stood in her classroom full of labeled and arranged desks. "I'm trying to maximize the space."
Reid separated the desks so all students could sit three feet apart, in accordance with COVID-19 state education guidelines.
The state adopted the framework outlined by the Centers for Disease Control and Prevention, which said students could safely sit three feet apart instead of six in the classroom. Districts have since worked to fit students back into classrooms for five-day, in-person learning. Grades K-5 in Longview will return full time Monday. The return of older students has been postponed until transmission in the area declines.
In Reid's classroom, that means desks are placed in what used to be open space in front of the board, desks against bookcases and a system of where students sit while learning and where they can sit while eating.
Whenever masks are off, like at lunchtime, students need to be six feet apart. That's made the return to class more challenging, and teachers have arranged systems of "eat spots" and "sit spots" in their rooms, said Robert Gray kindergarten teacher Jodi Hanson.
"This week we've been practicing going to your eat spot for lunch and then putting your mask back on and going to your sit spot," she said.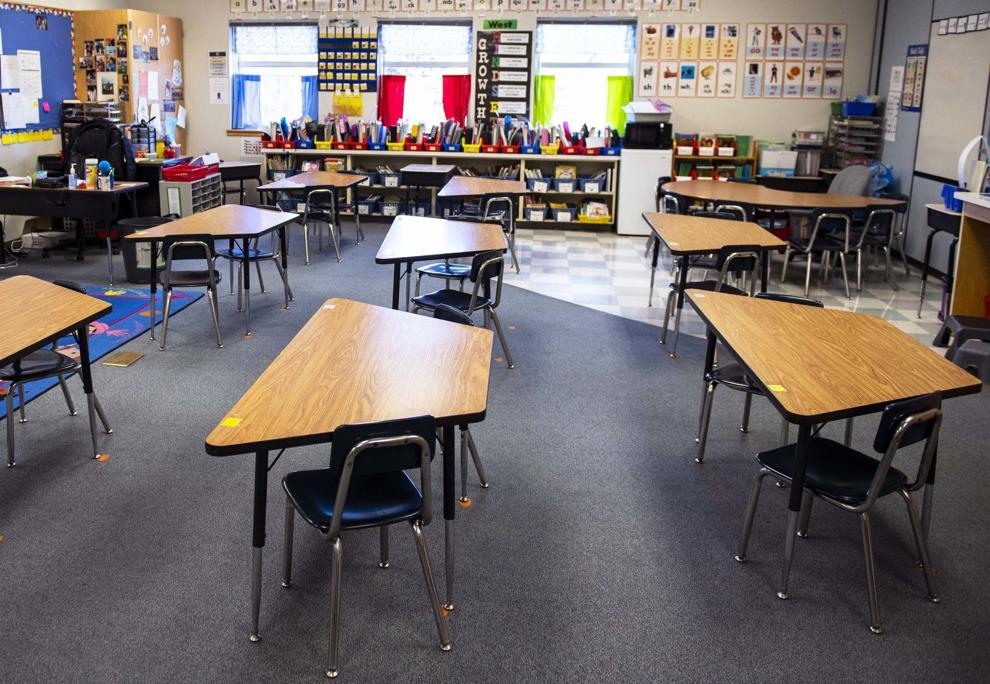 Some students will eat lunch in other rooms, said Robert Gray Principal Lori Larson. Meeting rooms have been transformed into lunch spaces, and the rooms of teachers assigned to fully remote classes also will be used for lunches.
Part of the challenge of both lunchtime and class time is that each school — and each classroom — is different, said district spokesman Rick Parrish.
"You take out everything you possibly can and then put it back in like a game of dominoes," Parrish said. "It's problem solving room by room."
Safety protocols
While rooms will look different, the safety protocols will not. Robert Gray nurse Justyne Mullenix said students will still be screened when they get to school, and contract tracing protocol if there is a positive case will be the same.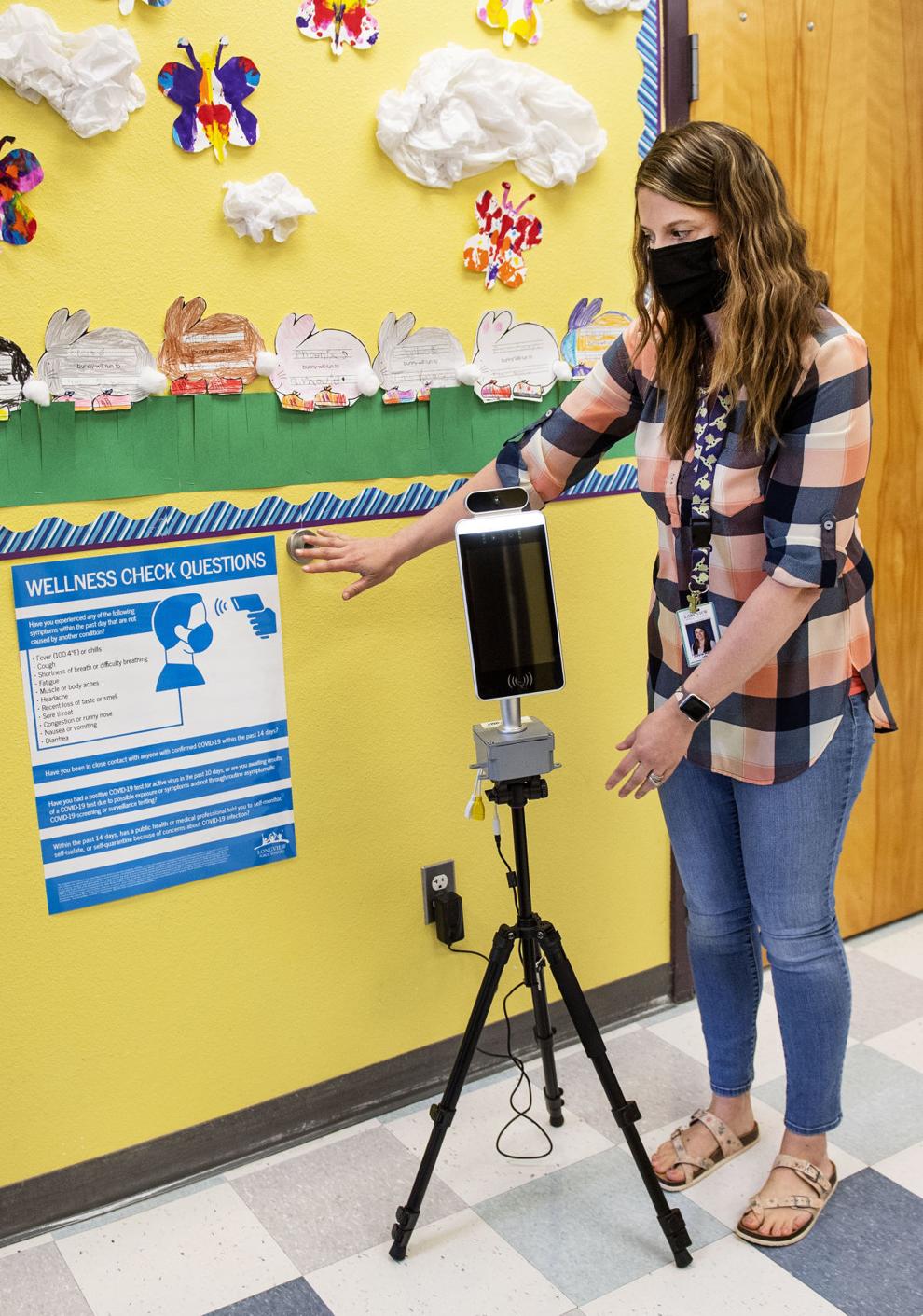 Elementary schools are upgrading from hand-held thermometers to standalone temperature-checking kiosks, which Mullenix said will help with speed and accuracy.
As the district's biggest elementary school, returning to full-time class means 400 students need to be checked in each morning.
"I've been testing the temp check stations with staff to see how quick it can go," Mullenix said. "I'm excited."
The in-building COVID-19 testing, which is voluntary and free for staff and students, has added "a great resource for families and staff," Mullenix said.
Parrish said the district has administered about 80 tests through a new state program that pays for the testing. About half the number of tests were rapid tests and half were PCR tests, which take longer but are more accurate.
Parrish said some people have had both tests, and some have only had a rapid test. If a rapid test comes back positive, a PCR is administered to make sure it's not a false positive.
"With our staff, we feel like it's better to take the test to be safe, because we want everyone to be safe and healthy and working," Mullenix said.
First day of school
Reid and Hanson both are prepared for what they say feels like an April first day of school. They've got songs to remind children to put up their arms in "chicken wings" to stay three feet apart, revamped seating charts and adjusted their lessons.
"I've been teaching for 30 years so it's going back to the beginning of the school year. New seating lists, new schedules on the board," Hanson said. "It's just a process and I'm glad we got today to get it all set up. "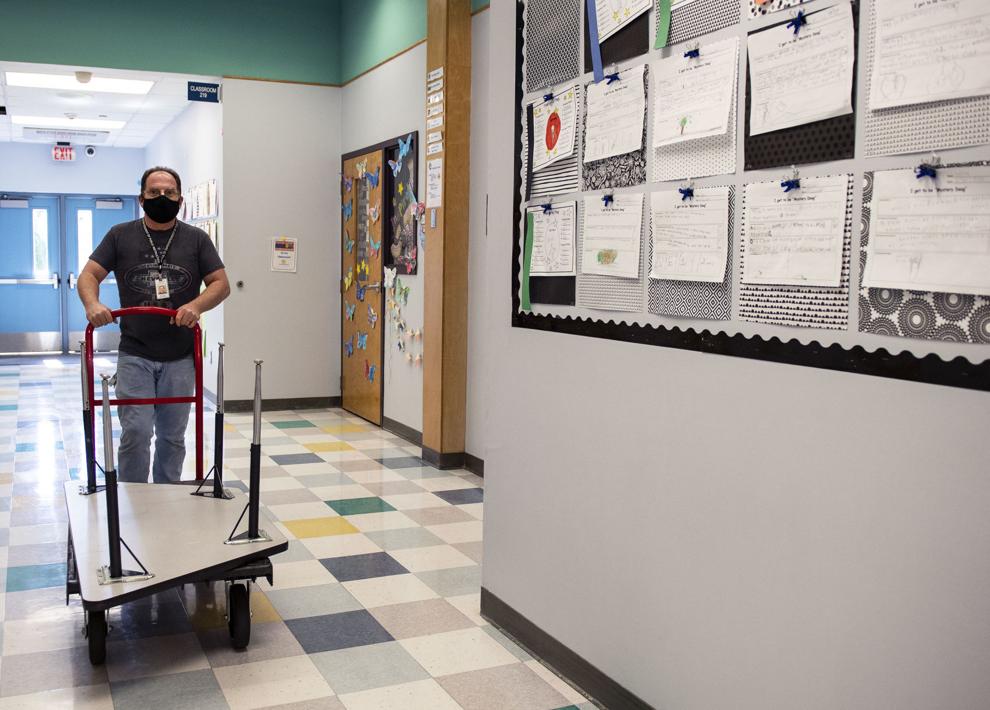 Reid said she's used the experience to demonstrate a growth mindset to her students.
"We're all learning this year, I'm learning how to teach this way and how to transition in the middle of the year," she said. "They know that the way we do things now might not work and might have to change."
Hanson and Reid also are warning parents that by the end of the week, students likely will be exhausted after the excitement of being back in class with friends.
Reid is ready for the chaos and has planned a week with plenty of time to socialize and a lighter Friday afternoon in anticipation of worn-out first graders.
"I'm most excited for the energy they're going to bring in here and all the pure joy," Reid said.