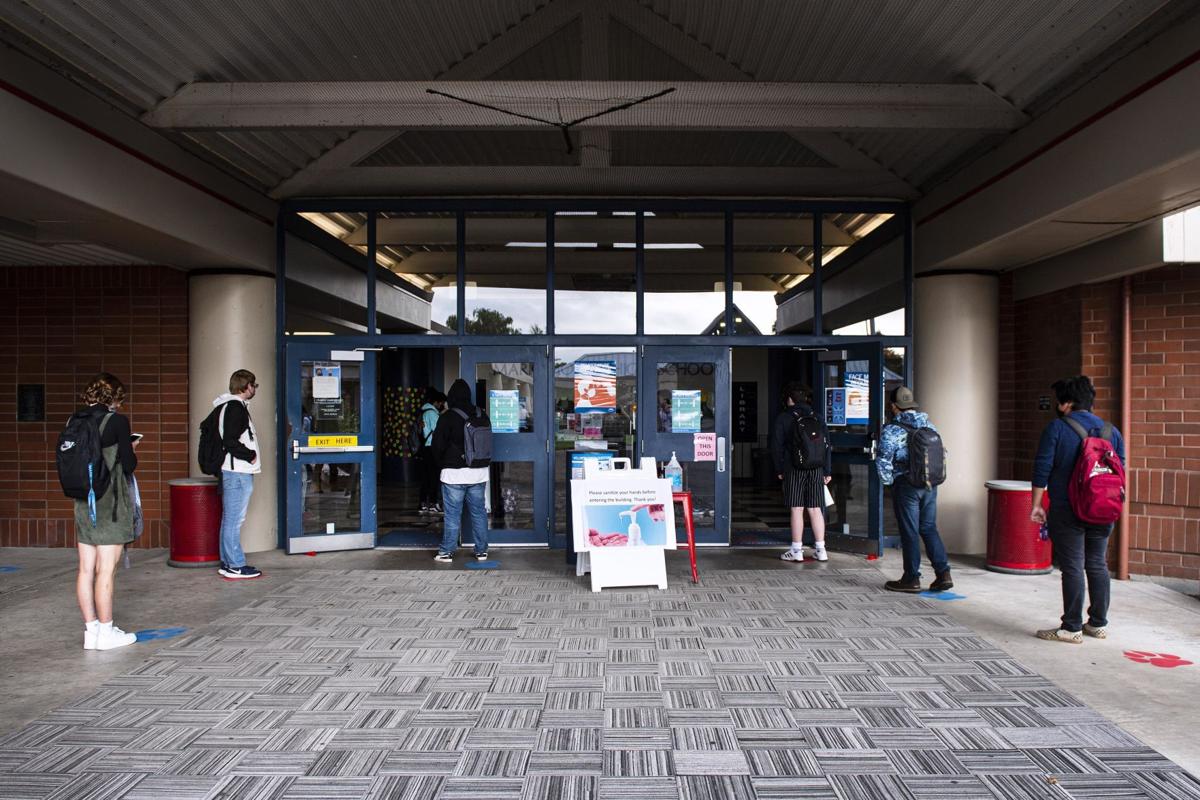 Local cases in children have continue to rise even as overall cases started to level off, according to a Wednesday report from the Cowlitz County Health Department, and schools are feeling the pressure of rising case numbers.
Schools that report COVID-19 cases are all quickly approaching or surpassing last year's total number of cases just a month into the new school year. In Kelso, positive cases and the number of students in quarantine sent two fourth grade classrooms fully remote.
Kelso spokeswoman Michele Nerland said while there was only one case transmitted between students in the classroom, there were a number of other students who tested positive, and then students around them who were close contacts had to quarantine.
"At a certain point, half the students in each class were at home, and it just made sense" to go remote for 10 days, she said. The classrooms have undergone extra sanitation.
Parents were notified Wednesday night, and on Thursday the district distributed Chromebooks to the students in those two classrooms. Fully remote instruction started Friday and will continue until students return to class on Oct. 4.
Nerland said the district had been prepared to shift to remote learning if classroom closures were needed, and that the decision was made in conjunction with the Cowlitz County Heath Department.
Cowlitz County saw an average of 84 new confirmed and probable cases per day from specimens collected September 7-13, and while weekly new case counts appear to have leveled off, "the precise trend is uncertain," the report said.
While case counts among adults have decreased since the start of the school year, cases in children aged 0 to 17 have seen about a 30% increase in case counts during this same time period.
"More analysis is needed to understand what is driving this increase," the report said. "Last spring, community members asked if increased testing explained the disproportionate increase we were seeing in youth. We investigated this question in the Spotlight section of our June 23 COVID-19 data report and were unable to make any solid conclusions."
Complete testing data from the Washington State Department of Health are not yet available, but the report said the county will continue to track the question and other potential drivers of youth case trends and provide updates when available.
Longview, Castle Rock and Kelso schools all use COVID-19 dashboards to report cases in schools. Other local districts do not publicly report cases in schools.
Kelso only reports cases that are confirmed to be transmitted in schools. The district reported five school-based cases last year. So far this year, there have been nine cases transmitted in schools, four at the high school, three at Huntington, one at Lexington elementary, and one at Butler Acres.
Since Sept. 1, Longview has reported 109 cases, none of which were found to be transmitted in school. 11 of the cases were staff members. Cases are across the district's schools. The district reported 182 total cases last year, with seven passed on at school.
In Castle Rock, there have been 22 student cases and three staff cases since Aug. 30. None were found to be transmitted in school. Castle Rock recorded 64 total cases among students and staff last school year.
Greene said COVID is "out of control."
"The last couple of weeks were pretty crazy, but it's looking like its hopefully getting better," he said.