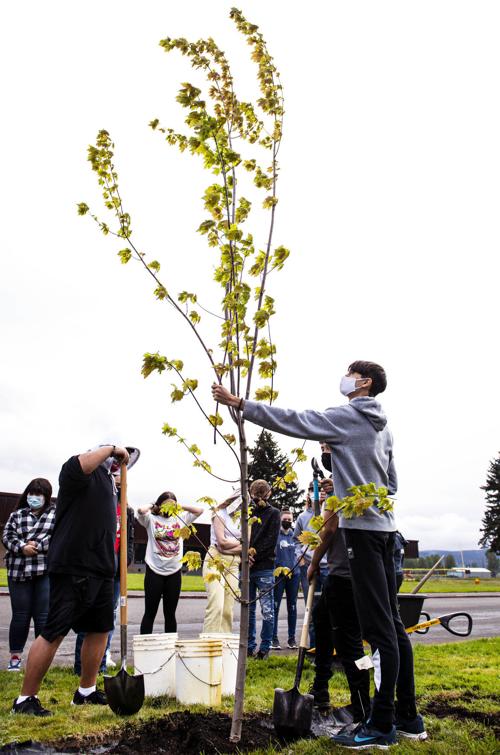 Standing in front of Castle Rock High School on Arbor Day, biology teacher Ryan Penner asked his class why trees are important.
"Oxygen" came first as a chorus, and as he encouraged them to think more deeply, students shouted out all the other reasons they were planting three Armstrong Red Maples in front of the school: shade, bird habitat and simply because, "they're cool."
"I think trees are cool, too," Penner told the laughing group. "But what else do trees give us? How many of you have a mom or dad who works in the timber industry?"
About half the group raised their hands and listened as Penner rattled off the economic benefits of trees, especially in a logging town like Castle Rock.
The class gasped as Penner showed them how to break up the rootbound base of the sapling and explained that planting is "more than taking it out of the pot and putting it in the ground."
"Won't that kill all the roots?" a student shouted.
"No, it will energize them to spread out," Penner told the worried class. "And look at it, there are a lot of roots."
Editor's note: This is the seventh story in our ongoing series marking the 40th anniversary of the eruption of Mount St. Helens on May 18, 198…
Castle Rock Blooms Volunteer Coordinator Nancy Chennault helped pick out the Armstrong maples before the Friday planting. They'll turn "Castle Rock red" in the fall, she said, matching the school colors and the planters of red and white flowers students grow in the nearby greenhouses.
They'll also stay small enough to fit in the strip of grass between the parking lot and the school.
"You have to pick the right tree for the right spot," she said.
Ecology projects
The three trees add to the between 60 and 80 trees Penner has planted with his classes all over the high school campus over the years, as well as the bioswale he's currently building behind the greenhouses.
Ryan Penner, Castle Rock High School biology teacher, talks about the benefits of having logs in a bioswale Friday at the school. Penner and s…
A bioswale is an area of the landscape designed to collect stormwater runoff and naturally filter oil, chemicals and sediments from water using plants and gravel. Bioswales also slow down runoff, reducing erosion and recharging groundwater.
Penner said when the greenhouse area recently was paved, he noticed a lot of runoff accumulating in the grassy area.
Another hands-on, outdoor lesson was born. With donations from community businesses like DeRosier Trucking, JL Storedahl and Sons, Tim Brown Logging and help from Penner's father and uncle, Penner and his classes removed the grass, laid gravel and plotted where to place larger rocks.
Support local news coverage and the people who report it by subscribing to The Daily News.
"People drive by and maybe think 'oh, it's a decorative thing,' but there's a lot more going on here," he said.
There's two large tree trunks in the space, and by next year there will be plants as well to help filter the water coming off the asphalt.
"Wood holds moisture for much longer, which helps salamanders and frogs survive dry summer months," Penner said. "But these trees will be used more as teaching showpieces to talk about that."
Castle Rock Blooms and the school FFA donated weed barrier material, plants and their planting expertise, and Penner said Minuteman Press will donate an interpretive sign after his students plan its message.
After years of work, transforming downtown Castle Rock with overflowing flower baskets and neat landscaping, the city was recently ranked best…
Native landscape
One of the trees in the bioswale came from outside Penner's classroom window, as it was diseased and had to be cut down. That sparked another, longer-term project idea for Penner. Eventually, he wants to turn the dandelion-spotted empty space outside his classroom into a native plant landscape.
The school shop class already is building a bench for the area, which Penner said will add another outdoor classroom option to the school. He also works with two small ponds near the batting cages, letting students do field data collection and grow grapes.
Most students love working outside, he said, though with longer term projects he's careful to explain what role each year's classes play in the bigger picture.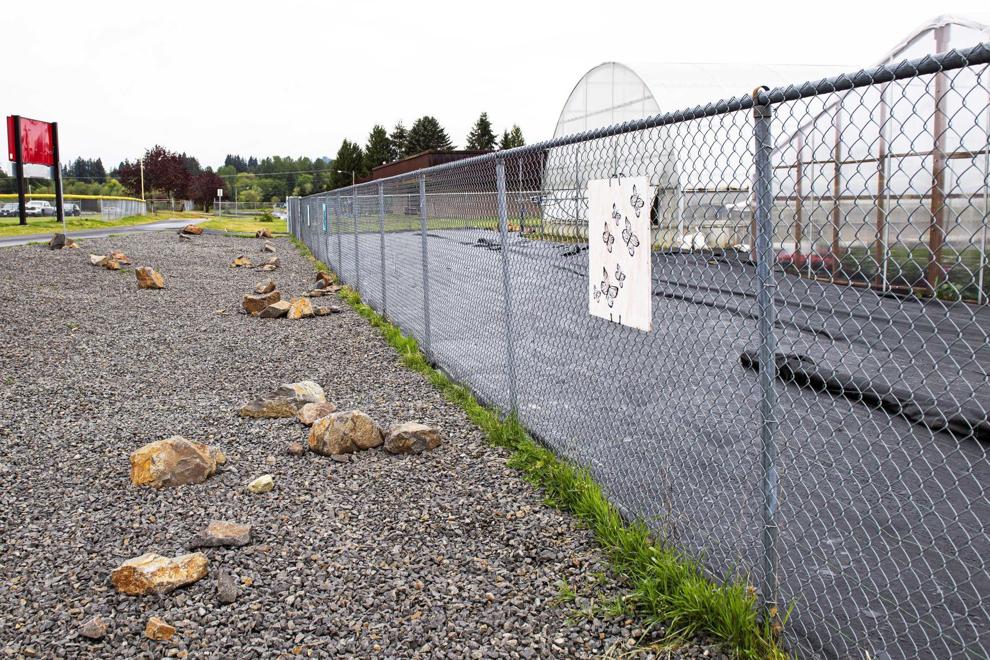 For example, the class that spread gravel on the bioswale this year might not get to see it fully established with plants, but they will know their work today will lead to an environmental benefit in the future.
All of the green projects and Penner's visions for outdoor learning are made possible by community support, he said.
"Castle Rock has bloomed in the last 15 years, unlike some other small towns that have withered away," Penner said. "It's because of all the volunteers. Castle Rock is all because of volunteers."
A landscape enhancement project recently took place at the picnic shelter and event center at the North County Recreation Association's Sports…