Lynn Bush has one of the last chalkboards left in Rose Valley Elementary. It's seen plenty of use in the past four decades, even as she learned to use Google Classroom.
As Bush retires this year, with 40 years in Kelso and another 10 split between Longview School District and a private school, she's happy she stayed on through the pandemic despite considering retirement last year.
"I'm so happy that I didn't retire and miss out on this opportunity," she said. "There were days, especially in the fall, when I thought, 'holy cow, I'm in over my head.' But it shows that we're never too old to learn and it really gave me a greater understanding and a greater empathy for children in our classrooms."
'My fourth graders'
Bush started teaching at the old Kessler Elementary in Longview in 1970. She was there for the 1973 earthquake that rendered the upper floors unusable.
"Many of us on that second story couldn't even get into the classrooms, because the old wooden floors had buckled to the point that we couldn't get our doors open," she recalled.
She was placed temporarily at Mint Valley, then at Robert Gray until she went back to the rebuilt Kessler in 1976.
After she had her daughter in 1979, Bush taught in a Christian school for a couple years because the school let her bring her daughter to school with her. After teaching grades 2-12 in one room at the private school for three years, Bush was ready to return to fourth graders and came Rose Valley in 1982. She's been there — in the very same classroom — ever since.
And aside from the time at the private school and one year at Robert Gray, Bush also has stuck with fourth grade.
"I definitely found out I don't particularly enjoy teaching the younger children," she said. "Had I taught second grade first I would have thought I had chosen the wrong profession, but it was the fifth or sixth year of teaching fourth grade so I knew I loved teaching, I just need to get back to my fourth graders."
Finding her calling
It was back in first grade, in a two-room schoolhouse outside of Oregon City, Ore. that Bush decided she wanted to be a teacher.
"I just loved school. I liked everything about it," she said. "I liked the way it smelled, I liked the structure and of course I thought the teacher lived at school and I thought, 'I want to live in a house like this.'"
Even after she learned she couldn't live in her classroom, Bush still felt she "definitely found my interest and my calling."
It's the children and their families that kept Bush in the classroom so long, she said. While there had been opportunities over the years to teach specialty programs or take on more responsibility, Bush loves "being with a group of children for a whole year and being able to see the change and the impact that you can have in their lives."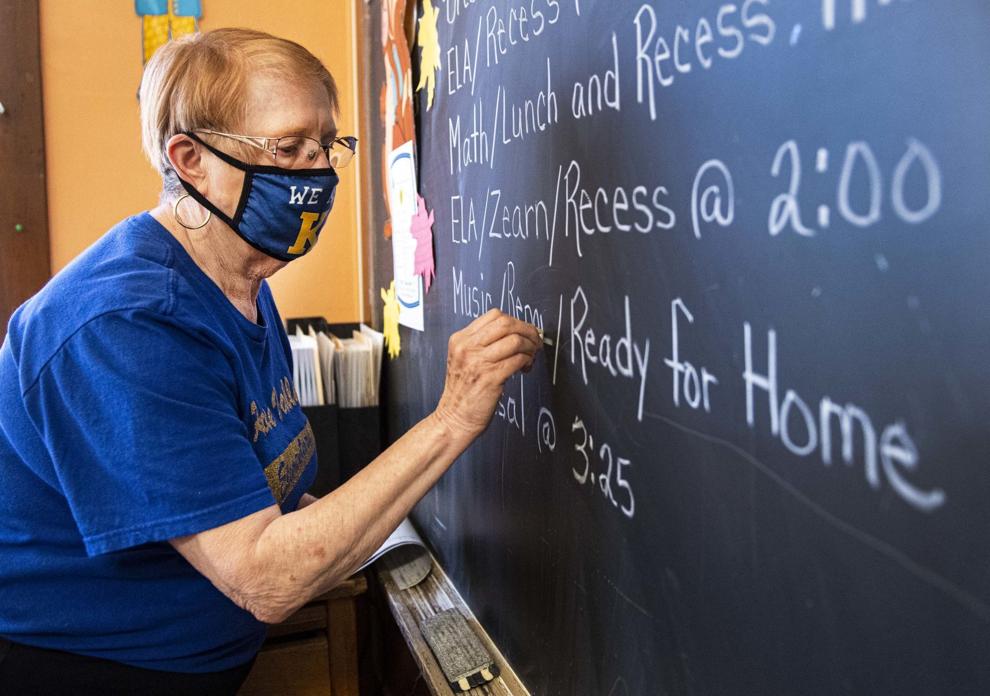 World of technology
While Bush still loves her chalkboard, she hasn't let the world of teaching technology move on without her, especially this past year.
"We've had technology in our classroom for easily a decade now, but this last year with the online learning and Zoom meetings and programming their lessons for the week and then grading their lessons online, there's so much technology involved," she said.
That level of technology was not Bush's strongest area, but she said her fellow teachers gave her support and helped her learn. All she had to do was walk down the hall with her computer and "they would know that I needed something and they would help."
"They never hesitated to help me with any question I might have," she said. "How do I do this, how do I access that, they were never too busy and the question was never too trivial to them."
Natural fit
Besides her colleagues, whom Bush said she feels blessed to have, her favorite memories are centered on the Rose Valley community. She and her husband live in the area.
"Coming to Rose Valley was a wonderful situation for me," she said. "I enjoyed my time in Longview and I enjoyed my time in the private school, but my own schooling was in a small school … in a community similar to Rose Valley."
Because of that, "coming to a country community just felt natural to me."
In the last few years, Bush has taught the children of past students, and "it's just fun to be part of such a wonderful thing."
"I loved showing the kids the pictures of what their parents looked like when they were their age and showing them were they sat in the room, because I've kept all of my lesson plan books throughout the years," she said.
More time with family
Bush said she plans to spend more time with family, especially her new grandson, in her retirement.
Her husband also looks forward to more time with her, because he retired two decades ago "thinking I was going to retire in a couple years."
"It's been 22 years since that, so he's been very patient," Bush said.
While he's got plenty of projects and a tractor to keep him occupied, "I can tell that he is getting lonesome and he's waited a long time for me to make my decision," Bush said.
Bush might still be a substitute teacher on occasion, to stay connected with the professional community and to see the kids, but she said after the past two COVID-19 years, "it's a good time to say OK, 'I'm coming home.'"