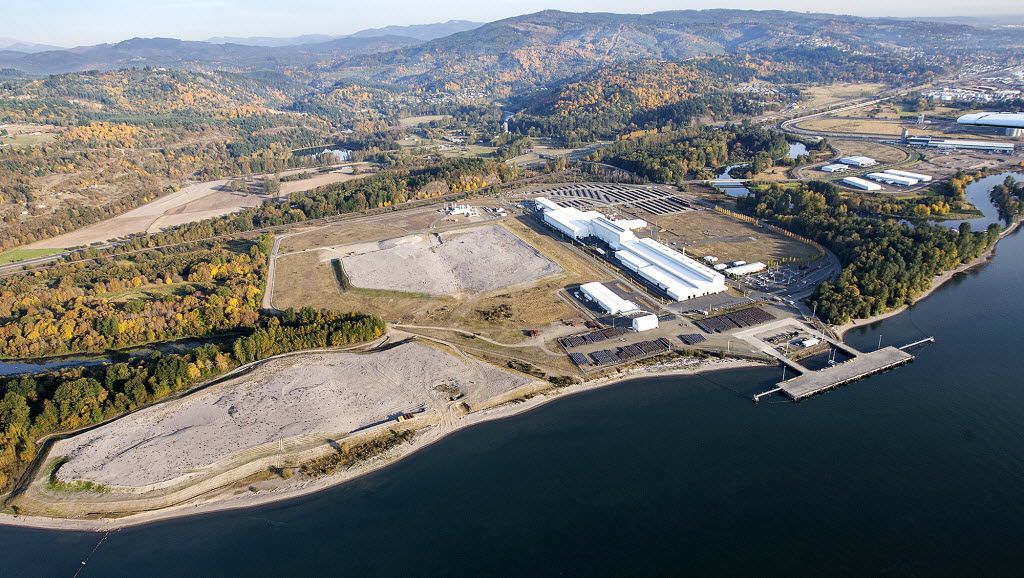 Northwest Innovation Works has received a draft of its first major permit, an important step for the $1 billion proposed methanol refinery project.
The Southwest Clean Air Agency issued a preliminary air quality permit just before Thanksgiving. The agency says the proposed methanol plant at the Port of Kalama would not be a major source of air pollution.
A comment period on the permit has been extended to Jan. 4, when the agency will host a public hearing in Longview.
According to the agency, Northwest Innovation Works would be categorized as a small emitter of air pollutants. In many cases, its projected emissions are far too small to trigger additional analyses on health and airshed quality, said Paul Mairose, chief engineer for Southwest Clean Air Agency.
"Yes, it's a big facility that has a lot of stuff, but they have done a pretty good job of minimizing those emissions because for as big of a facility as they are, they don't emit major quantities of criteria pollutants (carbon monoxide, lead, nitrogen dioxide, ozone, particulate matter and sulfur dioxide) or hazardous pollutants," Mairose said.
Mairose noted the China-backed company "cherry picked" the best and newest technologies to reduce emissions at the site.
Yet the methanol opponents still have concerns with the levels of pollutants and greenhouse gas emissions the plant would be allowed to emit.
"This project is a huge setback for Washington. The Kalama methanol refinery will emit over a million tons of carbon dioxide a year. That's about 1 percent of Washington's total carbon emissions, " said Miles Johnson, attorney with Columbia Riverkeeper.
The plant's allowable emissions of carbon dioxide — which is harmless but is the chief gas linked to climate change — would be equivalent to those of about 227,287 cars. The plant also could emit up to 62 tons of very fine particulate matter — dust and soot particles — annually.
According to the permit, the plant would be allowed to emit up to 53 tons per a year of toxic and hazardous pollutants. That compares to Emerald Kalama Chemical, which released six tons in 2015, according to company reports submitted to the U.S. Environmental Protection Agency.
Ammonia (35 tons) and methanol itself (seven tons) would account for the biggest share of the methanol plant's toxic releases. Ammonia is used in household cleaners and fertilizers and is filtered out of the blood by the liver.
Methanol is a toxic alcohol that is used industrially as a solvent, pesticide, and alternative fuel source. It also occurs naturally in humans, animals, and plants. Foods such as fresh fruits and vegetables, fruit juices, fermented beverages and diet soft drinks containing aspartame are the primary sources of methanol in the human body. Most methanol poisonings occur as a result of drinking beverages contaminated with methanol or from drinking methanol-containing products, according to the U.S. Centers for Disease Control.
Northwest Innovation's allowable emissions of toxic chemicals would be only one-tenth as much as those emitted by the pulp and paper mills in Longview. In 2015, KapStone Paper and Packaging Corp. emitted about 550 tons of toxic and hazardous pollutants per a year, and the Weyerhaeuser Co. complex emitted about 532 tons, according to EPA reports.
(A permit imposes limits on emissions. As a practical matter, to avoid violations and penalties, mill operators typically keep limits well below permit levels.)
The Southwest Clean Air Agency does not expect Northwest Innovation's emissions to create visibility problems from smog-inducing chemicals such as nitrogen oxide or sulfur dioxide. Under the permit, the plant could emit up to 75 tons per a year of nitrogen oxide and 17.5 tons of sulfur dioxide. By comparison, the coal-fired power plant near Centralia emits 90,000 tons of sulfur dioxide and does not significantly impair visibility, Mairose said.
The draft permit was welcome news for project proponents.
"You read some of the rhetoric (from opponents)and you think we're going to be spewing all this pollution, and this truly a minor source," said Richard DeBolt, spokesman for Northwest Innovation Works. "This is going to be a very clean facility."
Northwest Innovation Works will not have to invest in any additional controls beyond what it had already planned, according to the company.
"We're a zero discharge water facility and we're under a minor air source permit. … Those are big hurdles, and we're excited," DeBolt said.
Northwest Innovation's plant would convert natural gas to methanol. According to the company and the port of Kalama, the plant would employ 1,000 construction workers and 200 full-time managers and workers at full operation.