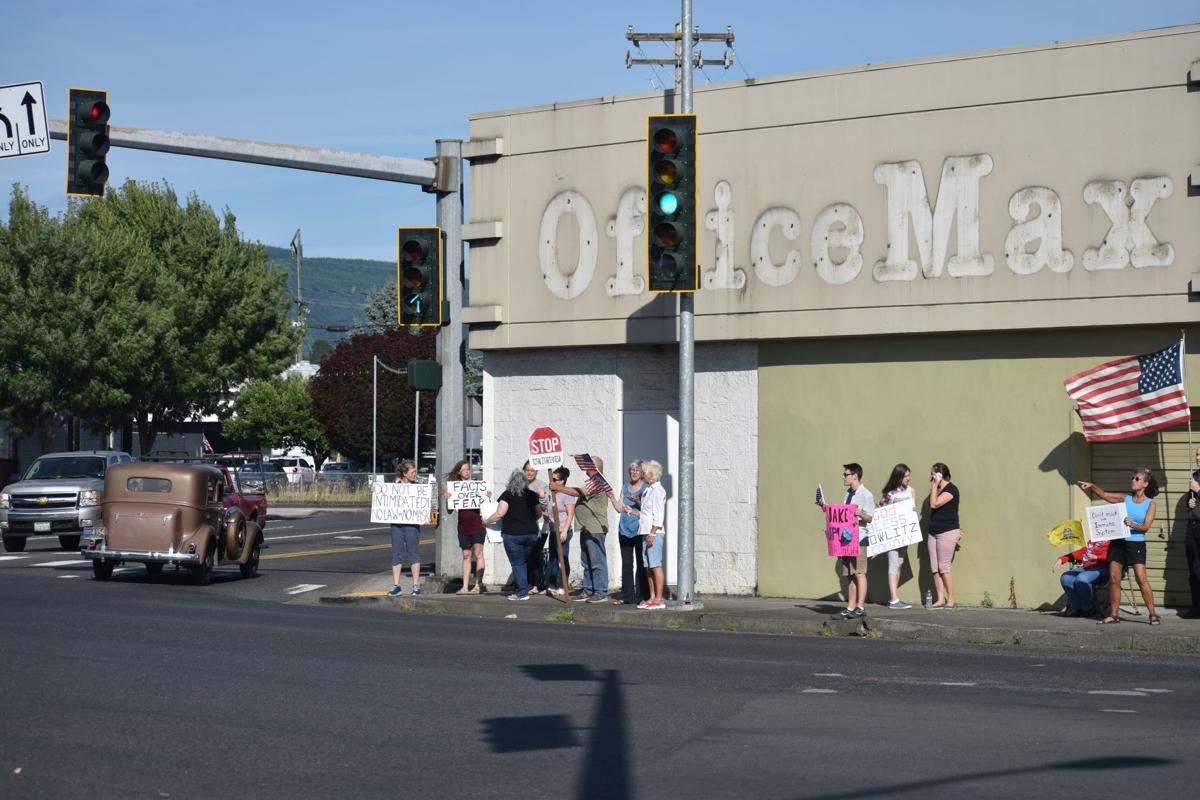 Dozens of people took to the Washington Way—Cowlitz Way intersection Friday to demonstrate against Washington's new mandatory mask rules and other state orders.
Holding signs that read "Stop Totalitarianism" and "Facts over Fear," the group waved American flags and waved at passing cars, which occasionally gave honks of support or unintelligible shouts, during two demonstrations: One in the morning at around 7:30 a.m. and the other starting just after 5:00 p.m.
Lyuba Gotcher, a 48-year-old Oregon woman, said her family came to the United States in 1992 from Kyrgyzstan, a Republic formerly part of the Soviet Union. Her own father was arrested and exiled, and she said she doesn't want to see the oppression that happened there repeated in the U.S.
She said she sees the government as "picking and choosing" which activities are acceptable and which aren't, such as large scale protests versus church gatherings.
"We know what it means when the government is against you and you have to stand your ground," Gotcher said. "This country adopted me, and was very gracious to me. So now I feel this is the least I can do, to stand for people's rights and my rights."
She found the new mask mandate "ridiculous" given the order came months after the lockdown process began.
"The government uses fear to oppress us. ... They need to keep fear going because they want to have control."
The Centers for Disease Control's (CDC) guidance around mask usage has evolved over the last few months. In April, CDC officials began recommending masks based on recent studies showing that people could still carry and transmit the disease if even they did not display symptoms.
State Rep. Jim Walsh stopped by to chat with demonstrators in the afternoon.
"With the amount of social engineering that the Governor's supporters are trying to enact around this issue, and the shaming and other stuff, it takes real courage for these people to come out here and do this," Walsh said. "And I applaud that. ... No one should shame someone for wearing a mask or not wearing a mask."
Walsh echoed other local leaders who have argued that local governments should have more of a say over COVID-19 mandates. The Governor's actions are short of a constitutional crisis, Walsh said, but they present a "constitutional tension."
"I'd prefer to see the county health department make this call," he said. "I disagree with the order as it was made. ... We're several months into this process with no clear end in sight, and I believe that is an abuse of the intent of (the Emergency Declaration) statue. ... By not allowing (the legislature) to be in special session, he's denying us the ability to have a voice on this."
Walsh also accused Inslee of using the mask mandate as a political wedge: "I think he thinks it's good politics for him."
As of Friday, Cowlitz County health officials had reported a total of 169 positive COVID-19 cases. 74 had recovered from the virus, and only one person was hospitalized, out of county. The county has recorded no deaths from the virus so far.
The mandate from Gov. Jay Inslee and Secretary of Health John Wiesman was announced Tuesday and became effective as of Friday. Mask wearing, physical distancing and frequent hand-washing are all important tools in slowing the spread of the virus, health officials say.
In any public indoor area, such as a business, healthcare center, bus or ride share vehicle.
In any outdoor public area, such as public parks, trails and sidewalks, when a six-foot distance from non-household members can't be maintained. This includes physical activities like running or bicycling, though team sports have more specific guidelines.
Masks may be removed to eat at restaurants, to speak to someone who is deaf or hard of hearing, or when temporarily necessary to confirm one's identity or fulfill some other business or government function. Children younger than 5 and those with relevant medical conditions are not required to wear masks.
The mandate is effective indefinitely, and violations could be subject to fines and even jail time. Businesses can face harsher fines from the Department of Labor and industries if their operation purposefully violates the Governor's orders.
But as with prior stay-home orders the Governor's office has released, most law enforcement agencies, including those local, have said they intend to focus on education instead of enforcement.
At Friday's protest, a 56-year-old Kelso woman said she came out "to stand for freedom for everybody" in light of Inslee's order: "I think he's gone past what even the staunch Democrats would agree with."
She said her own husband is immunocompromised. They visit a functional wellness doctor, she said, and they understand how to keep him healthy.
"We're for freedom. (If) he's nervous, he can stay home, wear a mask."
A 60-year-old Kelso woman said she believes Inslee's orders and emergency proclamations have become unconstitutional: "It seems people like the Constitution until it's not convenient, and then they tend to make up their own rules."
"I think when the emergency declaration was originally put into place, they were thinking earthquakes, floods, things like that, not a virus," she said. "I wouldn't want whoever is the Governor to have that kind of power."
She said she doesn't know a single person who has died of the virus, though she knows someone who suffered lung issues that may have been COVID-19-related.
"If you choose to wear a mask, that's fine," she said. "If I choose to not (do so), that should be fine. ... It's causing division, which is really sad."
Get local news delivered to your inbox!
Subscribe to our Daily Headlines newsletter.