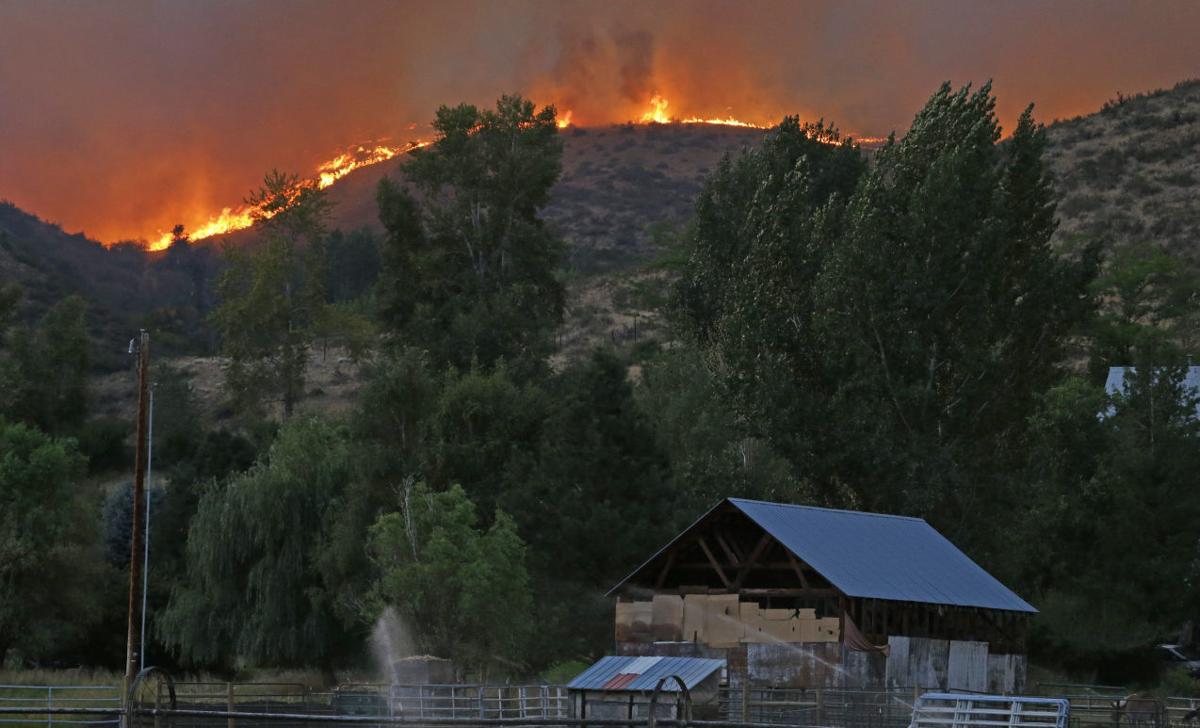 A little more than 300 years ago, approximately 3 to 10 million acres of forest were burned in Western Washington. A state Department of Natural Resources scientist warns that a series of catastrophic fires like that will strike Western Washington again, but no one knows when.
During Thursday's Washington State Society of American Foresters annual meeting in the Cowlitz County Expo Center, DNR scientist and University of Washington professor Daniel Donato spoke about how Western Washington needs to be prepared for massive, landscape-altering fires.
And Donato said there's not a lot anybody will be able to do to control or stop them.
"These are the type of fires, that even under modern fire suppression … we'd back away and say, 'Everybody has to pull out and watch it do its thing,' " he said. "It's basically a hurricane or an earthquake at that point."
He said tactics such as prescribed fires would also be useless against a giant blaze.
"It would be like sending a prescribed volcano to prevent Mount St. Helens," he joked.
According to Donato, the Douglas fir or hemlock forests of Western Washington go through a life cycle of about 200 to 600 years. Major fires, like the ones that occurred in about the year 1700, serve as a reset, clearing the land for new forests.
"I just kind of like to remind people that when we look at the West Cascades landscape … (it's) verdant, rainforest-ish, green and productive. But they are born in fire," he said.
Donato emphasized that a major fire needs just three ingredients: A major summer drought, an ignition source (cigarettes, campfires, etc.), and a mixed-pressure east wind event.
However, he reassured the audience that massive fires are "part of the system," and that forests have built-in resilience. For now, westsiders should start prepping for a catastrophic event.
"We just need to be thinking about this, and maybe have actual codified plans in place," Donato said. "What are we going to do when a huge part of our landscape ... burns up? We are completely unprepared for that."
The last major forest fire that broke out in Southwest Washington was the 1902 Yacolt Burn in northern Clark County, which burned about 240,000 acres, or an area 70 percent larger than the Mount St. Helens blast zone.
Commissioner of Public Lands Hilary Franz also spoke at Thursday's meeting. She briefly mentioned the 20-year Washington Wildland Fire Protection Strategic Plan. According to DNR's website, the plan will work with preventing wildfires, responding to fires safely, and assisting in recovery.
"It is absolutely critical that we bring all of our partners, our state and local agencies, together to make sure that we have the resources and capacity … to be able to reduce the size of the fires and be able to control them," she said.
A public workshop and open house to discuss the plan is scheduled for May 17 in Tacoma. The finished plan is tentatively expected to be revealed in July.
Get local news delivered to your inbox!
Subscribe to our Daily Headlines newsletter.