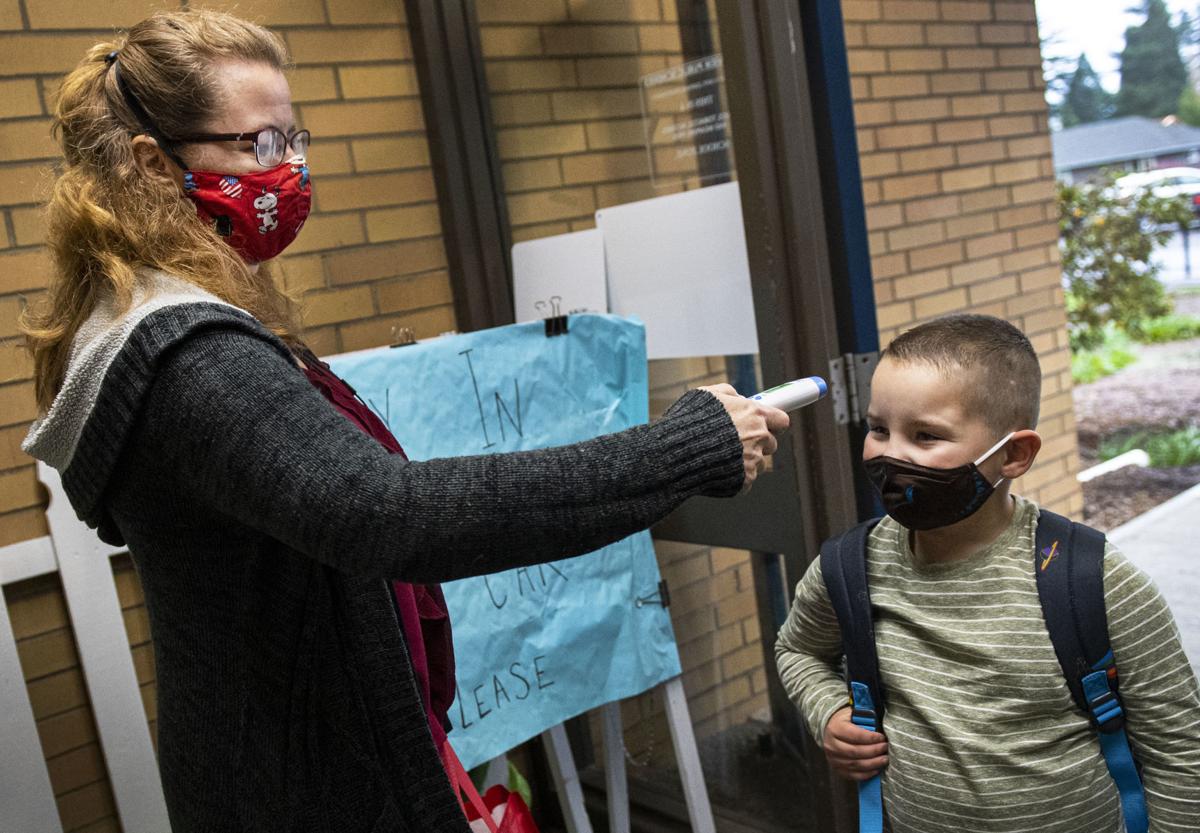 Laurie Ackerman's Mint Valley kindergarteners were "amazing" their first week back in the classroom, keeping their masks on, using their own pencils instead of sharing and even recognizing when storybook characters aren't following health rules.
Ackerman said she was reading her small hybrid learning class the book "Pigeon Finds a Hot Dog" and, as normal, asked the kids if the pigeon should share his food with his friends.
"And the kids said no, he can't share, that spreads germs," she said. "It's changed their whole mindset. They're doing amazing with the masks and new rules."
The roughly 250 Mint Valley K-2 students spent two days in class this week, joining the rest of the district's K-2 students in a transition to a hybrid model.
Monday, grades 3-5 will join them, with half of the students attending in-person on Monday and Thursday and the other half on Tuesday and Friday. Wednesday is remote for all students, and on days they're not in class physically they will have remote assignments to complete.
Mint Valley Principal Jean Merritt said while she certainly had "first-day jitters," this first week of hybrid has gone well.
"The kids are excited to be here and parents are excited to have kids back here," she said Friday.
Superintendent Dan Zorn said that feeling is echoed across the district.
"All district employees are working hard to make our return to school a great experience and we appreciate your support," he said in a Friday letter to parents.
He added that younger students are "doing a great job wearing face coverings and following safety protocols. We anticipate the third through fifth grade students will do a great job as well."
Merritt made extensive plans before students returned, from the best way to check in each student in the morning to buying them all lanyards to hang their masks on while they eat lunch, to prevent them from dropping it.
"Kids are so resilient," she said, adding that neither kids nor teachers had had any problems wearing masks all day.
"We have a little distanced area set up outside for kids to go to take off their masks and take a mask break, but not many do," Merritt said. "Perhaps if the weather was hotter they would."
Kids and staff have also adapted to the new procedures, like morning check in and eating breakfast and lunch at their desks. The desks, and all surfaces, are cleaned every night, she said, and the windows stay open for airflow. The school has not only a new HVAC system, but an iWave system too, to clean the air.
iWave devices bolt onto the existing air filter system and use bi-polar ionization to break down particles in the air like pathogens, allergens, particles, smoke and odors in the air. The district purchased $100,000 worth of devices over the summer and are in the process of installing them.
And students no longer share items or toys. Merritt said parents were asked to send in pencil boxes with supplies for each student and have "done an amazing job.
"They came in with pencil boxes all ready to go," she said.
Mornings look different, too. When students are dropped off, school staff check that their parent has filled out the health check form online or have them do it on paper. Then, they take each student's temperature and if they're under 100.4 degrees, they get a blue wristband to mark that they've been checked in.
"Since it's an open campus we had to do it differently than other schools," Merritt said.
While so far the process has been going smoothly, she did decide to increase the check-in staff from two people to three, to help get kids checked in faster, and is trying to encourage more parents to do the health attestation online a half hour before school starts.
She said she thinks while more students might ride the bus in the future, for now most parents are choosing to drop their students off themselves.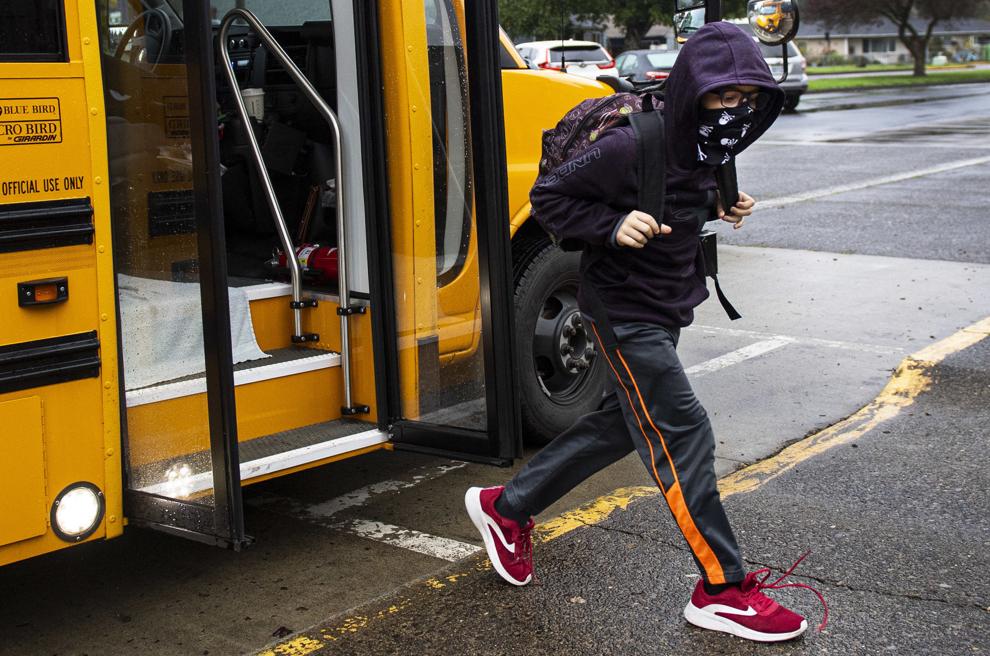 "The nice thing about starting with K-2 for a week is then when we go 3-5 we've tested the systems," Merritt said.
Another unexpected positive is that with less than 10 students in the class each day, teachers are finding they can cover material faster, Merritt said.
And Ackerman said she thought the smaller classes were helping students transition back into school mode more easily.
"It's so beautiful in a way to only have half at a time," she said.
Merritt has also been posting video explainers of everything she thinks might help parents, and hopes to add regular Zoom parents question sessions like St. Helens does.
Ackerman added that she's grateful for how understanding and supportive families have been, because "we couldn't do it without them."
Merritt said her staff has gone above and beyond to make hybrid successful and as close to normal for kids as possible. For example, now students get to check out one book from the library each week.
A class of first-graders excitedly held up their books Friday afternoon, demonstrating how they would keep them in their own personal box for the week.
Merritt said that the library "was another area where we had to problem solve."
In the end, she said when students return the books, the librarian will not only clean them, but also set them aside for some time before they go back on the shelf.
The biggest lesson K-2 teacher took away from the first week was not to be "afraid to take the time you need on that first day to go over the new rules," Merritt said, because there are certainly plenty of changes. But that's what will make the transition successful, she said.
"We left no stone unturned, and it paid off," Merritt said.