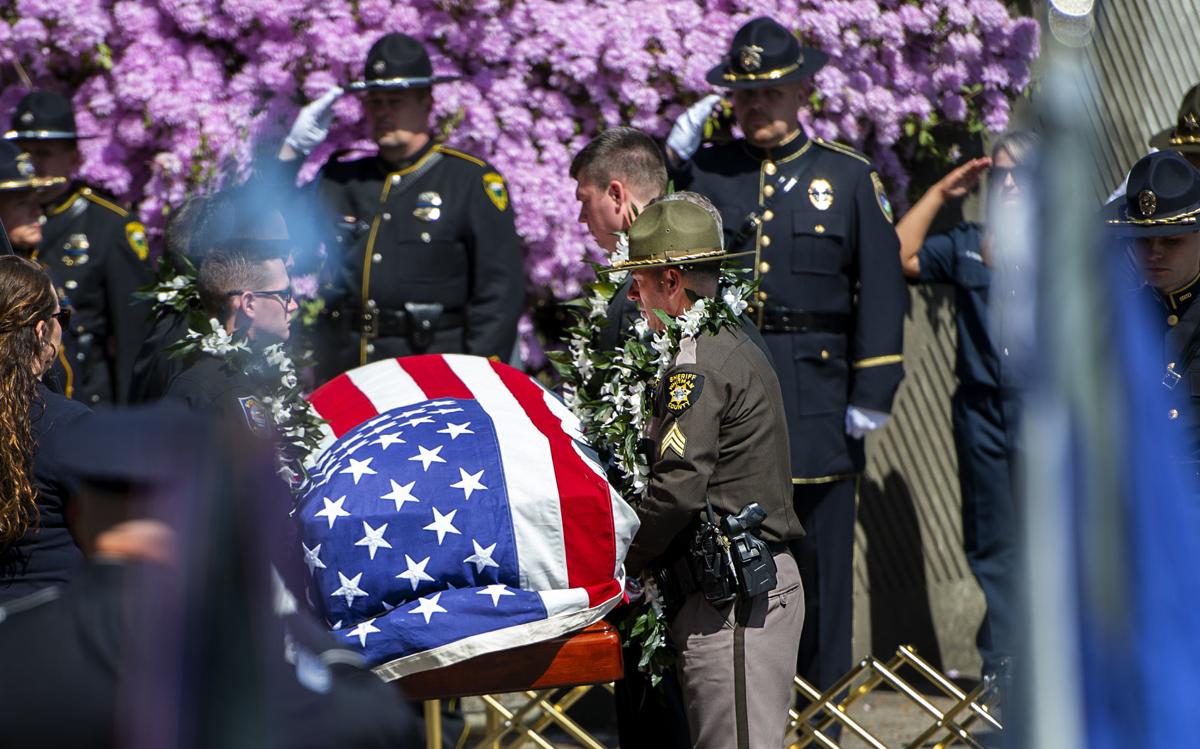 Cowlitz County Sheriff's deputy Justin DeRosier was remembered as a loyal and courageous lawman who "had a heart the size of a mountain" at an April 24 funeral service in the University of Portland's Chiles Center that attracted thousands of law enforcement officers.
DeRosier was honored at a two-hour service after an hour-long funeral procession that brought his body on a winding path through Longview and Kelso and ended with funerary pomp, motorcycles, bagpipers and thousands of uniformed personnel on the University of Portland campus.
The Chiles Center, which holds nearly 5,000 people, was nearly full.
Brett Myers, Whitman County sheriff, spoke first during the ceremony. DeRosier began his career in law enforcement at the Whitman County Sheriff's Office.
Myers quoted the saying "Heroes are ordinary people who do extraordinary things."
"I would take exception," Myers said. "Justin was anything but ordinary. Justin was an extraordinary person who did extraordinary things."
DeRosier was the kind of guy "everybody liked" and had a work ethic second to none, Myers said, relating that he often called DeRosier "Boy Wonder."
"He had qualities you can't train," Myers said. "(They were) almost heaven-sent."
"Justin did everything right that night," Myers said of the night of April 13, when he died of a gunshot wound during a blocking vehicle call in Kalama. "But heaven called for that Boy Wonder."
Woodland Police Chief Jim Kelly joked that after knowing DeRosier nearly his entire life, he wanted to convince him to leave the sheriff's office for Woodland PD.
"Few deputies or officers … would sign in (over the radio) with the enthusiasm of Justin," Kelly said.
When he learned DeRosier had been shot, "I realized Cowlitz County had lost one of the greatest officers I have ever known," Kelly said, adding, "Rest well my son."
Cowlitz County Undersheriff Darren Ullmann said DeRosier "never thought twice" about facing the danger.
"Justin's destiny (was): To make s—- happen as loudly as possible," Ullmann laughed. "He had a heart the size of a mountain and an insatiable appetite for knowledge."
And "because of him, we know it's OK to hug and cry while in uniform," Ullmann said. "We really need more Justin DeRosiers, not only as cops but as friends."
Multiple speakers said they believed that DeRosier, 29, wouldn't have hesitated to go into law enforcement even had he known he would die in the line of duty just five years after he graduated from the police academy.
The procession into the university began with dozens of police motorcycles, followed by the Seattle Police Pipes & Drums and Portland Police Highland guard performing on drums and bagpipes to lead the rest of the group in.
Hundreds, if not more than a thousand uniformed personnel lined the route, arms raised as they stood stoically. Deputies from the Cowlitz County sheriff's office overlooked the transfer of DeRosier's casket to the ceremony.
Personnel came from Washington and Oregon sheriffs' offices and police departments, EMS and firefighting agencies. Even Homeland Security was present.
A Pierce County sheriff's deputy who only gave his first name — Bob — said it was an honor to be there representing another agency.
"It's a fallen brother, killed in the line of duty. … I think it's an honor to do this. Come out and show support."
Two crossed firefighter ladders on the route of the procession displayed the same flag used in the 2011 memorial service held at the Chiles center for Rainier Police Chief Ralph Painter, who was shot in the line of duty that January.
The "crossed ladders" tradition is a symbolic way of honoring the fallen, said Vancouver Fire Department Captain Perry LeDoux.
"It's difficult, because you know the cost that is associated with this," LeDoux said. "Whether it be a loss in either law enforcement, or fire service, it hurts no matter what. We're all partners. ... We all know the underlying reason why we're here, and that kind of hurts, but it's good to support and honor Justin and his family. That's what we want them mostly to see. That's the reason why we're here, is to show them how much care for him and to know that they're not alone."
It's a demonstration of support for DeRosier and for fellow first responders, LeDoux said.
"We're all in the same mission. Any day could be our last day, and we see it. It's a fairly tight bond. We're all looking out for each other. … If we have an issue, they're there for us."
"We're together in the streets, and we grieve together," Longview fire Lt. Scott Kerker added. "For a lot of the guys who work in the same jurisdiction or area, it's a first-name basis. You see them on EMS calls. They have a problem, we're there for them and vice-versa."
Get local news delivered to your inbox!
Subscribe to our Daily Headlines newsletter.