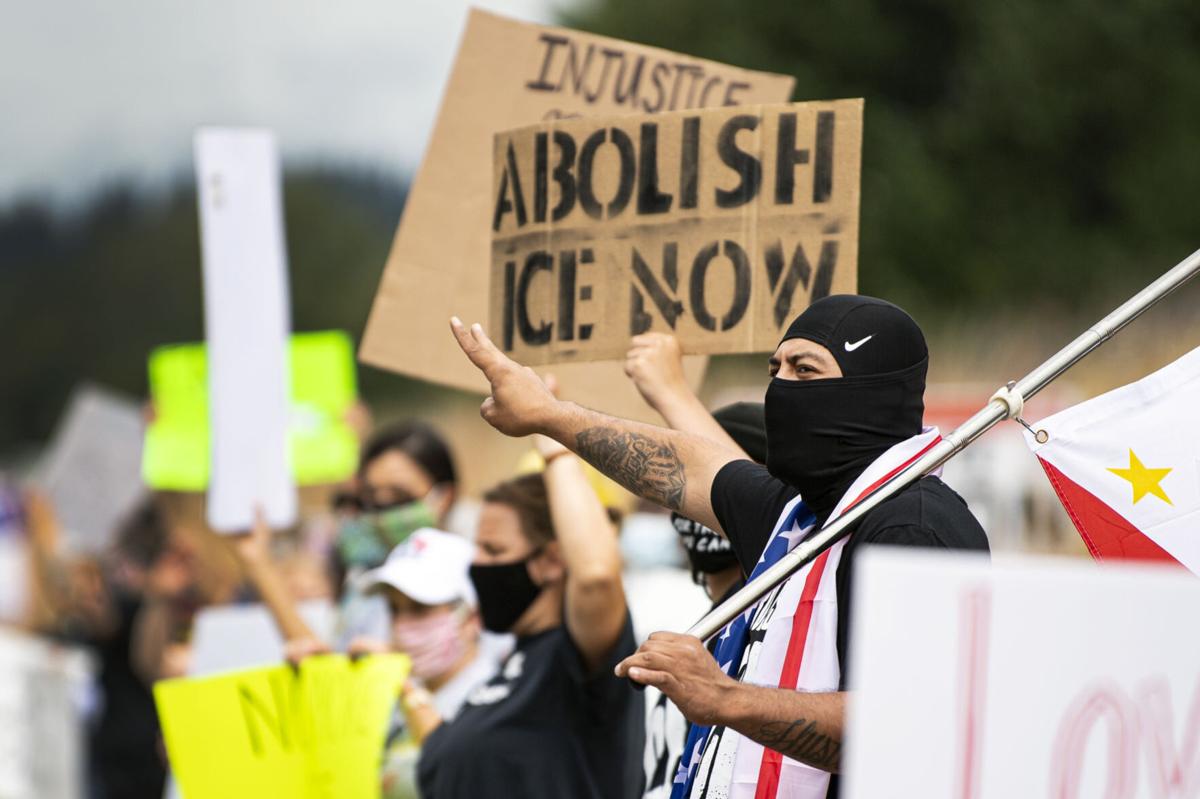 Demonstrators returned to the street outside the Cowlitz County Youth Services Center Friday to protest the county's contract with ICE and to write letters to the juveniles currently held there.
The Southwest Washington Amnesty International branch helped organize the event, which drew about 30 people. Demonstrators held signs calling for the county to sever its contract with Immigration Customs Enforcement (ICE).
Usha Brooks, a financial analyst from Winlock, said she's been involved in previous Black Lives Matter and anti-ICE protests. She plans to send three books to the juveniles currently at the Youth Services Center, including "Voces Sin Fronteras," a collection of memoirs from young Latino immigrants.
"All of us who are parents, regardless of whatever political (beliefs) you have, ... to separate our children from us is not acceptable," Brooks said.
The county's contract, struck in 2001, actually predates ICE and was signed with the Department of Justice's Immigration and Naturalization Service, which dissolved in 2003. For $170 per person, per day, Cowlitz County houses juveniles who are determined to be a danger to the community while they undergo immigration court proceedings.
As of Friday, the Youth Services Center has nine children detained. Four of them are held under the ICE contract, Court Administrator Chad Connors said.
None of the juveniles or staff at the Youth Services Center have tested positive for, nor had any COVID-19 symptoms, Connors said. All visitors are checked for their temperatures and any signs of illness, and everyone is required to wear a mask at all times.
The ICE juveniles have previously entered the country unlawfully and were determined by ICE to be a safety risk, often from committing or being accused of some sort of violent crime, Connors has said. Most had been living with their parents somewhere in the U.S. prior to their detainment.
The county commissioners control the fate of the contract itself, which must end anyway at the end of 2021 under a recent state law. The decision to detain or release individual juveniles is up to ICE, Connors said.
Brooks, like other demonstrators, didn't agree that an accusation of violent criminal activity justifies the contract.
"These folks are here because they cannot survive in their own country," Brooks said. "This is a country of immigrants. Unless you are Native American, and your ancestors were a part of this land before it was stolen, then you have no right to say anything about who can come in this country and who can't."
Brooks, 65, said she's been protesting since she was 15, speaking out against issues from apartheid in South Africa to the war in Iraq.
She said she knows protesters in Lewis County who have faced threats recently, but Brooks didn't express any fear Friday.
"If you threaten me, then come at me and we'll see," Brooks said. "I am using my First Amendment right, just like they have the option to use theirs."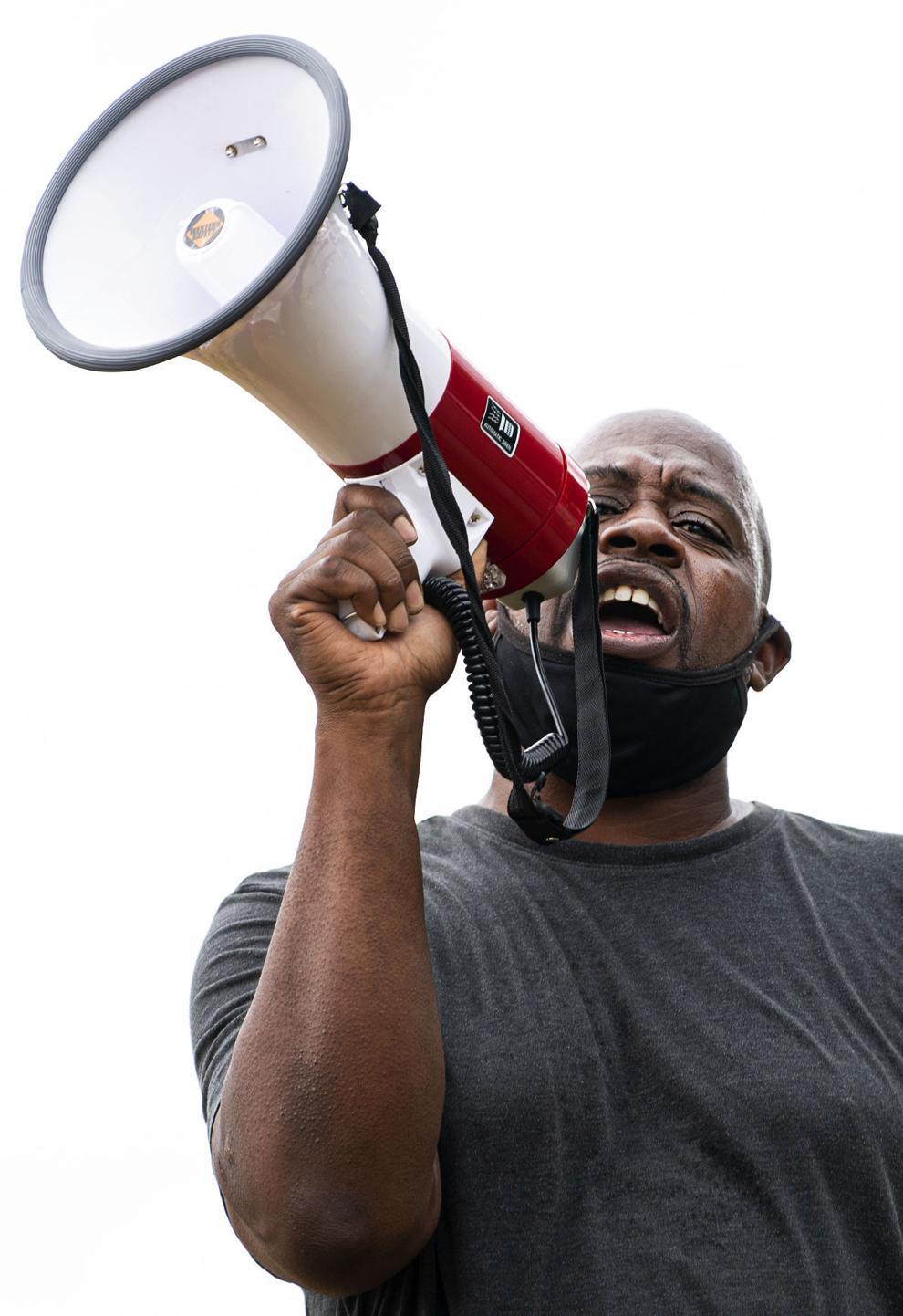 Longview Presbyterian Church Pastor Liz Kearny said her congregation, about a dozen of whom also came out Friday, wanted to stand in solidarity with the children detained at the Youth Services Center.
"We are here, we're thinking about them, (and) we're doing what we can to reach out to our county commissioners and court administrator to ... urge them to end this contract now. ... And hopefully get (the juveniles) reunited with their families."
Kearny said she's concerned both by the separation of the juveniles from their parents and their detention itself. And she's concerned on principle that the county is working with ICE.
"I know a lot of the people here," Kearny said. "People have this idea about rural communities, and they paint them with one broad brush. It's important to reflect that this is a very strong voice in our community that wants to speak out. ... We do not want ICE here because of their clear racist agenda and policies, and the way they enact those (policies) all over the nation."
The Cowlitz County Youth Services Center has been one of few facilities where ICE is approved to house unaccompanied minors for more than 72 hours at a time. On Thursday, the board overseeing another such facility — The Northern Oregon Regional Correctional Facility in The Dalles — voted unanimously to begin the process of ending their ICE contract.
Washington State legislation passed in April mandates the county's agreement with ICE must end by the close of 2021, and forbids similar contracts from being struck.
University of Washington Professor Angelina Godoy, who has been researching the situation at the Youth Services Center, said she was pleased her concerns about the contract were shared by protesters.
"It's gratifying to know folks in Cowlitz County are paying attention to what their government (is) doing," Godoy said of the demonstrations Friday.
The Cowlitz County community will have to decide "whether they want their county to be the only one in the nation willing to engage in this kind of business for the federal government after many other counties have declined or withdrawn from such contracts," she added.
Godoy, the director of the UW's Center for Human Rights, requested the criminal history and other information of the ICE juveniles held in Cowlitz County back in 2018 as part of an investigation into Washington immigration practices. (Her request also asked to have personal, sensitive information redacted.) After ICE blocked juvenile justice officials from releasing that information, the county, which is willing to release it, went to the local courts last year to ask a judge to determine whether it can lawfully do so.
Attorneys are now battling out the slow-burn case in federal court.
"The law turns slowly," Godoy said Friday. "But it's moving forward and I'm confident that, eventually, we'll prevail."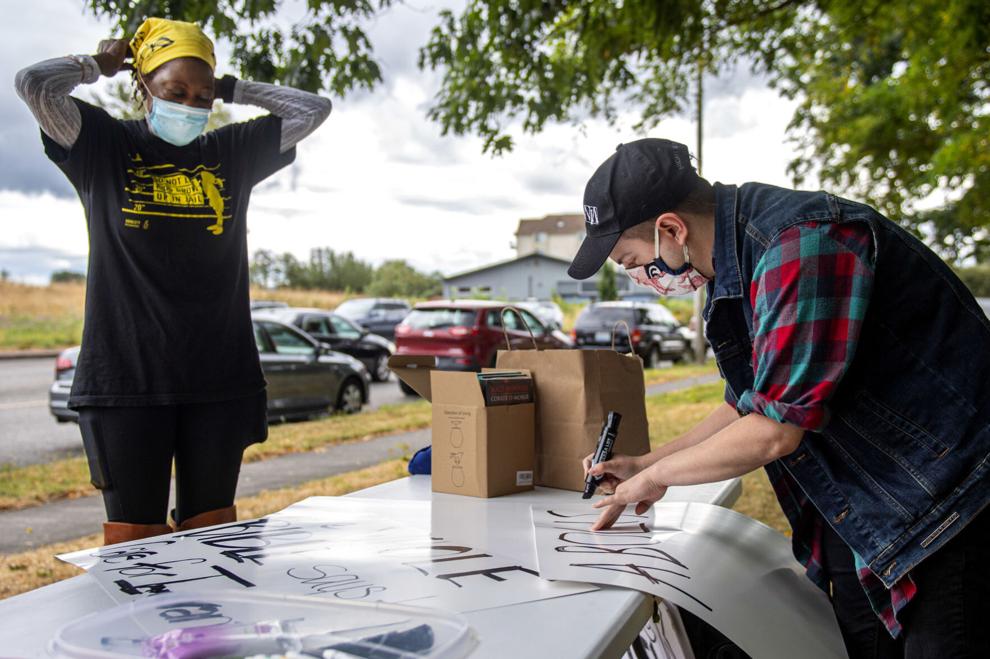 Cowlitz County Superior Court Judge Stephen Warning, who retires at the end of the month, recently shared his thoughts on the county's contract with federal officials. The juveniles are part of a group suspected of serious violent crimes, and a judge has decided they need to be detained, Warning pointed out.
"I am proud of the fact that we have this contract," Warning said. "We give kids who unfortunately have to be held … excellent care, excellent health resources. We do a hell of a job over here."
At the same time, Warning was unequivocal in his support for releasing the records of the juvenile's detainment.
"The county has always been prepared to turn over all this information," Warning said. "(Godoy) is in a fight with the feds, not us. They should be getting that information. There's nothing in that information that causes us any concern."