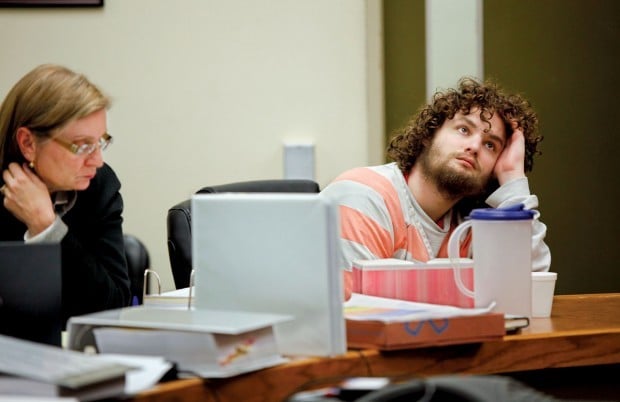 SAINT HELENS, Ore. — The man accused of murdering Rainier Police Chief Ralph Painter pleaded not guilty Wednesday, more than a year after his disruptive behavior delayed his plea.
Daniel Armaugh Butts, 22, of Kalama did not speak during the hearing, but his lawyer said he was pleading not guilty to all 24 charges, including aggravated murder. No trial date has been set. Butts faces a possible death penalty if convicted.
Officials first attempted to arraign Butts on Jan. 26, 2011, but the hearing was called off when he became disruptive. More than a year's worth of hearings and delays followed after his lawyers claimed Butts was mentally unfit to stand trial. Columbia County Circuit Court Judge Ted Grove last month found Butts is competent to stand trial.
Wednesday's hearing was held in the Columbia County Jail courtroom. Butts appeared in orange jail garb and a bulky gray sweatshirt. His hands were shackled in front of him and his long curly hair hid part of his face.
All 14 pages of the indictment were read at the request of Butts' lawyer. Such readings usually are waived, but it was a dispute about hearing the charges in their entirety that angered Butts during the last arraignment.
Security wasn't as tight as previous hearings because spectators were in a separate room watching through glass windows. Jailers had to scramble just before the hearing, though, when Butts' father and brother appeared and wanted seats in the small viewing area. Officials had decided to give the seats out first-come, first-served, and all the seats had been taken by Painter family members, said Sheriff Jeff Dickerson. At the request of Butts' lawyers, though, Judge Grove ordered two seats be made available to the Butts relatives.
Dickerson sat between the two families, worried about comments Butts' father made after the last hearing that Painter was a "bully with a badge" and "got what he deserved."
"With the inflammatory comments that had been made, it wasn't something I felt the (Painter) family had to endure by sitting right next to him," Dickerson said after the hearing.
Also in attendance was Clatskanie Police Chief Marvin Hoover, who shot Butts before he was taken into custody on the day of Painter's shooting death on Jan. 5, 2011. Hoover is listed as a victim in the case because Butts is accused of shooting at several responding officers in addition to killing Painter, 55, at a west Rainier car stereo store.
After the hearing, Columbia County District Attorney Steve Atchison said he expects the trial to be lengthy, particularly because he's anticipating an insanity defense. While Grove ruled that Butts is competent to stand trial, Butts' defense team can still argue that he wasn't in his right mind during the shooting.
Atchison said the county's last two aggravated murder trials each took about a month each, and this one is likely to be more complicated. He'd like to have the trial completed by the end of the year, but there's no guarantee.
"Things have to be done correctly," he said.