OLYMPIA — The widow, orphan and parents of fallen Cowlitz County Deputy Justin DeRosier accepted his medal of honor Friday at a state capitol ceremony that recognized officers killed, injured or embodying exemplary courage in the line of duty.
Katie DeRosier married her husband about 2.5 years prior to his death in April 2019, according to his obituary. His 3-year-old daughter Lilly was only a baby, but can still recognize his photo thanks to recounted family stories to keep his memory alive, Katie DeRosier said.
Fallen Cowlitz County deputy Justin DeRosier was honored at a ceremony in Lacey June 4 for state law enforcement officers killed while serving…
"We are trying to find joy every day," she said.
Ceremony
Thirteen other Washington state law enforcement agents, including the two now retired Kalama officers who responded to Justin DeRosier's call for help, were honored at Friday's ceremony.
Justin DeRosier, 29, was shot April 13, 2019, while investigating a report of a motorhome blocking a road in Kalama. Kalama Officer Jeff Skeie brought DeRosier to the ambulance while Kalama Sgt. Steven Parker stayed behind and provided cover, said Cowlitz County Sheriff Brad Thurman. DeRosier died in the hospital the next day.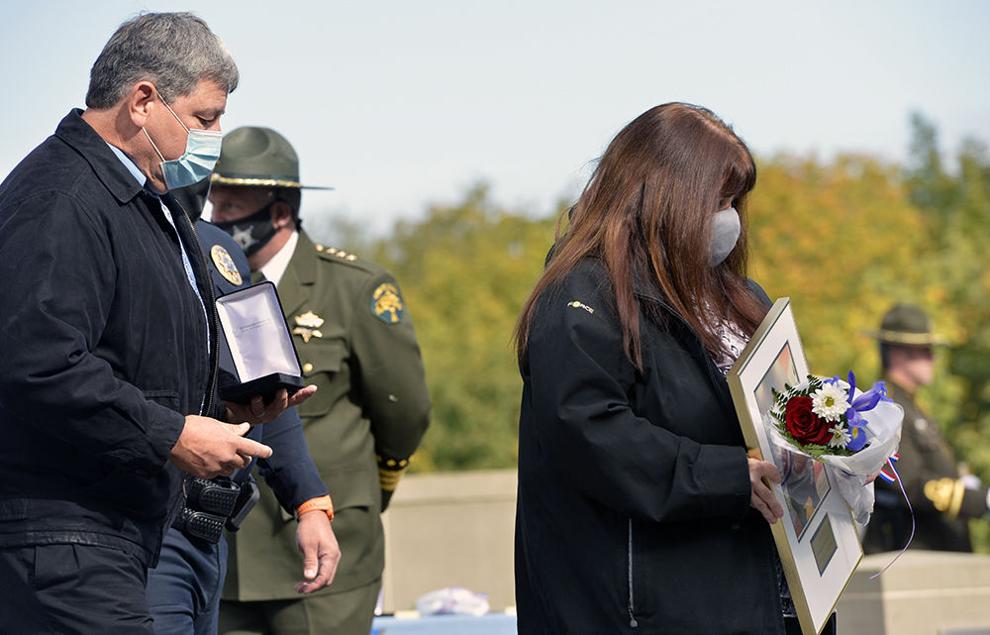 Thurman said Friday's ceremony was delayed twice because of the pandemic, so the ceremony honored medal of honor recipients in 2019 and 2020. Medals were handed to recipients and families by Washington State Gov. Jay Inslee and Attorney General Bob Ferguson. Medals were not placed on honorees due to COVID-19 precautions.
Cowlitz County Chaplain Doug Fields gave an invocation at the event. Ferguson thanked officers and noted the added difficulty law enforcement agents faced during the pandemic by working with the public, as opposed to office employees who worked remotely. Inslee thanked officers and their families for their "shared sacrifice of service" to protect Washingtonians.
Motorcyclists are raising scholarship funds and honoring a Cowlitz County Sherriff's Office deputy killed in the line of duty in 2019. Two def…
"Behind every badge is a family," Inslee said, "and the honor we feel for these recipients also goes to their families."
Arrests
Justin DeRosier graduated from Kelso High School in 2008 and earned a bachelor's degree in criminal justice from Washington State University in 2012, according to his obituary. He joined the Cowlitz County Sheriff's Office in 2016, and was killed in the line of duty three years later.
Law enforcement and emergency services members across Cowlitz County flashed their emergency lights simultaneously Tuesday night to memorializ…
A 22-hour manhunt for suspect Brian Butts, 33, of Kalama, followed the shooting of DeRosier. When Butts was located, he was fatally shot by Kelso officers after he fired at them off Spencer Creek Road in Kalama. Butts' body was found with roughly $3,000 worth of methamphetamine, according to police.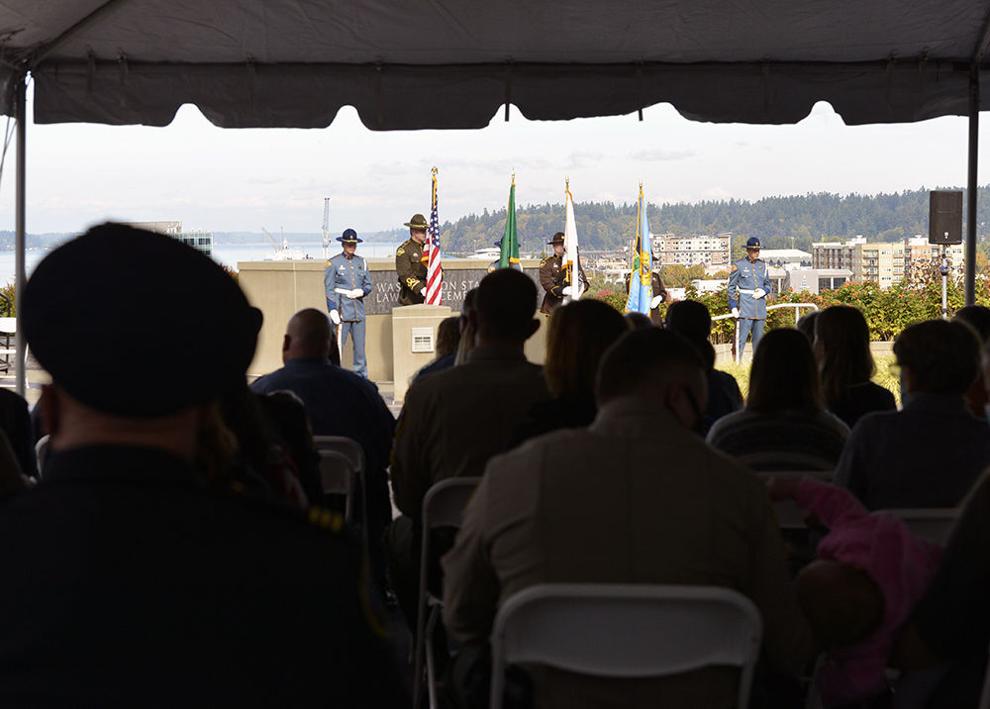 Three people were charged with helping Butts escape the manhunt. Matthew Veatch was convicted to 11 months in jail in 2020 for aiding Butts's escape when he lead Butts through a nearby woods after knowing he shot an officer.
Ricky Roberts pleaded guilty to the misdemeanor of third-degree criminal assistance and is awaiting sentencing in Cowlitz County Superior Court. A date has not been set for the sentencing.
Savannah Eastman is charged with the felony of first-degree criminal assistance and is scheduled to plead guilty and be sentenced Oct. 27 in Cowlitz County Superior Court, according to court records as of Friday. Both Roberts and Eastman were born in 1994, according to the court.