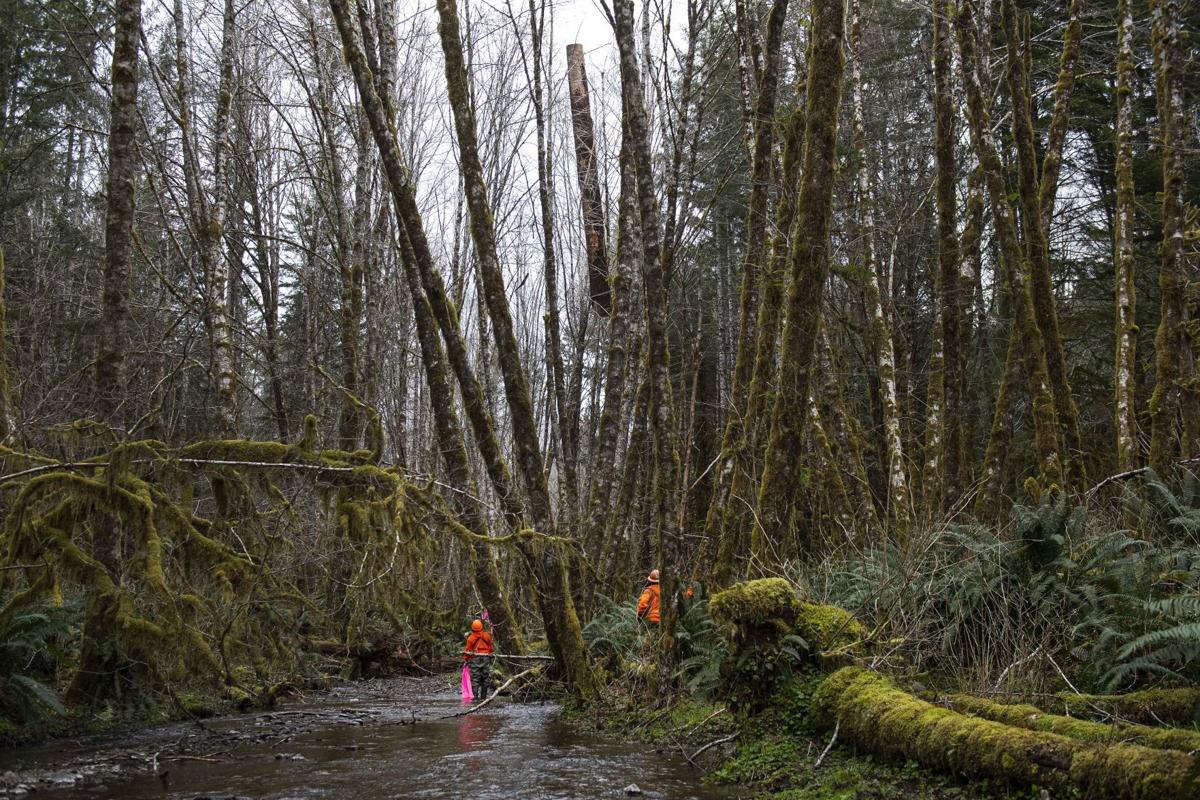 Red alder treetops thrashed in the rotor wash of a helicopter Wednesday as the whirlybird hovered above a tributary of Abernathy Creek. Peering out a window, the pilot carefully instructed his crew to maneuver a 9,000-pound log into a specially marked position in the stream.
On the ground, crew members and habitat restoration engineers kept a close eye for loose forest debris as it flew through the air, occasionally thumping against their hard hats. As the helicopter flew off to fetch another log, the crew placed bright pink flags to mark where the next one should go.
Decades ago, the settlers in the area were "really good" at removing logs, boulders and other impediments to water flow in streams like Abernathy, said Eli Asher, senior restoration ecologist with the Cowlitz Indian Tribe.
But without big logs and boulders to slow down the stream, the water flows faster, the channel narrows, the creek eats away to the bedrock and the gravel most suitable for salmon spawning is swept away.
"That's really hard on fish. ... So what we are trying to do here is reverse that trend, get the stream out of its incised channel ... and provide a lot more habitat for fish," Asher said.
Wednesday's work was part of a large-scale, long-term "intensively monitored watershed" project sponsored by the Cowlitz Tribe. The tribe is working on the study with the Washington Department of Fish and Wildlife, the state Department of Ecology, the Lower Columbia Fish Recovery Board and other agencies to answer two basic questions:
Does direct habitat restoration result in the intended habitat improvement?
Do those improvements, collectively, increase the number or fitness of the fish?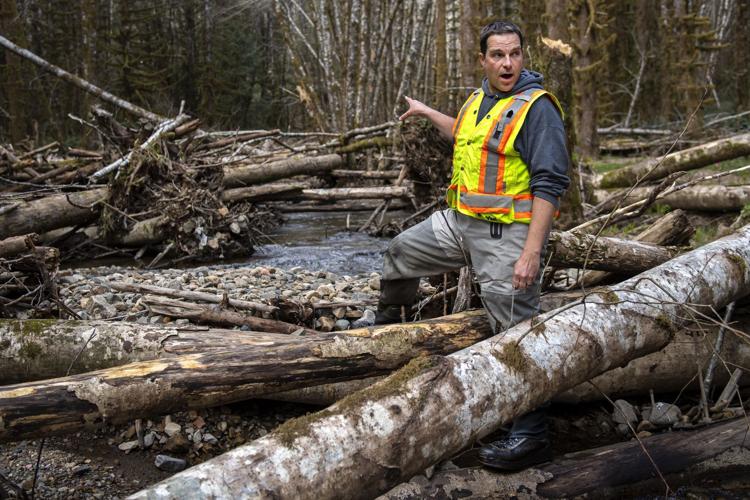 In a sense, it's one way to find out which types of restoration projects help fish and to estimate the price-per-mile cost to, say, double salmon populations, Asher said.
"For the last 20 years we've done little projects scattered all over the place … but I have no idea what the return of that investment is," Asher said. "If we can demonstrate a big increase in wild fish production (here in Abernathy), then we can start putting a price tag on salmon recovery."
In conjunction with the other groups, the Cowlitz Tribe started restoration work in the watershed west of Longview in 2012. So far they've completed about $4.5 million of grant-funded restoration work in the watershed.
Wednesday's helicopter project added almost 600 logs to Eric Creek, an Abernathy tributary. It cost about $455,000 and was number nine of 10 "discrete" restorations planned as part of the watershed monitoring project, said. The final project is slated for completion within the next year.
Then the tribe will hand the watershed off to WDFW and Ecology for long-term monitoring.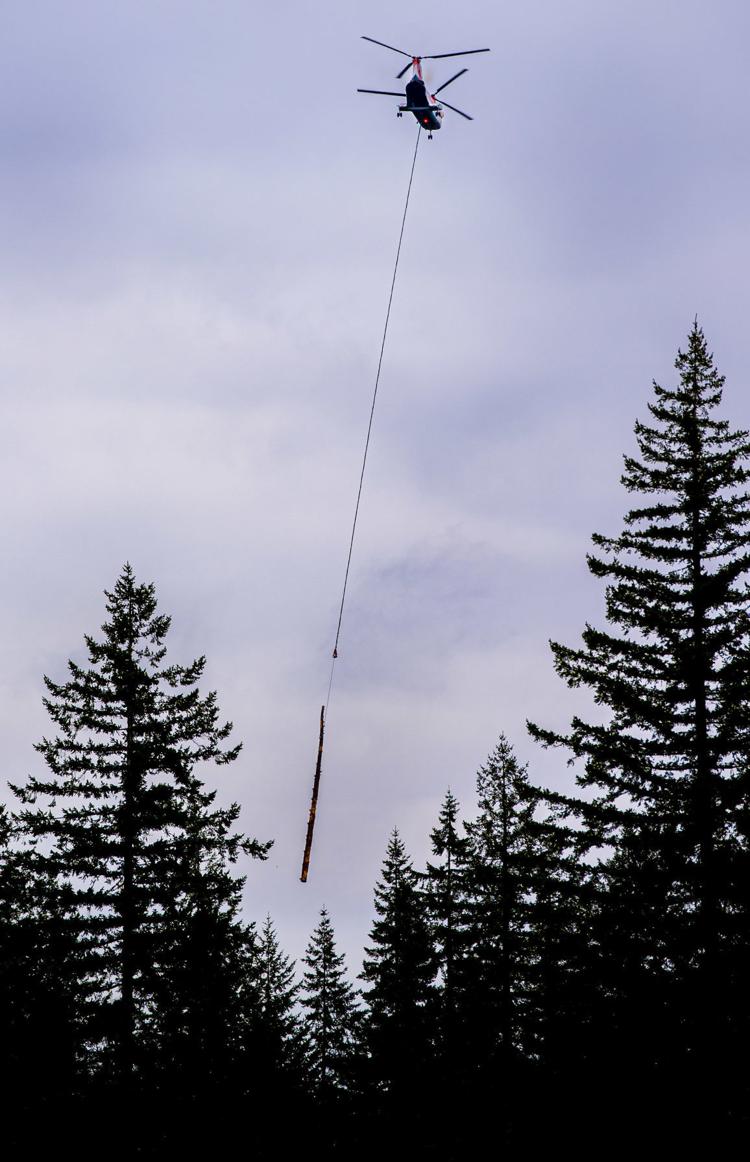 "The truly unique aspect of the (project) is the ability to directly estimate the number of fish at various life stages (from eggs to adults) to identify when mortality occurs," said William Ehinger, Ecology's primary investigator. "Knowing what life stage is not surviving well will allow us to identify the cause and, perhaps, the remedy."
Salmon populations can fluctuate annually for a variety of reasons, including ocean conditions, weather patterns and habitat quality. WDFW and Ecology have to monitor the area for almost a decade to get answers, said Jamie Lamperth, WDFW fish biologist.
The project uses nearby Mill Creek as a "control" stream that hasn't been restored, so scientists can compare data from both habitats to quantify the difference restoration makes. WDFW has monitored fish populations in Abernathy and Mill creeks since the early 2000s.
If scientists see a bump in fish in Abernathy but not in Mill Creek, then they can assume habitat restoration is making a difference, Lamperth said.
"We don't have the data set yet to make any hard statements, but, anecdotally, in the past two years Abernathy Creek has produced more smolts (young fish ready to migrate to sea) than Mill Creek. In the prior 12 years, that only happened once," Lamperth said. "So right now we are seeing what appears to be a trend of increased smolt production in Abernathy Creek. … It's at least trending in the right direction."
For now, the difference between restored and unrestored stretches of stream remains simply visible. As an example, Asher pointed to an unrestored portion of Abernathy Creek, where water rushes over large boulders and cobbles unsuitable as salmon spawning habitat.
PHOTOS: Cowlitz Indian Tribe leads salmon restoration project along Abernathy Creek
About two football lengths down the stream, though, the stream widens and slows. There's visibly more gravel built up, which is friendlier for fish.
The water winds its way around large logs, some which were placed in the creek in 2016 as part of the restoration project, Asher said. Others were added naturally.
"The stream is always going to make better habitat than you can. You just have to give it a chance," Asher said.
And come 10 years from now, when WDFW and Ecology finish monitoring the project, scientists may finally know how much those natural processes really help fish.
"I think the results will allow us to know what is the benefit of all of our efforts. Is it worth it?" Lamperth said. "I think it's information that can be given to the restoration practitioners and the funding groups to decide whether or not they will continue with these actions."
Get local news delivered to your inbox!
Subscribe to our Daily Headlines newsletter.