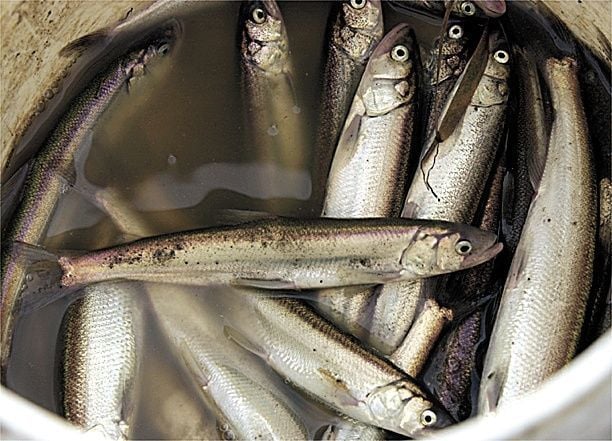 Smelt dippers will get a Valentine's Day gift this year, according to wildlife officials.
The Washington Department of Fish and Wildlife announced a one-day recreational smelt fishery Friday along the lower Cowlitz River.
Recreational dipping will be allowed from 8 a.m. to 1 p.m. along the shore from the Highway 432 Bridge (Harry Morgan Bridge) upstream to the Al Helenberg Memorial Boat Ramp in Castle Rock, according to a WDFW press release.
You have free articles remaining.
Each dip netter may keep 10 pounds of smelt, or about a quarter of a 5-gallon bucket, the press release said. No fishing license is needed for Friday's fishery, but dip netters should be cautious of strong, high water caused by recent storms. Fish and Wildlife enforcement officers will monitor safety and enforce the 10-pound limit, according to the press release.
This is the first year since 2017 that a recreational smelt fishery has opened on the Cowlitz. Columbia River smelt are listed threatened on the federal Endangered Species Act, and returns had been declining in the last half decade. Two years ago, fewer than 400,000 pounds of smelt were estimated to return to the river.
But about 4.2 million pounds returned to the Columbia River last year. Based on evidence to date managers expect the run this year is large enough to support a recreational fishery, the release says. Managers will continue to closely track all available indicators of abundance, including catches in the upcoming recreational fishery and the commercial test fishery.
"We work closely with (the federal government) to take a precautionary approach to any fisheries involving an ESA-listed species," said Laura Heironimus, a WDFW fish manager. "Initial indicators suggest this run is strong enough to offer this limited opportunity while still allowing us to meet our conservation goals and help the population rebuild."
Get local news delivered to your inbox!
Subscribe to our Daily Headlines newsletter.