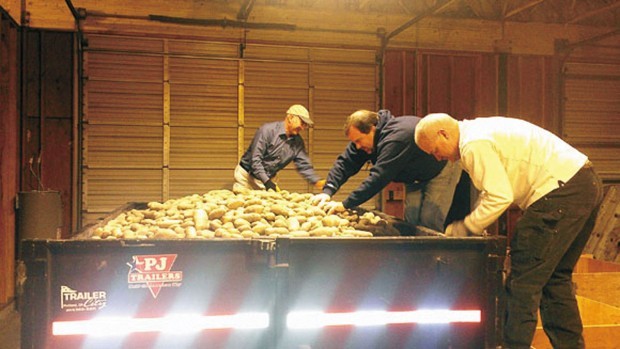 For the past five years, Cowlitz PUD employees have divided into two teams — main office and operations — and have engaged in a competition to see which team can collect the most food for the Help Warehouse and its system of Cowlitz County food banks.
More than 160 PUD staff participated in this year's campaign from Oct. 8-31, resulting in 5,841 pounds of food. In addition to the food, teams raised $5,568.81 for the Help Warehouse to buy food. Help Warehouse program manager Lois Shelton estimates she will be able to purchase up to 61,000 pounds of food with the PUD donation.
"We have amazing co-workers at the PUD, and without their generosity and enthusiasm to help our community, we couldn't do this," Treana Storie, administrative assistant for the PUD's Operations/Public Relations department, and one of the campaign organizers, noted in a press release.
The operations team traveled to the Tri-Cities in eastern Washington to purchase and bring back 5,557 pounds of potatoes, fresh from the fields.
Learning in past years that Help Warehouse can purchase food at huge discounts, the teams decided in 2011 they also would raise money "to get more bang for our buck," said Storie. To generate excitement for monetary donations, they held 50/50 split-the-pot raffles and drawings for prizes. Many employees donated out-of-pocket.
"This clearly makes the annual PUD employees' food drive the largest of any organization or business, and second only to Walk n' Knock and the Letter Carriers' food drive," Shelton said.
After all the food was weighed, the operations team won by 7.1 pounds. As their "prize," they will have breakfast prepared for them by the main office team.
"Having this friendly competition is a great way to boost our employee morale," Storie said. "Even though we are competing against each other, we ultimately come together as a team to achieve one result, getting as much food as possible for CAP's Help Warehouse. Every year our goal is to collect at least one more pound of food than the previous year, and this year we exceeded that goal by a tremendous amount."
Over the past five years, Cowlitz PUD employees have collected more than 28,000 of food and donated $9,315.81 to purchase food for area food banks.
"The level of caring for this community, regularly demonstrated by PUD employees, is truly amazing," said Cowlitz PUD board of commissioners president Mark McCrady. "The incredible results of the fall food drive are evidence of this passion to help others. I am proud to be associated with such a fine group."
Help Warehouse, a program of Lower Columbia Community Action Program (CAP), is the central food collection and distribution center for Cowlitz and Wahkiakum food banks. Each year its staff and volunteers distribute more than 1.7 million pounds of food.
For details on how to organize a food drive, call Shelton at Help Warehouse at 360-425-3430, ext 281.
Get local news delivered to your inbox!
Subscribe to our Daily Headlines newsletter.