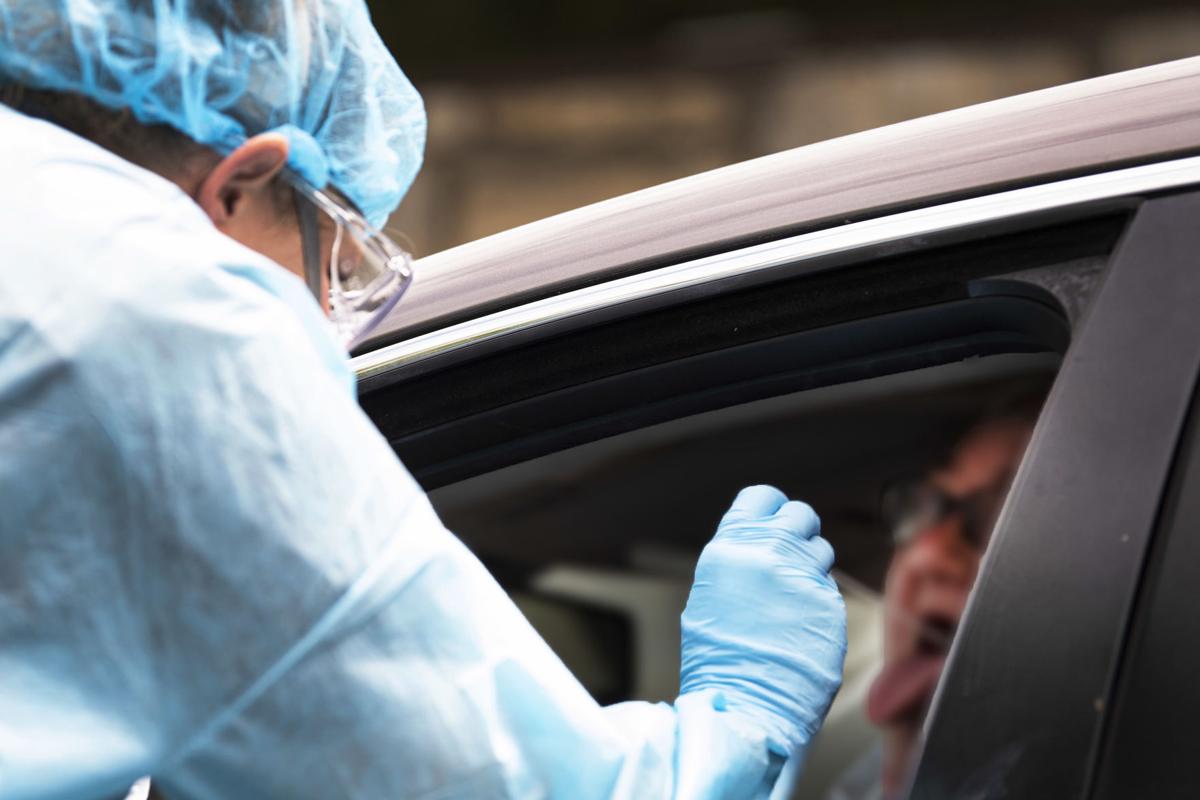 Do you have a sore throat? Unexplained cough or fever? Have you lost your sense of smell and taste?
Even very mild versions of these symptoms could be cause for a COVID-19 test, according to county health officials. And for those worried about the cost, most insurance plans cover it the without copays or deductibles.
Cowlitz County's COVID-19 cases are increasing at a higher rate than tests, and health officials are encouraging more people to be tested to help control its spread.
"As we see an increase in cases, there's a greater likelihood we're missing more cases if testing does not increase at the same time," said Dr. Steve Krager, county deputy health officer.
For the week of June 27 through July 3, the county recorded 516 total tests, with 39 positives. If it were meeting the state's guidelines, the county would have tested 1,950 people in that period.
As of Friday, more than 5,840 county residents total have been tested, with 273 positive results, about 4.7%.
Krager said more testing is not the primary cause of the surge in cases because the rate of new cases is far outpacing the increases in tests performed over the past month.
Most healthy people don't need to be tested, but those with even mild COVID-19 symptoms should get checked out, Krager said. Anyone who is a close contact of a confirmed virus patient also should be tested, even if they have no symptoms, he said.
Some infected people may not realize they should be tested because they have don't have symptoms or have mild symptoms they don't realize could be signs of COVID-19, Krager said.
Dian Cooper, CEO of Cowlitz Family Health Center, said the wait for test results may discourage people from getting tested, especially if they feel well. A person who gets tested is asked to quarantine until results are available, and that's taking eight days because laboratories are overwhelmed, she said.
The tests require a health care provider's authorization, but Krager said doctors are taught in medical school not to order tests unless it will guide treatment for a patient. Since there is no specific medication to treat most COVID-19 cases, the virus doesn't fit in that mindset.
Krager is asking the medical community to order more testing to help gather public health data. It's important to confirm COVID-19 cases through testing so public health can do case investigation and track down close contacts to prevent spread of the virus, he said.
The county's advisory to health care providers to increase testing was issued July 3, so it's too early to predict how that may affect testing levels, Cooper said. But she said she expects an uptick in the coming weeks.
"I think more people are wanting to get tested and that wave is starting to happen now with everybody encouraging people to get tested if they're concerned," she said.
Patients concerned they have COVID-19 or who are a close contact and are told to be tested should call their health care provider, and they should be tested within 24 hours of reaching out, according to the state Department of Heath.
Providers will screen patients by phone to make sure a test is the right step, Cooper said. If so, they'll get an appointment.
Cooper said people can also be screened by LabCorp online and be sent an at-home kit to swab themselves and send it back for analysis.
COVID-19 symptoms can appear two to 14 days after exposure and include fever, chills, cough, shortness of breath or difficulty breathing, fatigue, muscle or body aches, headache, new loss of taste or smell, sore throat, congestion or runny nose, nausea or vomiting, and diarrhea, according to the Centers for Disease Control and Prevention.
The state Department of Health also recommends testing for anyone who is a close contact of a virus patient or those likely exposed in an outbreak, regardless of symptoms.
The state recommends that other testing of people without symptoms should be limited to racial or ethnic groups disproportionately affected by the pandemic, pregnant people, newborns of parents suspected or positive for COVID-19, patients undergoing procedures that increase the risk of virus particles spreading through the air and patients undergoing invasive surgical procedures.
PeaceHealth St. John tests all admitted patients for COVID-19 regardless of symptoms, and anyone scgheduled for a procedure is automatically contacted for testing beforehand. PeaceHealth also offers testing at its clinics for those with symptoms.
Most local health care facilities offer testing, including PeaceHealth Medical Group, Kaiser Permanente, Cowlitz Family Health Center and other private practices.
Uninsured patients can contact Family Health Center to request testing, according to the county health department. Testing should come at no cost to patients, whether they are insured or not, according to the department.
State Insurance Commissioner Mike Kreidler has required insurers to waive copays and deductibles for COVID-19 testing and the associated office visit for state-regulated health plans. However, that doesn't cover related treatment. Other insurers not regulated by the Office of the Insurance Commissioner have also chosen to waive these costs, according to the office.
Medicaid covers the cost of testing as long as it's determined medically necessary. Medicare also covers the test as well as some tests for related respiratory illness done at the same time.
Cooper said some patients may be hesitant about pursuing testing because they don't know it's covered by insurance or for other reasons.
"I know there are some people that think COVID-19 is a hoax and no big deal," Cooper said. "But I just would encourage people who have been exposed or have symptoms to contact their provider and seek appropriate care."
Concerned about COVID-19?
Sign up now to get the most recent coronavirus headlines and other important local and national news sent to your email inbox daily.