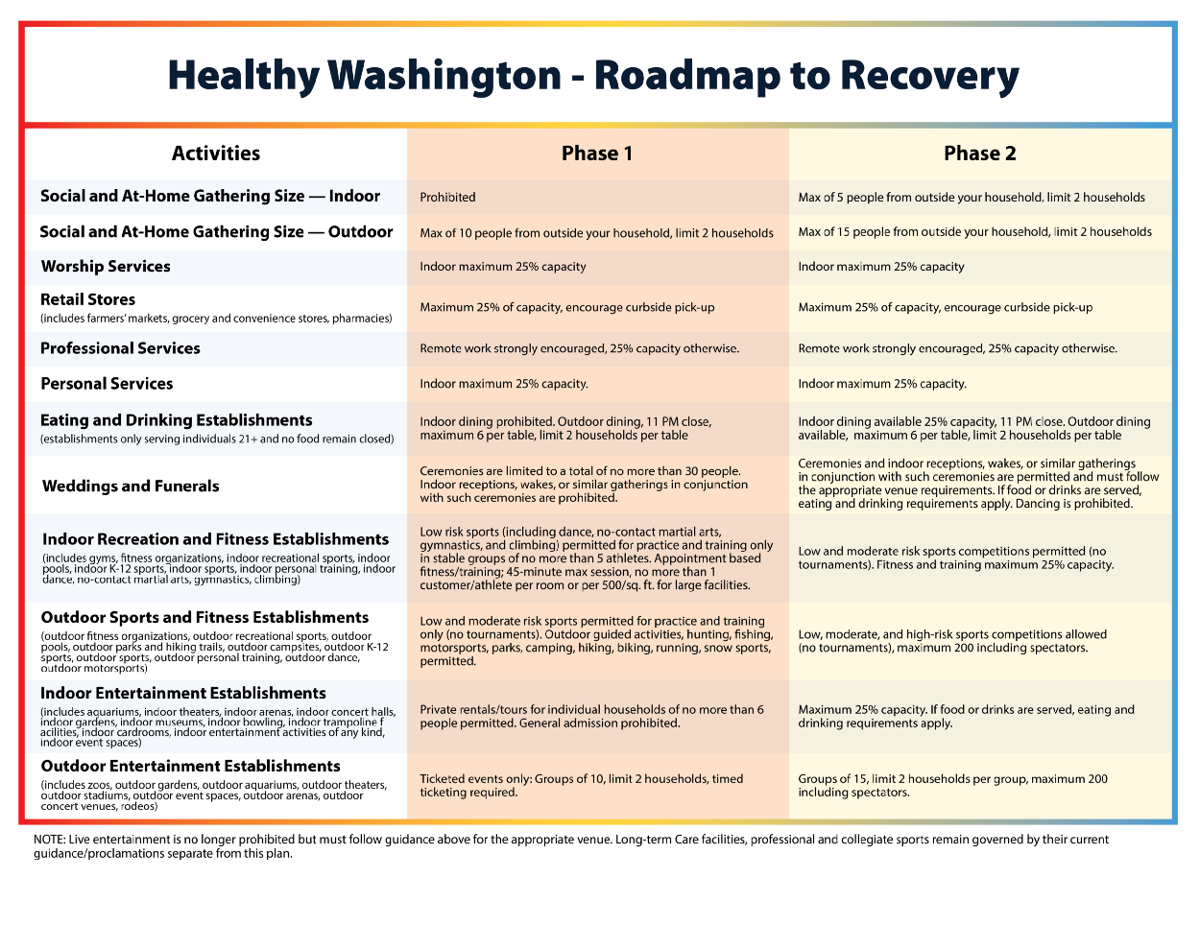 Cowlitz County restaurants and many other businesses can reopen one day earlier than expected after Gov. Jay Inslee moved up the phase two start date for five regions to Sunday.
In a Thursday afternoon press conference, the governor had announced that the Southwest region — Cowlitz, Clark, Wahkiakum, Skamania and Klickitat counties — was one of five regions in the state that can move into phase two of the state's economic reopening plan.
Then a few hours later, Inslee accelerated his own earlier timetable, announcing that because of the combination of Valentine's Day and the Presidents Day holiday this weekend, restaurants in the five regions can open with phase two restrictions a day early, on Sunday, Feb. 14.
"The holiday weekend provides a large portion of a restaurant's yearly revenue, and moving up the region's reopening date will allow dining establishments to benefit," the press release from the governor's office stated.
"I know this creates more options for restaurants to make Valentine's Day special for couples who hoped they could have a night out," Inslee said in his evening statement. "I am confident people, young and old, will celebrate safely. And if it's a first date that doesn't go well, remind them to stay six feet away from you."
Ted Sprague, Cowlitz Economic Development Council president, said moving the date forward a day gives businesses a feeling of optimism and "emerging from this dark time we've been in." Allowing businesses to open a day earlier than planned is a benefit, he said.
"I hope the weather cooperates and we can actually get out and enjoy the restaurants in our community," Sprague said.
To move forward, regions had to meet three of four metrics, including decreasing case rates, decreasing hospitalization rates, ICU occupancy of less than 90% and test positivity of less than 10%.
The South Central region — Yakima, Kittitas, Benton, Franklin, Walla Walla and Columbia counties — is the only region to remain in phase one.
Activities and business capacity are still limited under phase two, as well as social gatherings. The biggest changes from phase one to phase two include:
Indoor dining allowed at 25% capacity, ending alcohol service at 11 p.m.
Gyms and fitness centers allowed at 25% capacity
Indoor entertainment, including theaters, museums and bowling, open at 25% capacity or 200 people, whichever is less
Low and moderate risk indoor sports competitions permitted and high-risk sports practice and training permitted at 25% capacity
Low, moderate and high-risk outdoor sports competitions allowed with a maximum 200 people, including spectators
Other retail, professional and personal services remain at 25% capacity. Physical distancing and face masks are required for all businesses and activities.
The Triangle Bowl in Longview posted on its Facebook page it would open at 10 a.m. Monday.
The Kelso Theater Pub and Backstage Italian Cafe owner Mike Julien said he's looking forward to opening. The restaurant will open to indoor dining on Sunday but the movie theater won't be able to open until Friday because of the movie companies' schedule, he said.
"It's been dark more than on in the last year," Julien said. "I got a good crew, they're excited to be coming back. ... It's going to be fun. It's always fun when there's life in there."
Regal Cinemas, which owns the theater in the Three Rivers Mall, temporarily closed all its theaters in October. The company announced in January it plans to open its theaters once New York City and Los Angeles allow and "we hope this happens by March."
The Cowlitz County Historical Museum plans to open for general admission starting Wednesday, said Joseph Govednik, museum director. It will follow the same precautions as when it was open Sept. 1 through Nov. 15, he said.
The museum has been open by appointment only since Jan. 11 under phase one guidelines.
Cowlitz County reported 25 new COVID-19 cases Friday, bringing the total to 4,012. The county will not updated case counts on Monday because of the President's Day holiday.