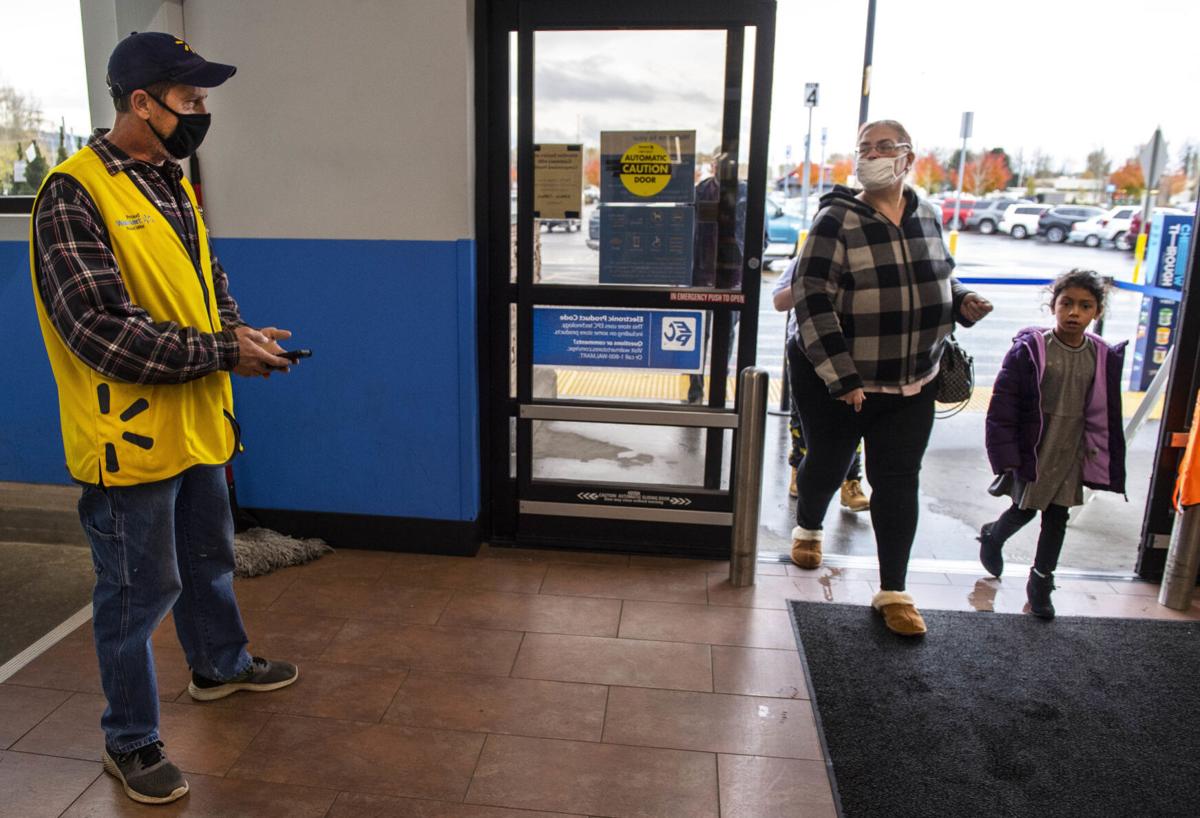 Cowlitz County is reporting record high levels of COVID-19 activity, with no signs that rates will slow in the near future, according to the health department.
The county recorded a record high level of COVID-19 activity, with 207 new cases per 100,000 people from Oct. 28 to Nov. 10, according to the county's Tuesday data report.
The percent of positive COVID-19 tests rose from 5.2% to 8.4%. The state recommends caution at 5%.
The county Tuesday reported 34 new COVID-19 cases and four new hospitalizations. Of the 1,124 total cases, 747 were considered recovered as of Friday. Seven virus patients are currently hospitalized outside the county.
Dr. Steve Krager, county deputy health officer, said Monday that Clark and Cowlitz counties' health departments are struggling to keep up with the number of cases.
"We're doing our best to contact every case," he said. "Our ability to do contact tracing of close contacts is pretty limited right now."
Public health staff are prioritizing reaching out to confirmed cases over close contacts and are identifying connections to high-risk environments like schools or long-term care facilities, Krager said.
Clark County Public Health announced Tuesday because of the "dramatic surge" in COVID-19 cases, staff will no longer be contacting or monitoring close contacts of confirmed cases. Public Health will focus on interviewing cases and identifying similar priority locations where exposures may have occurred, according to a press release.
Clark County reported 254.5 cases per 100,000 people over the most recent two-week period.
Wahkiakum County reported two new cases Tuesday, bringing the total to 15. There is a connection to Naselle School District, according to the health department. The Naselle-Grays River Valley School District moved to fully remote school Monday after three staff members tested positive over the past week, according to the district's Facebook page.
St. Helens Elementary School in Longview returned to fully remote learning Tuesday after three students tested positive over the past week, according to the school district. The district is using a new COVID-19 activity dashboard to share positive COVID-19 results in schools.
Districts spokesman Rick Parish said the decision to move to remote was made with the safety of students and staff in mind.
"You might have small number of students who have tested positive, but the impact to the overall school in terms of students and staff who the Health Department determines are close contact extends well beyond that," Parrish said Tuesday.
According to the dashboard, there have been a total of 12 people in the district who tested positive since Oct. 6. Only one student, at St. Helens, was determined to have been exposed to the virus at school on Nov. 12. That means the student was a close contact of one of the two students that tested positive on Nov. 9.
On Nov. 12, an additional two Mark Morris students tested positive. The next day, Nov. 13, one staff member from Kessler Elementary tested positive, as did one student from Robert Gray Elementary.
Three people tested positive on Monday, Nov. 16 — a student and staff member from R.A. Long and a student from Kessler. However, the health department said none was exposed at school.
Most recently, a transportation staff member tested positive Tuesday, Nov. 17.
In Longview, Pre-K-5 students and K-12 students in high-need special education groups have been back in buildings for about a month.
Kelso and Castle Rock are also using dashboards. Kelso's dashboard is only reporting school-based exposures, or cases that arise after a positive case is confirmed. That does not include the initial positive case.
In Kelso, one high school student tested positive on Nov. 12 after being exposed at school.
In Castle Rock, there have been two cases since Nov. 3, which the district notes were not based on school exposure. On Nov. 3, a student at the intermediate school tested positive, and on Nov. 5 a high school staff member tested positive.
In the United States, the average number of new cases per day has more than doubled over the past few weeks. More than 166,000 newly confirmed infections were reported on Monday, according to Johns Hopkins University.
More than 73,000 people — an all-time high — were hospitalized with the virus in the U.S. as of Monday, an increase of over 3,000 from just a day earlier, according to the COVID Tracking Project.
Deaths per day in the U.S. have climbed to an average of 1,145, up from 828 two weeks ago. The virus is blamed for more than 1.3 million deaths worldwide, including over 247,000 in the U.S.
Krager said he fears in the near future the county will see more hospitalizations and deaths following the spike in cases.
Cowlitz County virus patients are sent to PeaceHealth Southwest Medical Center in Vancouver, so Krager said he's not too concerned about PeaceHealth St. John's capacity. However, Clark County COVID-19 hospitalizations have risen from 20 to more than 50, he said.
Krager said he's hopeful new restrictions announced by Gov. Jay Inslee Sunday will effectively decrease virus activity.
"I think maybe more so than restrictions is people taking this seriously and doing the things we need them to do to stop the spread," he said. "The governor can make restrictions but if people are still having gatherings at home, they're not going to do any good."
Frustrations over the restrictions were more understandable when virus activity was lower during the late spring and summer, Krager said, but ultimately the measures are an effort to save lives.
"COVID-19 is the third leading cause of death in the U.S. right now. Many of ... those deaths could have been prevented," he said. "I do question what our values are if we're not able to take basic precautions during a pandemic."