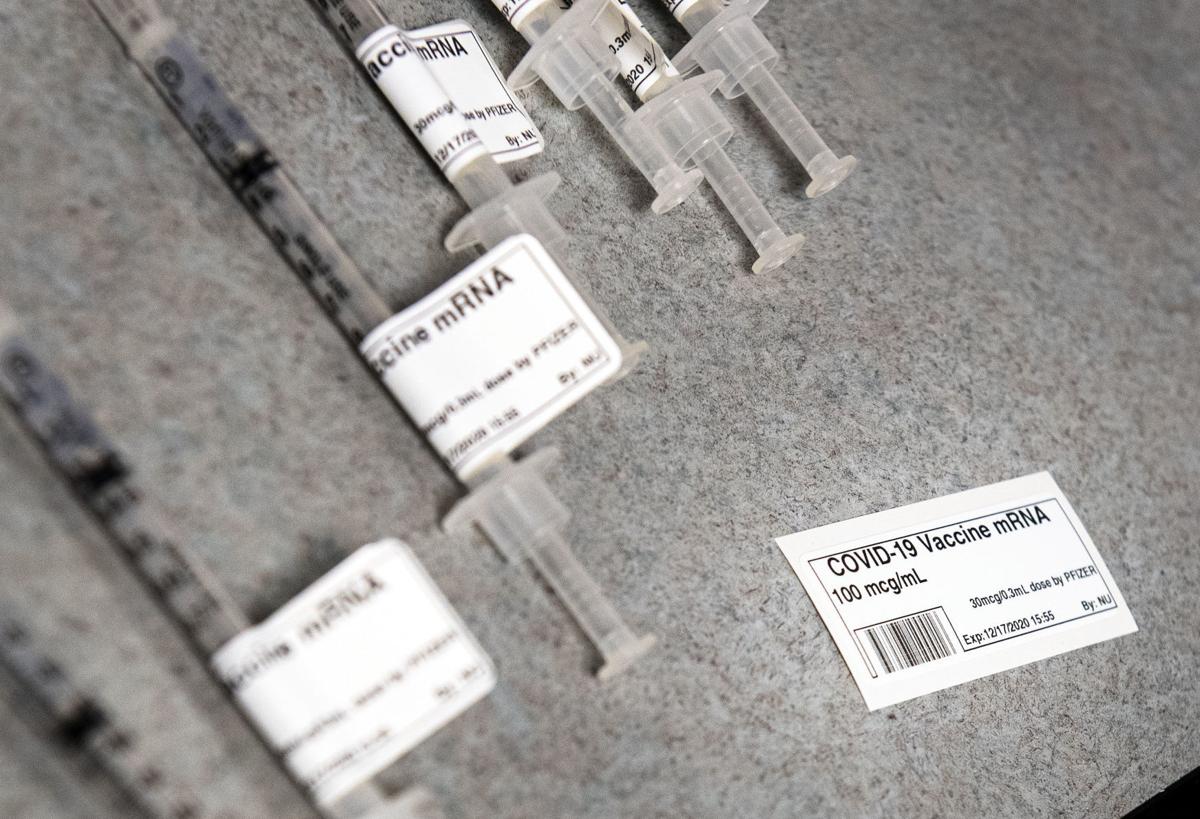 Cowlitz County and Safeway announced they are opening a COVID-19 vaccination site at the Cowlitz County fairgrounds Wednesday and Thursday, as the latest health department school COVID-19 report showed a continuing decline in new case rate.
Vaccinations in Longview are by appointment only. Appointments opened at noon Tuesday and were filled within the hour. More will be added as vaccine becomes available and people can check the county's vaccine webpage www.co.cowlitz.wa.us/covidvaccine for updates, according to the health department.
"We're pleased that more people can get vaccinated in Cowlitz County. Reducing barriers to access COVID-19 vaccine continues to be our top priority," said Carole Harrison, Cowlitz County Health and Human Services director. "We appreciate your patience as we prepare to launch this new vaccination site, and as we advocate for larger vaccine allocations from the state and federal government."
New COVID-19 cases in Cowlitz County continued to decline, according to this week's department of health school report, dropping to a rate of 191 new cases per 100,000 people from Feb. 3 through Feb. 16.
According to the Feb. 22 school COVID-19 data report, the county saw an average of 14 new cases per day from specimens collected between Feb. 10 and Feb. 16.
Safeway pharmacists will administer an estimated 1,100 doses of the Pfizer vaccine at the Cowlitz County Fairgrounds in Longview via drive-thru and walk-in appointments, according to the health department. Safeway received the doses as part of the Federal Pharmacy Partnership.
People who schedule an appointment will automatically receive a confirmation email or text message from Safeway. Everyone who receives their first dose at the fairgrounds this week will be scheduled to receive their second dose at the site exactly three weeks later.
Cowlitz County Health and Human Services does not have access to Safeway's online appointment scheduler and cannot assist with scheduling questions. Those with problems scheduling an appointment can call a Safeway representative between 9 a.m. to 6 p.m. Monday through Friday at 253-259-6312.
People should not call Safeway to schedule an appointment at the fairgrounds. Representatives can only provide technical support.
Cowlitz County Emergency Management and other local partners are providing logistical support, as well as an incident management team helping Cowlitz, Clark and Skamania counties set up vaccination sites across the three-county region.
Before getting vaccinated, people must complete a consent form for Washington state. The form can be downloaded from the online appointment scheduler or obtained at the vaccination site. Proof of health insurance is highly recommended, but is not required. No other form of personal identification is required to get vaccinated at the site.
People should arrive no more than 10 minutes early for their scheduled appointment. Drivers should enter at Washington Street and Third Avenue (behind the fairgrounds) and exit at Seventh Avenue. People who have a walk-in appointment should enter and exit at Seventh Avenue. Face coverings must be worn. People who are getting vaccinated should dress in clothing that allows vaccinators to easily access their upper arm.
Everyone, even people who have been vaccinated, should continue to take steps to slow the spread of COVID-19 in the community, according to the health department. That includes wearing face coverings, maintaining physical distancing and avoiding gatherings. These steps are critical to keeping our community healthy until more people can be vaccinated.
The Feb. 22 school COVID-19 data report marks the second week the county has been in the "moderate" range of COVID-19 activity.
At less than 200 new cases, the state guidelines allow high school students to return to hybrid leaning. Kelso, Castle Rock and Toutle already had high schoolers in hybrid classes, and Longview, Kalama and Woodland plan to bring high schoolers back in the next few weeks. Woodland is also bringing grades K-4 back five days a week in the near future.
Longview, Castle Rock and Kelso all use COIVD-19 school case dashboards to report COVID-19 cases in schools. Kelso only reports cases that are confirmed to be transmitted in schools, and has had one such case in November.
Castle Rock added three new COVID-19 cases to its dashboard since Feb. 8, one of which had school exposure: An intermediate school student on Feb. 19. In addition, on Feb. 9 a person at the primary school tested positive and on Feb. 16 a staff member working at both the primary and intermediate school tested positive.
In Longview, there have been two new cases added to the dashboard since Feb. 8: one student and one staff member on Feb. 11. The staff member is at the district office and the student at Olympic elementary, and neither was exposed at school.